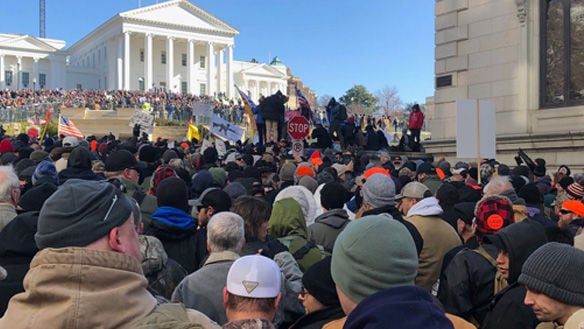 POWHATAN – Several Powhatan County residents were spread out among the estimated 22,000 people who recently gathered in the state capital as part of a nonviolent protest of gun control legislation.
The rally, which was held on Monday, Jan. 20 in downtown Richmond, drew people not only from around Virginia but outside of the state who wanted to let lawmakers know they feel legislators' promises of new gun control legislation are a violation of their Second Amendment rights.
Governor Ralph Northam had declared a state of emergency in advance of the expected demonstrations on Capitol Square, citing law enforcement intelligence identifying "credible threats of violence surrounding the event" and plans for white nationalists and out-of-state militia groups to attend.
But as the freezing day dawned, Powhatan residents who attended the rally said it instead was a peaceful show of solidarity by a diverse group of people united in their desire to stand up for their constitutional rights.
Powhatan resident Rachel Ordia attended the rally with her husband, Joe, and the couple was among the roughly 6,000 people who chose to go through a security check so they could get closer to the Virginia Capitol. As part of the governor's state of emergency declaration, all weapons, including firearms, were prohibited from the Capitol grounds.
Ordia said she is the constitutionalist in her family and had been planning to attend the rally for more than two months. She feels the United States is different for a reason and she doesn't understand why people are trying "to make it like other parts of the world."
"I think the Constitution is a beautiful thing and it needs to be protected," she said.
With the political shift in the General Assembly that came with the last election, Joe Ordia said he feels his Second Amendment rights have come under increasing attack recently. He wanted to support the various Second Amendment and patriot groups attending the rally and "let our lawmakers know that we are not going to put up with any type of unconstitutional attempts to disarm the citizens."
"I think we sent a strong message to the General Assembly and to the governor that Virginians are not going to put up with having our Second Amendment rights trampled on. I hope that message was well received," he said. "This is one of those things that it really is woven into the DNA of America, this idea that the individual citizen's right to keep and bear arms is the ultimate check and balance against government abuse of power, and I think it is something we need to keep and something we need to preserve for the heart and soul of the country."
Overall, Rachel Ordia said she had mixed emotions about the rally. Whether it was the officers on duty or her fellow protestors walking the streets, she said everyone was respectful and friendly. If people bumped into each other in the packed streets, they said "excuse me" and were understanding.
But as friendly as the people were, she said the atmosphere created by the security measures that had been set up around the Capitol building made it "feel like we were in a different country."
"There were barricades everywhere and there were empty dump trucks that were blocking streets. Honestly, if there had been a fire or something like an earthquake had happened, it would have probably been a very dangerous situation. There was really nowhere to go. You couldn't take one step without bumping into somebody," she said.
J.T. Pinnell of Powhatan said he attended the rally with a friend and chose to stay outside of the gate. Even though he decided not to carry a weapon, he didn't like how people were "corralled in there." Sharing the streets with thousands of people openly carrying weapons, he said he "probably felt safer than I have ever felt in my life. I felt extremely safe."
Leading up to the day, a great deal of negative rhetoric surrounded the rally about possible white supremacists groups hijacking the event, and Pinnell said his natural caution warred with his understanding of the unreliability of hype in his decision of whether to go. He decided that morning before the rally because he wanted to help send the message to elected officials that citizens don't want them infringing on their rights.
During the rally, Pinnell said he saw no signs of racist attitudes on display and was happy to witness people of many races represented.
"I guess they got the message that they are not welcome. We are a peace-loving, freedom loving people. We don't need people like that around. I am assuming they got that message. I am glad I didn't see anything like that there," he said.
Many have an impression that there is a lack of diversity in events like this, and that is not what Joe Ordia, who is black, said he saw at all.
"As far as the rally goers, I would say they spanned the entire gamut – black, white, young old. There were people there in their teens and early 20s and there were people there in their 60s and 70s – all Second Amendment advocates and liberty advocates. That really was great to see as well," he said.
Jeremiah May of Powhatan traveled downtown with a group of individuals from all over the state and chose to stay with them outside of the gate. He said he went armed because he felt those going through security were essentially going into a kind of "kill box" and needed armed individuals outside as a precaution.
Because of the worries about extremist groups attending the event, May said he prepared himself ahead of time and spent the first few hours on high alert. But he said he was there from 6:30 a.m. to 1:30 p.m. and never saw any signs of that kind of trouble. At most he saw people carrying the "Don't Tread on Me" flags and two individuals carrying the Confederate battle flag, but he also saw signs related to the Black Lives Matter movement and an LGBTQ rainbow "Don't Treat on Me" flag.
"We stood shoulder to shoulders, smiled and shook hands. It was absolutely nothing what the media made it all out to be. … We genuinely came together as a unit, as whole, and united. I was so happy and so pleased to be a part of the history we made that day," he said.
Despite his satisfaction with the event, May pointed out this was only one step in the process of trying to protect Virginians' constitutional rights. He hopes it will "cause a ripple effect throughout the country to where we can get our Second Amendment back to where it was originally intended."
"I personally feel any and all gun laws are against the constitution, to include any licensing for fully automatic weapons for suppressors, bump stock bans – I think all of it goes against what our Founding Fathers originally intended the Second Amendment for," May said.
Laura Matherly of Powhatan traveled to the rally with a group of 29 people, including her husband, Scott, and son, Chase, and several others from Powhatan. The group hired a private bus that dropped them off at about 7 a.m. and she and part of the group stayed together outside the gate for several hours.
Leading up to the event, Matherly said it felt like people who intended to attend the rally were being portrayed as troublemakers and there were worries that gun control proponents might show up to agitate the situation and get them to lose their cool.
"We weren't really worried about it. We control our pistols. We control our weapons. So when we got there and it was peaceful, we kept looking for the opposition and we were looking for the people that were going to be there in large amounts screaming at us, and they weren't there," she said.
The images that stuck with her from the event ran the gamut, especially in the nonverbal messages she saw. She remarked on seeing men and women in full gear who were silent and respectful. She saw a black man wearing a sweatshirt that read "Black Guns Matter." Some of the signs and shirts were vulgar or unnecessary. Many were in support of Trump 2020. But there was also an "Asian lady holding up a sign saying 'Do I look like a white supremacist to you?' "
"I am just glad we were able to truly express that we are not out for violence, we are not out for trouble. It is not a gun thing. It is a human rights thing. We founded this country with our ability to have a Second Amendment right to bear arms," Matherly said.