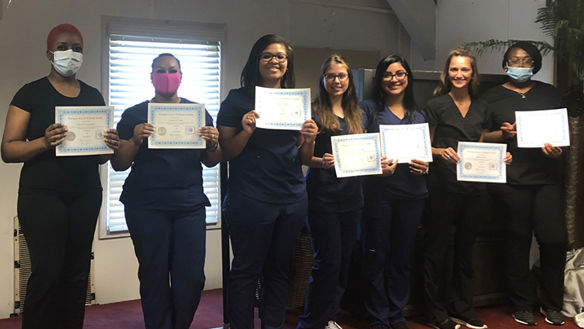 POWHATAN –The Powhatan School of Dental Assisting recently held a graduation for nine students who earned their certificates of completion as well as five students who also earned their certification through the American Medical Certification Association.
This was the fifth graduating class for the local dental assisting school, which was started by Melinda Hitt of Powhatan. She scheduled the graduation to be held on June 27 during a free dental clinic sponsored by the Powhatan Dental Outreach Foundation at the Powhatan County Fairgrounds.
Hitt said she was incredibly proud of the students, who worked to complete the end of their one-year course during the pandemic, which saw them attending classes virtually instead of in person.
"I was so proud. I told them at graduation, if I had to go through COVID with any class, it would be this one. They did not get to have two months of hands-on instruction. They learned by virtual classroom. … All of these things and not one time did any of them complain. They just kind of rolled with it," she said.
Students who successfully complete the school's course earn a certificate of completion, and they generally go on to work in a dental office for two years and then sit for the certification test, Hitt said. This was the school's first year offering the track where the students are eligible to sit for the certification test.
For five of them to pass out of nine after missing so much of the hand-on experience was understandable, and Hitt said many students only fell a few points short. She is hoping they will keep studying and sit for the certification test again soon.
Some of the skills the students learned over the past year included taking upper and lower alginate impressions, prophy cleanings and using oral hygiene aids, pouring up impressions with plaster, making bleaching trays using the BioStar, bonding and isolation techniques, and OSHA training. Many of them were also X-ray certified through VCU.
Hitt said she started the program for single moms who wanted to have a career with benefits and hours that fit with having a family and to offer a career path for local high school students who wanted to take a dental assisting course.
"I was a single mom for two years after my husband died and knew how hard it was raising two 7-year-olds, working full-time, and having to take a college class to continue my teaching license," Hitt said. "After I married Corey, I told him I would love to start something for single moms that want to move up in their career goals and provide health insurance and dental benefits for themselves and their children."
Tuition for the school goes toward supporting the Dental Clinic in Honduras and the Free Dental Care for Children in Powhatan.