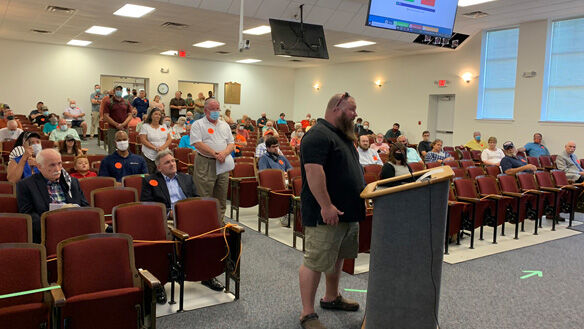 POWHATAN – The Powhatan County Board of Supervisors recently voted unanimously to adopt a resolution in support of Powhatan County citizens' and visitors' fundamental right to keep and bear arms.
During the board's meeting on Monday, July 27, the supervisors passed a resolution that declared that Powhatan "shall not exercise any authority granted to it by § 15.2-915(E) of the Code of Virginia to regulate or prohibit the otherwise legal purchase, possession, or transfer of firearms or ammunition."
This law, which went into effect on July 1, 2020, gives a locality the right to adopt an ordinance that prohibits the possession, carrying, or transportation of any firearms, ammunition, or combination of the two in any building or location owned or controlled by the locality for governmental purposes. This list includes buildings, public parks, recreation or community centers, and at permitted events and adjacent streets.
The board was given a choice of two resolutions to vote on at the meeting, both of which said the Powhatan government would not enact such an ordinance. Before the vote that passed unanimously, the board voted 3-2 against adopting a resolution that also featured stronger language and direct references to how the board would provide "zero funding for enforcement of any pretended laws, regulations, judicial opinions, or other edicts which violate our Declaration of Independence and any of the above-described federal or state constitutional provisions."
Chairman David Williams, who represents District 1, Bill Cox, District 4, and Karin Carmack, District 5, voted against that resolution. Larry Nordvig, District 2, and Mike Byerly, District 3, voted for it.
The scene last week was reminiscent of a similar meeting on Nov. 25, 2019, when the board of supervisors at the time voted 3-2 to pass a resolution declaring Powhatan a Second Amendment Sanctuary County.
But there were two key differences. While there was high attendance at the July 27 meeting and 14 people spoke about the resolution during the public comment period, the numbers were significantly lower than the standing-room-only meeting in 2019.
The speakers were no less passionate, mostly asking the board of supervisors to send a strong message. Some even specifically asked for the board to vote for the version with the stronger language.
Of note, sheriff Brad Nunnally was one of the speakers, saying he pledged to resist "all manners of legislation that restrict our natural rights that are listed in our Constitution." However, he didn't see the need to mention funding for his office in a resolution right now because his office and the commonwealth's attorney's office are in agreement not to prosecute unconstitutional measures.
Another notable change was that, while in 2019 the supervisors adopted a resolution brought forward by an audience member with a stronger stance than was originally proposed by the board, last week's meeting saw the supervisors voting against the resolution with the more strident language.
Nordvig brought forward the first resolution last week, saying the previous board had made its statement in support of defending Second Amendment rights but the current board had not.
He said he used a template provided by the Virginia Citizens Defense League (VCDL) but added additional content, including excerpts from the Declaration of Independence and the language about withholding funding for the enforcement of unjust laws. This is the version that was voted down.
Carmack put forward a version of the resolution that used the VCDL's template without adding to it. This is the version that was passed unanimously.
Nordvig gave a passionate presentation that painted a grim picture of what is happening in the nation, including in nearby Richmond City, and the potential threat this could pose to Powhatan County. In his presentation, he showed images of "mobs" burning vehicles in Richmond, talked about the rising instances of violence and death related to riots across the nation, played a video tying the Black Lives Matter movement to Marxism, and insisted that Americans' natural-born rights and constitutionally guaranteed rights are being infringed upon, including the right to bear arms.
The most significant change in his version of the resolution, having the language about providing "zero funding" to enforce unjust laws, was meant to give it "more teeth." Nordvig insisted this was not an effort to defund the sheriff's office, saying it gives the board the power to defund a single act, such as the enforcement of an unjust gun control law, without impacting the rest of the office's budget.
"A single act can be defunded. I don't have to defund traffic control to defund something else. I don't have to defund responding to a medical emergency to defund something else. I don't have to defund showing up for a domestic violence scene or a drug overdose to defund something else. This board can decide to defund a little, a lot, however much dollar amount we want to. We have that power," he said.
Cox gave a presentation on why he was supporting the VCDL resolution instead of the one proposed by Nordvig. He first clarified that a resolution is a formal expression of opinion or intention and is advisory in nature, not an ordinance that requires something be done.
Cox took issue with the language in Nordvig's version talking about "pretended laws," asking "in whose eyes is this an illegal law? Who decides where it violates the Constitution, the Declaration of Independence, and what process do they use to do that?" Cox compared this language to the mentality used by "mobs" in Richmond and other cities operating under the notion that "every individual has the moral right to decide for himself or herself what is permissible."
Cox also argued that providing zero funding for enforcement is defunding the sheriff's office and is also an attempt to tell the sheriff and his deputies which laws to enforce.
"That is not our decision. They don't need any help from us. They need zero help from us," he said.
An obviously angered Nordvig said he was greatly offended by being compared to "rioters, looters, burners, and murderers." He argued that while the justice system is necessary, it is not always right or just.
Carmack talked about submitting the VCDL version of the resolution because it is clear and concise. She also raised an issue with the language about withholding funding from the sheriff's office.
Williams assured residents that Powhatan has a board of supervisors and constitutional officers that are committed to upholding Second Amendment rights, which he agreed are under attack.
Byerly affirmed that the oath of office he took to become a supervisor included a commitment to uphold the Constitution and Bill of Rights. He recalled attending the November 2019 meeting as a regular citizen and seeing the outpouring of support for the Second Amendment. He said he would be voting to support Nordvig's version of the resolution right before the first vote was taken.