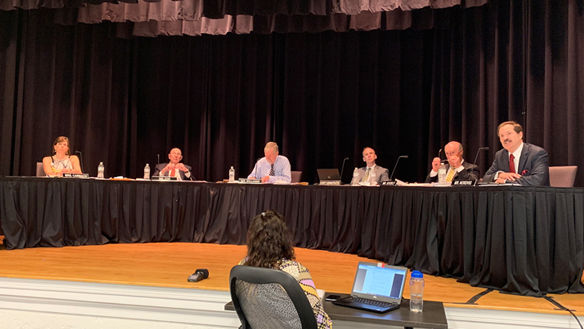 POWHATAN – The Powhatan County Board of Supervisors has approved a budget for fiscal year 2021 that will see only slight cuts to county and school funding but will likely mean an increase for most residents on their real estate tax bills.
During the board's meeting on Monday, June 29, the supervisors voted 3-2 in favor of building the county's fiscal year (FY) 2021 Operating Budget around a real estate tax rate of 85 cents per $100 of assessed value, which is a 3-cent decrease from FY 2020. They approved a budget net of transfers of $85.96 million, an increase of .02 percent over the FY 2020 Adopted Operating Budget.
The main split in the board came because, given significant increases in property values most property owners saw on their recent assessments, the lower rate will still likely represent a higher tax bill for them. Two supervisors sought to lower that burden even more.
Chairman David Williams, District 1; Bill Cox, District 4, and Karin Carmack, District 5, voted in favor of the budget based on an 85-cent rate. Larry Nordvig, District 2, and Mike Byerly, voted against it. This 3-2 spilt would continue for almost all of the meeting's remaining votes.
With the exception of a board packet that was published with the 85-cent proposal and then amended to add more proposals, there were no early indications on where the five supervisors officially stood.
Nordvig had suggested the supervisors come to their June 22 meeting and have a discussion about their suggested proposals, Williams held a public hearing but didn't even open the subject up for board discussion.
This discussion instead came at the June 29 meeting when three plans – Plan A supported by Williams, Cox, and Carmack; Plan B presented by Byerly, and Plan C championed by Nordvig – were laid out and discussed one at a time before the vote on Plan A finalized the decision.
Most of the discussion by the board members for the evening came during the discussion of the budget, as it influenced so many other topics. While discussing the budget, the supervisors discussed projected tax collection rates, school funding levels, and the creation of a revenue stabilization fund for the county.
After the 3-2 vote on the budget, the supervisors voted on several other resolutions in quick succession. They voted 3-1-1 (Nordvig abstained) to amend the FY 2021 School Operating Budget. The supervisors approved 90 percent of the county portion of the school board budget on May 14 with the understanding they would work with the school board to determine how to handle the other 10 percent, or about $2.33 million. The June 29 resolution budgeted all but $188,000 of the county transfer.
The earlier 3-2 split was back for three related votes: setting the FY 2021 tax rate at 85 cents; passing a resolution to temporarily suspend the school board capital reserve fund policy to allow more than $980,000 the schools saved last fiscal year to be used for a county revenue stabilization fund, and appropriating the first quarter of the FY 2021 budget.
The meeting also had two robust public comment periods, with 15 citizens speaking at the beginning of the meeting and eight at the end on a range of topics, including: funding the schools fully; lowering taxes; Powhatan's high tax rate in comparison to other localities; the projected tax collection rate; asking if the board would refund taxpayers if collection rates are higher than expected; the burden on people living on a fixed income, and county employees arguing for the county to cover their insurance increase cost as promised previously.
Cox laid out the proposal he supported along with Williams and Carmack, which is built on an 85-cent tax rate and a projected 92-percent collection rate. Staff has said in previous meetings that Powhatan typically has a 97.8 percent collection rate, but in the worst it has been in recent years, the Great Recession in 2008, the collection rate dropped to 94 percent.
Anticipating that collection rate has been one of the biggest unknowns of this budget cycle as it dictates the county's revenue for the coming year. The supervisors recently have been saying they are more worried about the huge unknown of the November collection rate and what it will mean for the county's budget halfway through the fiscal year.
Cox's presentation went into how the collection rate affects the county's revenue and showed figures the board has been looking at for weeks of projections of real estate revenue at different collections and tax rates. He talked about the decision to use a 92 percent collection rate to build the Plan A budget being based on the grim picture being painted right now of the nation's current and future economy.
He also talked about the huge unknown that the schools represent since Powhatan does not currently know what the start of the 2020-2021 school year will look like, much less how much money it will take to fund whatever COVID-19 precaution measures have to be implemented. More information will be known about both the county and the schools in the fall, when the board can determine if the situation has become better or worse and decide if changes should be made.
"We will revisit this budget in December. What can we do? We can do virtually anything you can get three votes for. You can restore some cuts such as hiring freezes, you could tap the revenue stabilization fund, or you could finalize the school budget, or you could advertise a different tax rate for June," Cox said. "So what we are trying to create is a plan to get us to a point where we have some definitive information on which we can make some real decisions."
With Plan A, a revenue stabilization fund would be created using the school savings for FY 2020 (more than $980,000) and 2020 revenue from fund balance in excess of 15 percent. This fund, which would begin with an estimated $2 million, would be restricted with guidelines on when and how it could be used to fund all county needs to spread the revenue problem over several years instead of just one.
One change that occurred in the plan over the weekend was the decision to fund the county employee share of health insurance increases at a cost of $59,000. Employees were told that cost would be borne by the county when they signed up for their plans a month earlier, but an email sent on June 25 to the county's leadership team said employees would be responsible for the increase. The news was met with a big pushback as constitutional officers and department heads responded with how this would essentially be a salary cut for their employees since there would be no salary increases. Although the board adopted an overall budget, not line items, on June 29, Cox promised staff their health insurance increase would be covered.
Nordvig and Byerly asked where the $59,000 would come from and Cox pointed to the county's contingency fund.
Other key points of Plan A included: the plan represents a $750,000 decrease in revenue from the FY 2020 budget; the county funding will be reduced 1.7 percent and the schools will be reduced 0.8 percent; no new position requests are being funded and there will be a six-month hiring freeze on vacant positions (savings of more than $300,000), and travel and mileage were reduced by 50 percent (savings of $57,000).
In his proposal for a budget, Byerly said he tried to be fair to everyone, but his chief concerns were public safety, public service, fire and rescue, the sheriff's office, and the schools.
Byerly proposed building the budget based on an 82-cent tax rate and a 94-percent tax collection rate. He pointed to the extreme conditions surrounding 2008 staff cuts and reductions and said he doesn't think the county is there yet, which is reflected in a more optimistic tax collection rate.
"Powhatan County will be fine. It will be OK. We will have a bump in the road, a curve in the road, but we are going to be alright," he said.
A good portion of Plan B centers around the schools. Byerly said he feels maintaining a good relationship with the school board partly hinges on the schools being allowed to keep any savings from its fiscal year and put it in the school board capital reserve fund. He was against suspending that policy temporarily and for the schools being allowed to keep the more than $980,000 the schools saved last fiscal year instead of using it for a county revenue stabilization fund. His budget only has $150,000 for the revenue stabilization fund.
The trade off with that would be decreasing the transfer to the schools' operating budget by $653,709, which is a 2.8 percent cut, he said. This means the schools would still realize $326,291 or better if their savings for FY 2020 increase.
Byerly compared this to Plan A, which takes $980,000 in savings from the schools as well as cutting $188,000 from the county transfer, a total loss of $1.17 million, he said.
During questions afterward, Carmack pointed out that the $326,291 would be one-time use funds, not operating funds. She said when she spoke with some school staff, they were concerned with the idea of starting the next budget season having seen $653,709 cut from the operating budget.
Other changes Byerly highlighted in his proposal included: $122,505 for fire and rescue part-time wages; $33,400 to deal with sheriff's office compression; $93,343 for sheriff's office deputies or school resource officers; filling an executive assistant position ($35,261); $318,473 in savings for hiring freezes; a 5 percent reduction in the board of supervisors' pay ($3,391); and $70,000 for fire and rescue training seminars and auto parts and repairs; $44,500 in recycling fees; cutting funding for the law library ($5,600), and $59,000 to fund the employee share of a 10.7-percent health insurance increase.
Nordvig's budget was built around an 80-cent revenue neutral tax rate, which means people generally wouldn't see an increase on their tax bill, based on a 94-percent tax collection rate, he said. He stressed multiple times that it would not represent a tax hike.
The early part of the presentation showed how much his research had found median real estate taxes increased in the last 10 years (40 percent) and pointed out the impact that has on the average citizen, especially those living on a fixed income or in poverty.
He called putting additional burden on taxpayers the "lazy way" and pointed out how disingenuous it is to talk about how hard hit residents have been by COVID-19 and then hit them with a tax hike.
Nordvig mentioned the schools but didn't go in depth into his funding plan, which he said involves total school revenue at requested level funding. His plan calls for a $571,188, or 2.5 percent, reduction in the county transfer to the schools. The level funding he spoke about would be possible because the school district is expecting $571,188 in combined increases in state, federal, and other local sources. How the school board chose to make cuts based on a reduced county transfer, up to and including cutting positions, would be a school board decision, he said.
Opposed to the county taking the entire $980,000 in schools savings back, Nordvig instead suggested the funds be split evenly between the county and the schools so each could set up a revenue stabilization fund to be used only in a state of emergency. While some of the savings were from school closings, some were from good management, and that should be rewarded, he said.
Carmack later objected to the school division having its own revenue stabilization fund, saying the schools are not a revenue-generating body.
In talking about the revenue stabilization fund, Nordvig stressed that if it is a rainy day fund, "it is pouring down now." The monies should be available to be used immediately during a declaration of emergency for operational use by the county and schools, he said.
Having the revenue stabilization funds available immediately would be especially important to Nordvig's plan because the budget he presented for the county is $427,657 in the red, which Cox pointed out after the presentation. He questioned using one-time funds for operational costs.
Nordvig reiterated that the rainy day fund should be in use now and said that while using one-time funds to cover operating costs isn't ideal, next year they likely wouldn't be looking at a 94-percent tax collection rate.
Nordvig's plan also called for putting $30,000 toward the employee health insurance increase with the intention of revisiting the issue in 90 days to see if more could be done to help employees.