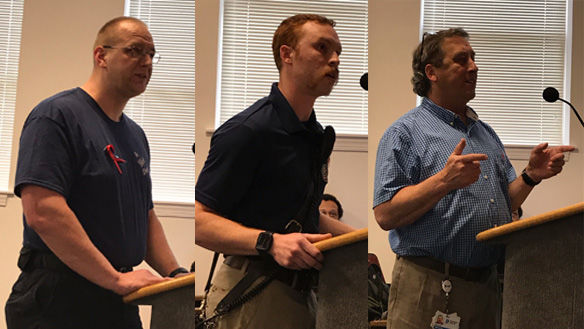 POWHATAN – Powhatan County firefighters showed up in force last week to voice alarm and disappointment over what many called a mishandling and lack of communication surrounding efforts to meet emergency services needs.
During a special meeting of the Powhatan County Board of Supervisors held on Thursday, April 11, about three dozen fire and EMS volunteers were present, with several of them sharing their anger and frustration about recent events and over low morale among the volunteers.
Many volunteers were outraged earlier this month by a letter fire and rescue Chief Steven Singer sent to senior policy members regarding a plan to provide additional requested paid Advanced Life Support (ALS) staffing to ensure quality coverage. This unit would be one of two – the other still provided by volunteers – on the nighttime Monday to Thursday shifts.
In that letter, sent out shortly after noon on Friday, April 5, Singer said that in addition to money from the county's general fund, part of the funding needed to pay for an ALS medic unit would come from cuts to the budget – namely by reducing allocations for volunteer uniforms by $20,000 and eliminating rents paid to volunteer companies totaling $52,135.
Companies 3, 4 and 5 and the Powhatan County Volunteer Rescue Squad all operate out of non-county owned buildings and rely on the rent checks to meet their financial needs. A letter sent from Deep Creek Volunteer Fire Department to county leadership on April 9 pointed out that the rent money it receives accounts for more than 50 percent of Company 5's annual operating budget.
After several days of feedback, county administrator Ted Voorhees sent out an email to all of fire and rescue on April 9 saying it was clear from board comments he had received that reducing the rents was a "non-starter." He followed that up with an announcement at the April 11 meeting by reaffirming that the rents and uniforms had been "off the table" for days.
Voorhees also admitted the proposal and the way it was communicated "wasn't handled as well as it could be" and pledged to do better in terms of how and when they have these kinds of conversations. As part of that message, he acknowledged how vital volunteers are to the county's public safety operations.
"We can't properly serve this community without volunteers. We can't do it. We don't have the resources," he said. "Even when we have paid staff pulling certain shifts or doing certain duties, when the big event happens – and it happens all the time, you know that – who steps up? Who brings the tanker? Who adds additional staff? Who pulls out the chainsaws when the storm comes? It is the volunteers."
Despite these assurances, members of the volunteer communities spoke during the public comment period, expressing concern that the proposed cuts got that far on top of ongoing displeasure with the lack of communication with them and appreciation for their role in the county's public safety.
Captain Ryan Burke, a member of the Huguenot Volunteer Fire Department (Company 2), spoke as an individual and said he was glad the idea to consider eliminating the rents was taken off the table, but questioned why it was made in the first place and took department outcry to be fixed.
"Mr. Voorhees, I appreciate you reaching out to the volunteer membership offering your explanation and I understand completely that the proposed budget request was just a suggestion. But the suggestion to eliminate rent funding was so egregious it can't be overlooked," he said.
In the last four and a half years, the fire and rescue department has seen a great deal of change, but many volunteers feel they were left out of that process, Burke said.
"We often learn of sweeping policy changes regarding operations when they take effect through an email. We see minimal staffing requests made by us to assist through statistically low volunteer turnout hours, double and even triple by the time it makes it to your desks. We learn of entire strategic plans that have been developed for the department mere hours before they are presented to you," he said.
Burke questioned the volunteers' confidence in the department leadership, pointing out that "morale is at an all time low. Despite record incentives being provided to members, volunteers are still unhappy."
"When a member feels they are neither wanted nor appreciated by the organization, there is no amount of financial incentive that will change that," he said. "We are not looking for the elimination of career staffing or to be in charge of our department. What we are looking for is to have a working relationship with those who are in charge."
Speaking on behalf of Company 4, Captain Bill Donati said it astonished him that the supervisors and county administrator had no clue how the volunteer companies' budgets work and the impact eliminating the rent would have had.
"I do suggest that maybe next time, when we come up with these idea for budget cuts, we utilize the system that we already have in place. The senior policy group would have been very happy to meet and hear your ideas and quickly advise you that it was a non-starter to begin with. Then we could have eliminated all these phone calls and emails," he said.
Donati also spoke to the weight the board should put on their requests for paid staffing. It is not easy for a volunteer company to ask for help and "admit that we can no longer do what we have always done," he said.
Still, he urged the board to do its homework by looking hard at the statistics they have been given and verify that when a company asks for assistance, it matches the "request that comes from our department head."
Donati directed each of his comments to a few different people, including Singer, whom he challenged to get out to meet with more volunteers and come to some of their meetings to create better relationships and improve morale.
Rescue Chief Billy Gwynn asked board members to meet with the individual companies to get input from them and then put a team of people from the front lines of local emergency services together to figure out what the county should do financially.
He also brought up low morale, asked for the results of any surveys done with fire and rescue to be made available, and to make more of an effort to recognize volunteers.
Near the beginning of his comments, Art Tate, a firefighter/EMT with the Powhatan Professional Firefighters Union, had all of the fire and rescue volunteers stand and referred to them as the "heart of Powhatan."
However, he said that when someone calls for help, they don't care if it is a volunteer or paid firefighter or EMT who answers the call as long as someone comes. Tate spoke for the proposed fire and rescue staffing plan, saying it would help Powhatan County to meet minimum standards, which it is not currently meeting.