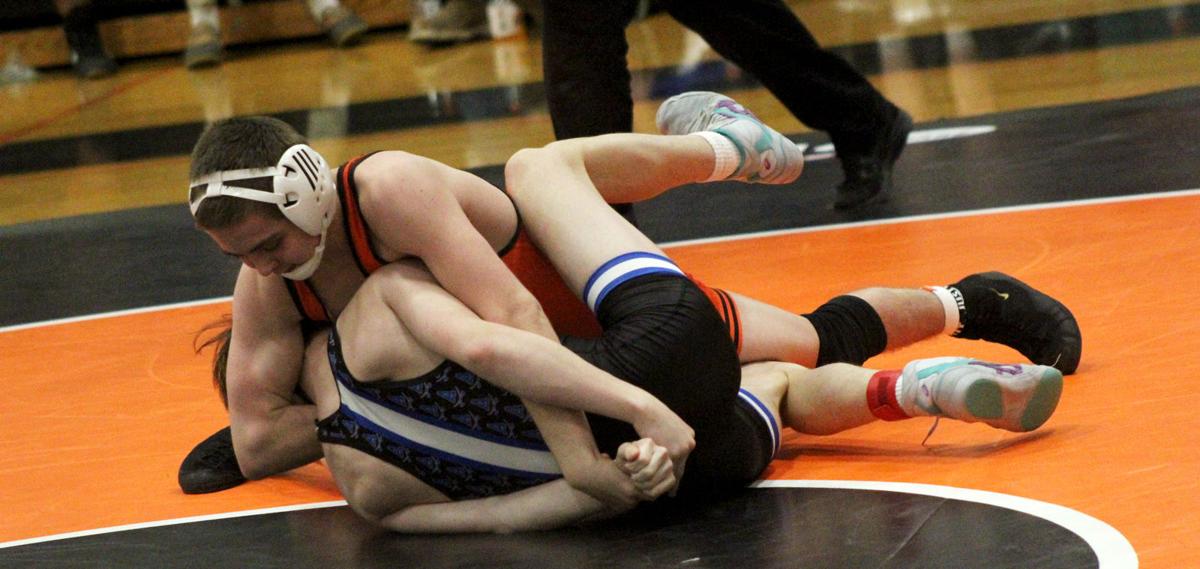 CHRISTIANSBURG - Fighting back from a 5-0 deficit in the final match of his weight class in Saturday's 2020 Big Blue Invitational, Powhatan High School junior Sean Hall surged past his opponent, Christiansburg's Luke Robie, to win the 126-pound championship on an 8-6 decision.
Hall, a two-time state placer, dominated his way into the final match, pinning Aron Simpson, Blacksburg's Garrett Henderson and AJ Garrett before defeating Payne Salmons by a 12-6 decision in the semifinals.
Hall's teammate and fellow junior Linwood Hill placed runner-up in the 195 weight class, taking a 13-5 major-decision loss to Jace Bradbury.
Hill, a two-time state qualifier, reached the final by pinning Charles Helen, edging past Derek Liddle and Mason Atkinson by decisions of 5-3 and 6-4, respectively, and besting his semifinals opponent Kellen Hunt 7-5 in overtime.
Bradey Lindhjem (heavyweight) powered his way into the semifinals, pinning both Kadin Hounshell and Christia Hall before out-dueling Floyd County's Shane Monk 15-12 in the quarterfinals. Lindhjem's journey in the championship bracket, however, would end in the semifinal round when he ran into Tyler Nix, who pinned him in 41 seconds. Lindhjem took two more losses in the consolation bracket and placed sixth.
AJ Gaskins (152) also battled his way into his weight class's semifinals, defeating Eastern View's Trey Spiller by tech fall and pinning both Dylan Loomis and quarterfinals opponent Zakarie Bailey. After a narrow 5-3 loss to semifinals opponent Oyis `Ma Daroshefski bounced him to the consolation bracket, Gaskins took two losses to also place sixth.
Two-time state qualifier Gavin Timmons (132) and Hayden Fitzsimmons (182) both reached the quarterfinals and placed eighth along with teammate Micah Holt (220).