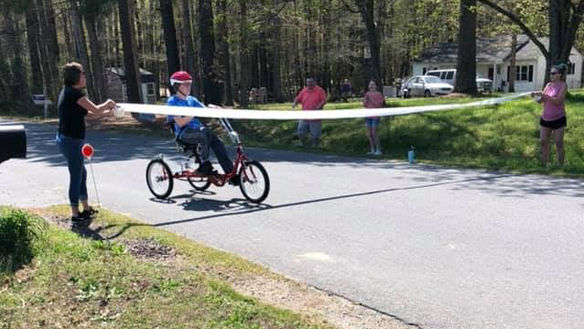 POWHATAN – As Eli Tiller neared the end, he could hear the cheers of the people spread out on either side of Jeter Road.
Cheers of "Let's go Eli!" and excited yells got even louder in the last few seconds. For a moment, it looked like he would head into his driveway out of habit. But in the final seconds, he veered back on course, and with a last pump of his legs on his adaptive bike, he crossed the finish line – a role of toilet paper held by two friends on either side of the street.
"It was amazing," Eli, 20, said of the moment on Sunday, April 5 that he finished his cumulative 54.1-mile triathlon.
This was a moment Eli had been working toward since Feb. 19, when he began his latest cumulative adaptive triathlon. Over the last several months, Eli has been walking, riding, and swimming his way closer to a virtual finish line.
Eli has physical and intellectual disabilities from an accident he had when he was 3 years old. He fell from a window in his family's house in Powhatan and suffered a traumatic brain injury, his dad, John Tiller, said.
Last June, Eli started doing virtual races as a way to bring some of the motivation he has when he does physical therapy into the home setting, his mom, Tricia Tiller said.
"This was a good way to get him more independent with wanting to do this kind of exercise," she said.
And it has worked – to date Eli has finished five races ranging from a 10K to a 69.1-mile triathlon. The first race Eli completed in ¼-mile increments using his walker in his home because he needs a completely flat surface. The Cinderella race, which was 18.5 miles, is still his favorite, but mainly because he loves all things Disney.
After that first race, Eli's physical therapist worried he was overdoing the walking and recommended diversifying. So in the cumulative long-distances races that followed, Eli varied how he accomplished the mileage. He still walks at home in those ¼-mile increments, which is equivalent to 26 laps inside his house. He uses his adaptive bike, riding 2.25 miles at a stretch with one or both of his parents running beside him. Until the pandemic closed gyms across the state, he would also swim/swim walk for ¾ mile, or 53 laps, in the pool at the Elizabeth Randolph Lewis Powhatan YMCA. So far, he has completed races that were 20.8 miles, 69.1 miles, and 51.4 miles using a combination of walking, riding and swimming. The Bunny Hop 10K he did in two 3.1-mile sessions on his bike.
"That was probably a lot for my legs, and I honestly don't plan on doing something as tough as that anytime soon," Eli said.
Each race has a theme, and Eli has loved the medals he earns by completing a race. The 51.4-mile race he just completed earned him the "We Go Together Like Bees and Honey" medal, which is already hanging on the trophy wall that is a testament to his never-give-up attitude.
John said his son has increased in endurance and speed with each subsequent race. While Eli's latest race wasn't his first or even his longest one to date, John and his wife invited people to come cheer on their son as he finished it because of his continued perseverance.
"The community has always been really supportive of Eli ever since he got hurt when he was 3. This was a big accomplishment for him – something he shouldn't really be able to do," John said. "His motivation is to make other people happy. So to have them there when he did his final leg was amazing. Because of that, he actually biked the fastest 2.25 miles that he has biked in the entire cumulative race he has done."
It was meaningful to have people come out and cheer for him under the circumstances, Tricia added. Everyone maintained social distancing guidelines, but that didn't dampen the mood.
"We really appreciate the love we have gotten from our friends and the community. We appreciate how it motivates Eli and how it has really helped him," she said.
Eli was also thrilled to have his grandparents, Mike and Rosemarie Basinger, there to witness his accomplishment because they hadn't seen each other since social distancing began.
Eli has already started a new race – an 89.5-mile behemoth with the theme "We Go Together Like Peanut Butter and Jelly."