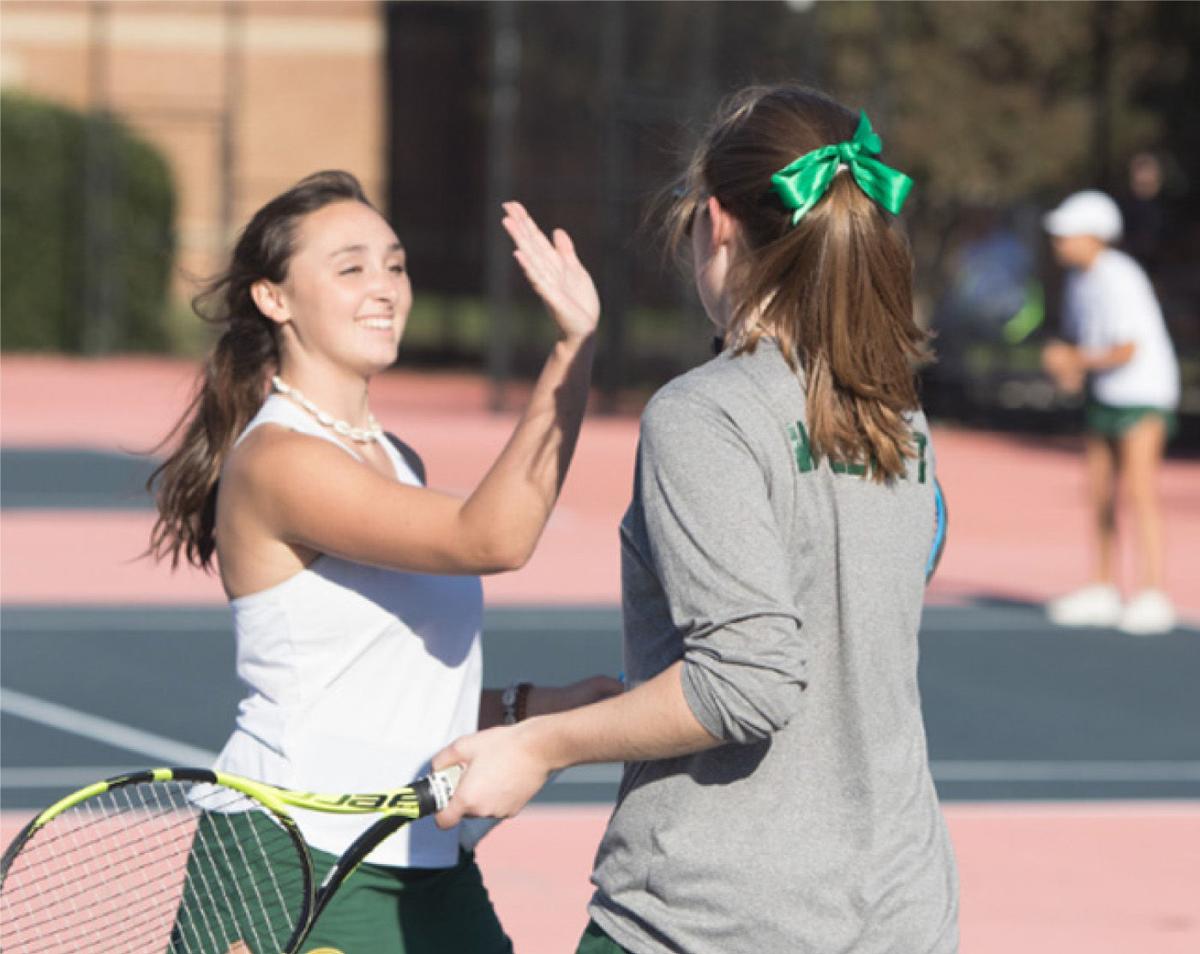 During tryouts for the tennis team, Powhatan's Kayli Shenk was thinking about what the lineup would be. It was her first year attending Collegiate in Richmond after she went to Powhatan High School (PHS) her freshman and sophomore years – and played at No. 1 on the girls tennis team those first two seasons – but, seeing how skilled everyone around her was, Kayli thought for sure that she was going to be at the bottom.
So when Collegiate coach Allyson Brand told her she'd be playing on the Cougars' No. 1 line her first match, she was in shock.
"It was nerve-wracking," she said. "But it also really fired me up when people were there watching and cheering us on."
Kayli would go on to help the Cougars take second overall in the League of Independent Schools (LIS) tennis tournament and reach the Virginia Independent Schools Athletic Association state semifinals with a 6-0 win over Episcopal High School this past fall.
When all was said and done, Kayli was recognized as a First Team All-LIS and Second Team All-State player in her first year competing at the VISAA Division I level.
"I feel like the whole season was a great achievement for me," she said. "It's been a long almost 11 years with this sport, and seeing my progress and hard work paying off is such an amazing feeling.
"There have definitely been moments where I've felt burnt out and wanted nothing else but a break," she said. "But sticking with it has brought me so many opportunities and friends, and I wouldn't change a thing."
Kayli's tennis journey began at the age of 7. Having always looked up to her older cousin Kendall Cray, who also shined as an on-court standout, Kayli signed up for lessons at ACAC and started competing in 10u when she was 9. Being new to the game, Kayli started off with what she said was "a bit of a losing streak." But that turned around once she found her swing, and she began winning tournaments – as well as winning outright against her parents during their Sunday practices on the PHS tennis courts.
"Winning really gave me the determination to be the best," she said, "and keep getting all those shiny trophies."
Kayli has always tried to keep a positive attitude, both on the court and in life in general.
"Tennis is such a mental game, and one of the best strengths anyone can have is to stay positive and adjust," she said. "Your biggest opponent will always be yourself, and once you learn how to keep your cool, everything becomes a little easier!"
While growing up, Kayli played tennis in the Richmond area as Powhatan didn't have many opportunities for her sport. That's how she came to know Nora Willet and Alyssa McDaniel, who practiced and played with Kayli on the same RVA teams. Willet and McDaniel would both go on to play for Collegiate.
Kayli also had the opportunity to speak with the coaches of the Collegiate team and one of her personal coaches, Pat Anderson.
"They put the bug in my ear about transferring to play on the Collegiate team, which had been No. 1 in the state for a couple of years in a row," Kayli said. "So, towards the end of sophomore year, the thought just kind of hit me: "Why not apply to a great school where I already know people, and why didn't I think of this sooner?"
She went home that day and filled out her application, and soon enough, she was spending her junior year at what she described as "one of the most beautiful schools in the area."
"I made my own opportunities by applying, and Collegiate has been so wonderful and provided me with so much!" Kayli said. "I had amazing coaches and teammates along with teachers and classmates who I feel like I've known forever. I honestly think it was the best decision of my life so far, and I'm so stoked for senior year!"
She praised her Collegiate teammates, whom she said welcomed her in with open arms.
"We did so many fun things together to build each other up and really be a solid team," she said. "The team dinners, and our weekend trip to the beach at the end of the season were some of my favorite moments. Our bus rides before each away game hyped us all up, and even when we lost, we were all there for each other."
She feels that coaches Brand and Mike Finsterwald helped push them to be the best players they could be.
"They gave us great advice and strategies," she said, "and never failed to make us smile when we were down."
Kayli went from playing No. 1 her entire PHS career to the same top spot for a good part of the season at Collegiate, and the experiences with the two teams were "quite different experiences" for the rising senior. With PHS, she and her teammates at the time were often traveling hours away for road matches because of the way the Jefferson District was set up.
"The Albemarle schools were some of my toughest opponents as an Indian and I remember one away match, I was able to fight my way back from 1-6 and ended up winning 10-6!" Kayli said. "That kind of fight was what I saw on the daily playing for Collegiate."
She said that St. Catherine's, one of Collegiate's Richmond-area and Division I rivals, "had an amazing top six."
"Our whole lineup had to fight for every single point when we played them," Kayli said. "Some wins came easier than others, but I really had to stay focused and fight for every single match."
She also remembers that one scorching-hot day when they hosted St. Anne's-Belfield from Charlottesville. They even had to shorten their matches to eight games to try and keep the players out of the heat as much as they could. Kayli was playing the No. 1 line, and while a typical singles match of that length tends to span one hour, Kayli and her opponent doubled that length.
"Everyone had been finished with their matches for ages and the pressure was on with all of my teammates watching," Kayli said. "I remember sitting in the shade during our breaks feeling like I was going to fall over at any second while Coach Mike and Coach Brand helped me strategize."
That match, she said, drained everything out of her.
She still pulled off the 8-5 win.
Kayli also enjoyed a strong showing in the 2019 LIS tournament. She played No. 2 in that tournament and earned second place in singles and first place in No. 2 doubles with her partner Elizabeth Mendoza. Overall, the team took runner-up in the tournament.
"Although it wasn't the win we were hoping for, we all played really well," she said, "and it was definitely still a victory."
Getting to play in the state tournament with her teammates was also another really big achievement to Kayli, as she'd never gotten to play in states for the team title before. With PHS she got to play individually, but this was a totally new experience.
She was, however, dealt a tough blow in her state semifinal match at The Potomac School when she rolled her ankle and went home on crutches.
"I didn't get to finish that match, but I played well," Kayli said, "and I'm so proud of our hard work to get where we did! I'm so thankful I got to be part of such an awesome team."
After this past 2019 season, Kayli took a break from tennis and danced for her sports credit at Collegiate. She took some time to focus on some of her hobbies like art and volleyball, and then when the COVID-19 pandemic hit, her club closed, so she couldn't get back to her tennis lessons for a few months.
She spent most of that time working out with her mom and trying to stay fit for when the time came that she was able to get back to work with tennis. They've been doing fitness classes at the YMCA and swimming at their neighborhood lake. And now her club has just reopened, so she's been able to get back to taking private lessons with her coach Janet Fleishman again.
"I don't know what the season will look like this fall, supposing we still have it, but I'm doing my fitness and preparing for tryouts!" she said. "Hopefully I'll get to have my last year of high school tennis, but regardless of what happens, I'm proud to be part of the Collegiate community."
Kayli also praised Jennifer Campbell, who was her coach at Powhatan, and her PHS tennis teammates McKenna Adams and Haley Balzer, "for amazing memories and matches."
"McKenna and Haley have become some of my best friends," she said, "and I'm so glad I got to play with them."
She said Willet, Mendoza and McDaniel helped her adjust to her new school and team at Collegiate, and she praised their perseverance throughout the season.
"All of us were injured [at] one point or another and so our lineup was ever changing," Kayli said. "They're all amazing players and I wish Alyssa the best at USC and look forward to senior year with Nora and my other teammates!"