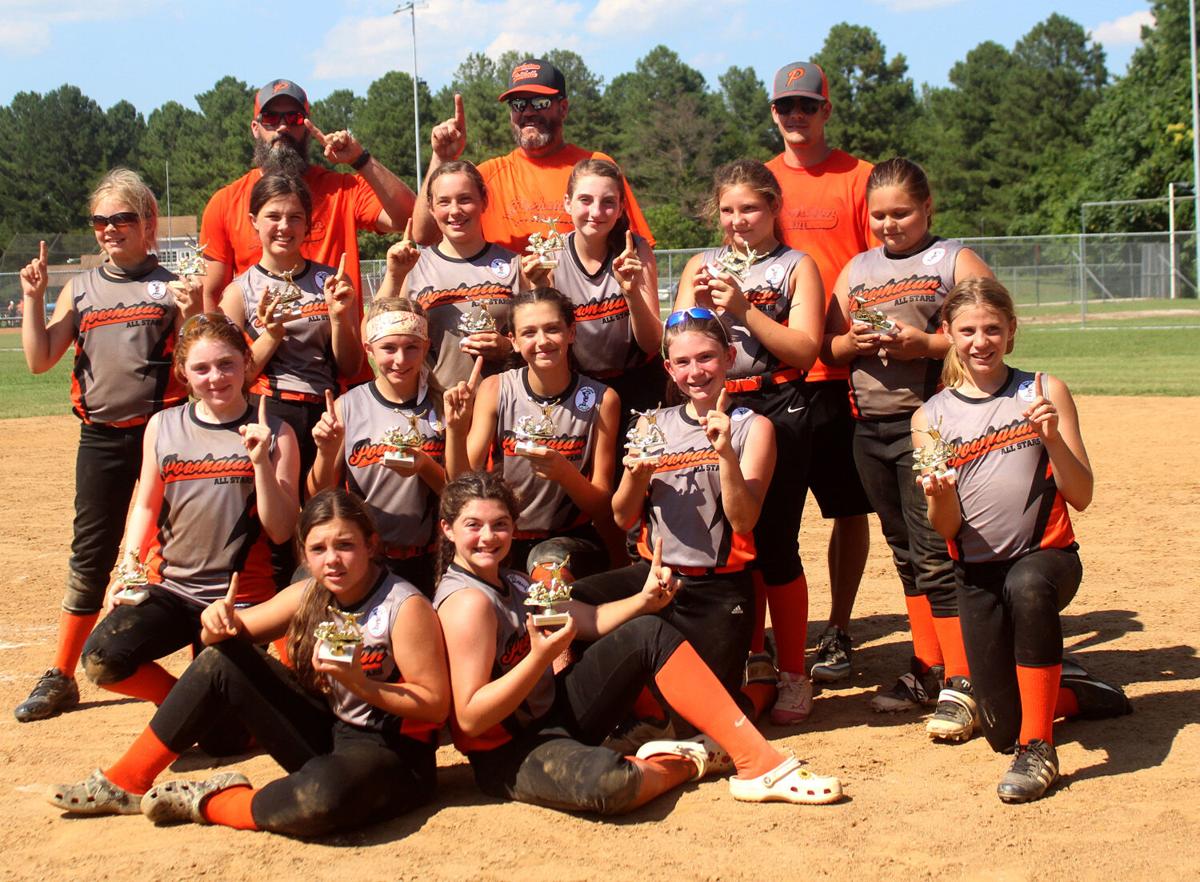 The Powhatan Youth Athletics Association's Ponytails are looking forward to the opportunity to play in the Dixie Youth Softball World Series in Alabama less than two weeks from now. In addition to facing tough competition, however, they'll also have to endure the summer heat of the Deep South.
But if this past weekend in Virginia was any indication, they're up to the task.
The Ponytails needed only four innings on a sweltering afternoon to rout Amelia 14-0 and win the District Championship at Pitt Field.
"Alabama's going to be hot, and this was just a little taste of it, and hopefully the girls now see: 'Hey, it's going to be hot," said Ponytails head coach Stony Gillespie, who got hit with the celebratory ice bath from his players and one of his coaches after the game.
He complimented his players' camaraderie.
"They've been playing together now for years," he said, noting how the current players on the team started together as 5- and 6-year-olds and have since then worked their way up together to 12u. "They all get along, too. We've got a good group of kids, and we've also got a great group of parents. The parents are what help us make the team. As long as the parents are getting along, the kids get along. It's kind of funny, but that's the way it is. But they did great today."
The Ponytails played a relatively cooler 10 a.m. game to open the tournament, in which they narrowly edged past Amelia 8-7 the first time. But while Amelia had to play a game right after that, Powhatan was able to get a two-hour break from playing in the heat, and Gillespie noted that having that break helped.
They were dominant in the final game's third inning, scoring 10 runs within the frame. They limited mistakes, took advantage of Amelia's miscues and kept the visiting team hitless behind pitcher Brooklyn Narbut, who struck out six batters and walked four in her complete-game shutout. She overcame a bases-loaded jam in the final half-inning when she fielded a comebacker and threw out the runner headed to first.
"She stayed the same, she stayed strong," Gillespie said. "She got close, but she pulled it off."
Narbut joined teammates Maddie Taylor and McKenley Fox in scoring two runs each in the final. Jaelynn Jones was the first to score in that game after she had initially reached base on a double. From there, the Ponytails didn't look back. Arlena Johnson and Kristi Sottile also each hit a double, and Liza Watkins delivered a triple.
In the Ponytails' first game of the tournament, Addison Gillespie scored two runs and the home team pushed past Amelia for the win on three runs in the fifth inning from Haylee Miller, Lily Barr and Johnson. Miller, Johnson and Watkins all hit doubles in the first game.
This past weekend's district tournament marked the first time that the Ponytails had played against their own age group.
"We struggled in the beginning, but we're going to be playing some other 12u teams, which is good, before we go to the Dixie World Series," Gillespie said. "That will be the ultimate test for us."
Preparation for the Ponytails' trip to the World Series continues. They're holding a car wash at the Blackhawk Gym today (Sunday, July 19), beginning at 11 a.m. and they'll host another cornhole tournament fundraiser on Saturday, July 25, beginning at 7 p.m. at the Powhatan Moose Lodge.
They also have at least three more games coming up before the World Series. They'll play a 6:30 p.m. Wednesday game versus Goochland at 6:30 p.m. and a doubleheader versus two fellow 12u teams on Saturday, with the opener taking place at 10 a.m. and the second game at 1:30 p.m. All three games will be held at the Turner Complex in Powhatan.
The Ponytails' players are Lily Barr, Kaylie Cook, McKenley Fox, Addison Gillespie, Arlena Johnson, Jaelynn Jones, Haylee Miller, Summer Mitchell, Brooklyn Narbut, Kristi Sottile, Natalie Stopf, Maddie Taylor and Liza Watkins. Coaches are Nathan Miller, Alex Narbut and head coach Stony Gillespie.