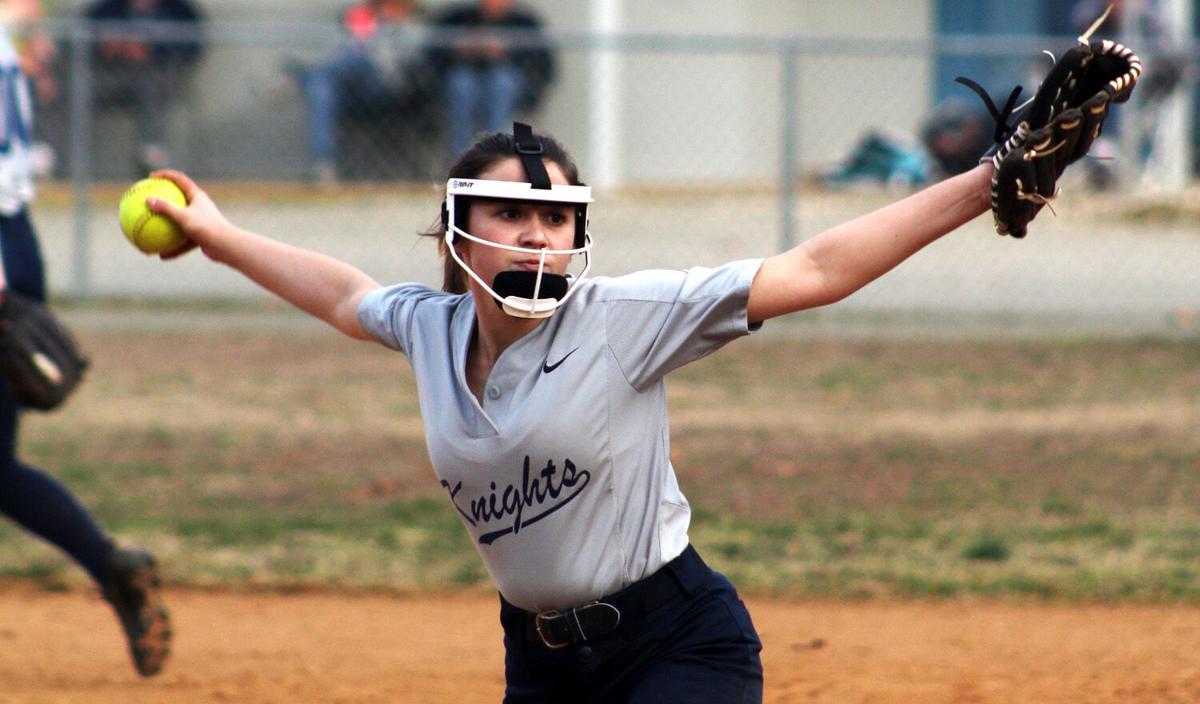 Growing up, Mya Manson was constantly playing sports. She switched around a lot because she loved trying new things, and she decided to play softball in the fourth grade. She competed for the Chesterfield Youth Softball Association up until sixth grade, but she wouldn't play softball again until her junior year of high school, when she switched schools to Blessed Sacrament Huguenot. At the time, lacrosse was her main sport.
"But as soon as I stepped back on to the field," she said, "I quickly remembered why I loved softball so much."
Manson, whose roles on the team included starting pitcher, helped lead the young varsity Knights through their first year back on the field since 2016. She was the Knights' sole senior this 2020 season and played two games as a leader on her team. But the Knights' second game of the year would be their last, as the COVID-19 pandemic led to the cancellation of all high school athletic seasons in the state for the rest of the spring.
Manson talked about her journey on the team, her approaches in the pitching circle, what it was like playing with her BSH coaches and teammates, how she reacted to the pandemic and what she plans to do collegiately.
Powhatan Today: What made you enjoy or fall in love with the game?
Mya Manson: My teammates and coaches made it really easy for me to fall in love with the game. The first coach I had, coach John Gibson, was one of the best coaches I ever had out of every sport I've played. He always made playing softball fun, while also making us better players and better people. Having a great coach and teammates made me enjoy playing softball even more.
PT: What was your journey on the team like, and what was the work you did and the improvements you made from when you started playing in high school to now?
Manson: My journey on the team was definitely a hard but great experience. I had to almost relearn the game after five years of not playing. I was constantly at the field with my coaches or teammates trying to knock the rust off and find my groove again. I feel like I made the most changes from when I was younger through my big switch from a second baseman to a pitcher.
PT: As a pitcher, what are the approaches that have best helped you in the circle?
Manson: I would forget about every pitch I had thrown previously in the game and only focus on throwing to my catcher. I imagined every pitch as a new count and it definitely helped me to relax better.
PT: What was it like playing with your BSH teammates and coaches, and what made BSH unique as a team?
Manson: Playing with my BSH teammates was always so much fun. It was definitely the most uplifting and supportive sports team that I have played on. We constantly cheered each other on and helped each other on and off of the field. My coaches at BSH were also super great and made the season even better. I was super lucky to have another great softball coach while at BSH, Coach (Michael) Hedrick, who gave every ounce of his time, energy and knowledge to the team in efforts to make us better players. My team at Blessed Sacrament was super unique because over half of the girls on my team had never played before. It was awesome seeing my teammates improve throughout the season and love the game the same way that I did.
PT: What are a couple favorite memories from games, practices and/or hanging out with your teammates?
Manson: My favorite memories are when we won the game against Massanutten Military Academy, my teammate Haleigh Davis hitting a home run, the long bus rides together and coach Hedrick bringing sunflower seeds and snacks to every game for us.
PT: Going into this season, what were your expectations?
Manson: I had really high expectations for this season and our team. We started training during the winter and I could already see the amount of hard work and improvements my team made. I was super excited for this season.
PT: How tough was it for you to find out that the rest of the spring season would be cancelled due to the COVID-19 pandemic?
Manson: It was really hard for me to find out that our season would be cancelled because of how high my expectations were for it. I was extremely disappointed because I knew how much time and work my teammates put in over the year. It was a very hard time but I tried to still look at the positives and how lucky we were to get a few games in before the season was cancelled.
PT: How has the pandemic motivated you towards your future goals?
Manson: In the beginning, the pandemic definitely scared me for my future goals. I was nervous about finishing my senior year online, graduation and if I would even be able to go to college still. However, the pandemic also motivated me to take advantage of every moment because you never know when life will completely change or what could happen.
PT: What are your academic plans?
Manson: I will be attending Christopher Newport University in the fall with the plan to major in accounting. I hope to also complete the five-year masters program in financial analysis.
PT: Are there life lessons or takeaways that go beyond the field that the game of softball has helped you to see or realize?
Manson: From watching my team at BSH, it showed me that anything you put your mind and hard work into can be accomplished.
PT: And anything you'd like to add!
Manson: I would like to add a thank you to all of my coaches and teammates for all of the great memories and everything they have helped me with along the way. I would also like to thank my family for always supporting me and managing to keep up with my constant sport changes. The best advice I could end with is to urge everyone to never take your moments at school, on the field or with your team for granted because you never know when it will be the last time you're there. Always have fun and enjoy each moment while it lasts!