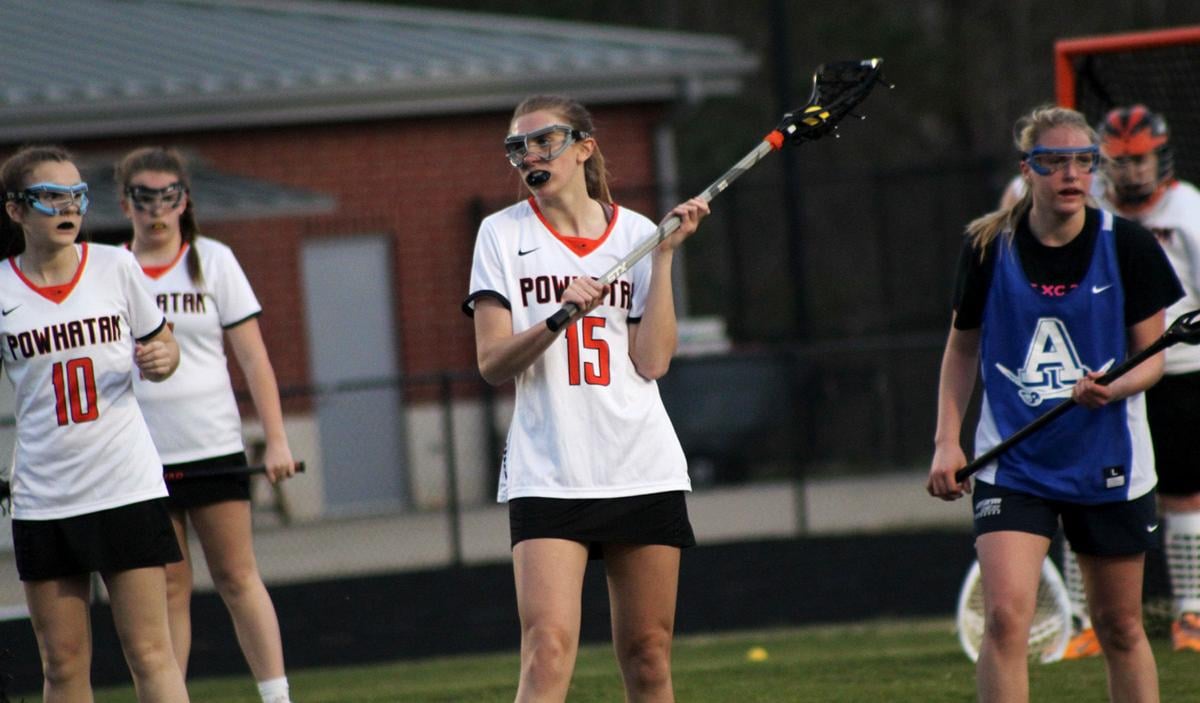 Hazel Saunders first started playing lacrosse when she was 14 years old. She was starting at a new school, and she wanted to try something new.
From there, the Class of 2020 defender went on to play on Powhatan High School's girls lacrosse team throughout the rest of her varsity career. She got to be part of the team progressing to the point of achieving its winningest season (9-6 in 2019) and its first regional playoff victory.
She also played indoor lacrosse with many of her teammates, along with a few other girls from different schools.
This past spring would've marked Saunders' fourth season playing with the team. But the COVID-19 pandemic led to the cancellation of the 2020 Virginia High School League spring sports seasons, preventing Saunders and her fellow senior teammates from playing one final high school season together on the lacrosse field.
Saunders talked about what made her fall in love with lacrosse, what she felt she brought to the team, what it was like playing with her teammates and coaches, her favorite memory, her future plans and the life lessons she's learned from the game.
Powhatan Today: What made you enjoy or fall in love with the game?
Hazel Saunders: The reason I fell in love with lacrosse was the complexity of the sport. There is so much going on during games and different elements that you have to learn to put together.
PT: What do you feel you brought to the field and to the team that helped you stand out and/or contribute?
Saunders: I feel I was a great leader, but I was also very willing to be taught by others. I had really good field knowledge that [helped me] to play defense and communicate with my teammates.
PT: What made Powhatan girls LAX unique?
Saunders: The Powhatan girls LAX team is like a family: we would butt heads at times, but in the end, we all loved each other and grew together.
PT: What were your teammates and coaches like? What was it like playing with them?
Saunders: My teammates were amazing and I couldn't have asked for a better team. We all learned and grew together and it really showed during our games. We knew how each person played, which would determine which move we would make. And for the coaches, I love them, too. They were hard on us at times, but we always saw progress as a team.
PT: Describe your journey with the varsity team and what it was like seeing the team improve over the years you were on the team:
Saunders: My journey as a Powhatan girls lacrosse player was one I will never forget. When I first started playing I wasn't very good, but I was told that I was "coachable." After our first win I was motivated to be better and it was amazing to see how we all got better over the years. For me personally, being able to see my teammates get better motivated me to get better because I wanted to do it for them.
PT: What are your 1 or 2 favorite memories from games, practices and/or hanging out with your teammates?
Saunders: My favorite memory was getting our first win. We all were kind of let down because we were on a losing streak but we prospered and gave it our all. Our first win was against Clover Hill, which was the school I was going to attend before I moved to Powhatan my freshman year. Beating them was a turning point for all of us. It made us want to work harder.
PT: Going into this season, what were your expectations for how you felt the team would do?
Saunders: I was expecting a lot out of this season. We did amazing last year and I was looking forward to continue the winning streak. Powhatan as a whole got put into a new athletic district (the Dominion District) so I was excited to play new teams and I know that our team would have done amazing in the new district.
PT: How tough was it for you to find out there would be no spring season due to the coronavirus pandemic?
Saunders: It was pretty tough. The day I found out I just sat in my room and cried. I couldn't stop thinking about all the memories that I wouldn't be able to make. I was named captain this year after a lot of hard work so I was really looking forward to the season.
PT: How has the pandemic motivated you towards your future goals?
Saunders: The pandemic has showed me that I can't take time for granted. If I want something I have to work for it now. I can't put things off and expect them to go as planned.
PT: What are your current plans after graduating from Powhatan?
Saunders: I'm planning on majoring in environmental science. I will be attending John Tyler then transferring to CNU (Christopher Newport University). I will also be interning under environmental scientists for an engineering company.
PT: Will you look to continue playing lacrosse?
Saunders: Unfortunately my formal lacrosse career is over, but I will never put down my stick whether just playing with friends or doing wallball at my house.
PT: What are ways in which you've been staying conditioned and staying in shape during this time?
Saunders: I have been doing workouts at home along with running. I love working out and staying in shape so that'll be something I carry out doing for a long time.
PT: Are there life lessons or takeaways that go beyond the field that the game helped you to see or realize?
Saunders: Lacrosse really taught me how to work with other people. It taught me that there's times when you take over and do the job and that there's times when you teach others and let them shine. I will never forget what my coaches taught me and I'm extremely grateful that I got the opportunity to learn from them.
PT: And anything you'd like to add!
Saunders: I want to say thank you to my coaches and my teammates for everything. They made my high school years so much better and I can't say enough how grateful I am to have been part of such a great team.