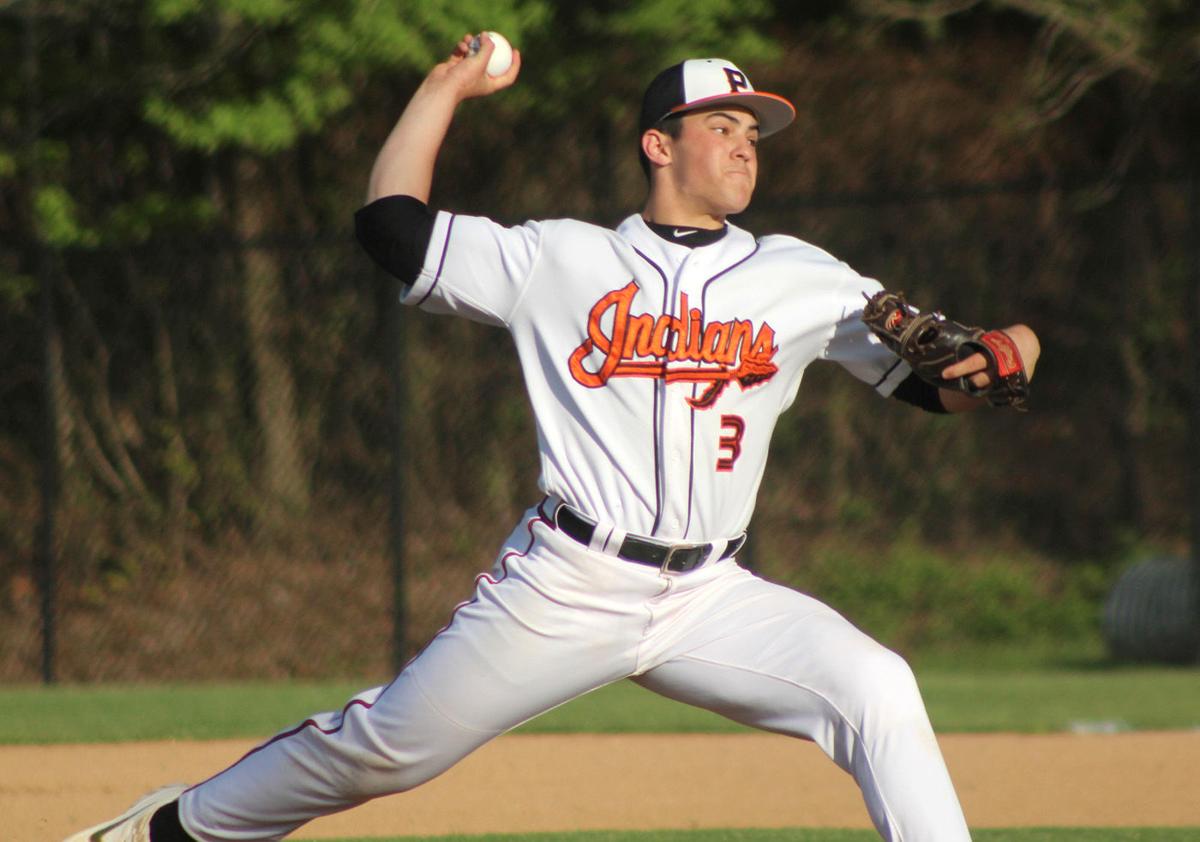 POWHATAN – Brandon Eike can't see one facet of the game that he likes more than the other.
And it's easy to see why.
Whether he's helping lock down the infield at short stop, stepping up to the plate or taking to the hill to pitch, he's a threat to make something good happen for his Powhatan Baseball team. This past season as a junior, he showed he can bat 3-for-3 with two doubles and strike out 15 batters in the same game, as he did in the Indians' 5-1 win over Albemarle on Senior Night.
That versatility shows in his commitment to Virginia Tech for both pitcher and a hitting position, in his earning All-State and First Team All-Region honors for both short stop and pitcher...
...and in his being named Region 4B Player of the Year.
Eike has been a fixture on the diamond since he was 4 years old. He played rec league ball in his early years, competed for Powhatan Middle School, joined the high school varsity level as a freshman and has been playing travel ball since he was 9.
He's started every game with Powhatan High School since 9th grade, originally playing at third base before shifting over to short stop last year. He didn't really get many innings last year on the mound – he maybe had about 5, just because Powhatan's starting pitchers were really good last season, he said – but the hard work and play of his teammates around him reinforced the merits of work ethic: just keep working, and you'll get your turn.
"When your time's ready – even when you're not getting to pitch as I wasn't as much as I wanted to last year – always stay working," he said, "and when your time comes, be ready for it, and that's what I did this year."
He was ready for the major bump-up in his inning count from under 10 last season to 52 in 2019. He had multiple 15-strikeout games – he also fanned 15 while tossing a 1-hitter in the Indians' 11-0 shutout win over King George in the first round of regionals – and he's been able to help his case on the mound with reliable hitting.
His fastball velocity this year reached a top speed of 93 miles per hour, and it's consistently sat between 87 and 89.
He's been working on his slider this year, focusing on his two-seam moving more and staying centered on that one universal goal: throwing strikes.
"When you throw strikes, you get outs," he said. "Throwing strikes, they're going to either hit it or strike out, and you've got to rely on the defense."
In his plate appearances on offense, he steps up to bat with the mindset of hitting the ball up the middle, reacting on pitches in or out and sitting fastball.
In working on his game and "trying to get better every single day," he's focused on getting in his hitting reps and defensive work. He's also placed emphasis on the weight room since the 8th grade, striving to work out 6 times a week.
For pitching, it's about long tossing, arm care, flat grounds and making sure his arm's in top shape at all times, with his Powhatan coaches emphasizing those steps.
And through playing for a coaching staff that collectively features over 120 years of coaching experience, he never stops learning.
"It's like an encyclopedia of baseball," he said, adding that there's "always something new to learn about every facet of the game, no matter how good anybody is."
The rising senior is still more than a full year away from stepping onto the collegiate field as a player on the Virginia Tech Baseball team. With Tech, he loved the coaching staff, he likes the homey feel of the school and he felt that it was the place for him.
"And I've always wanted to play at the next level," Eike said, "and I felt like, staying in-state there, that was just the best fit for me."
He's not sure yet as to the position he'd be playing at Tech on the hitting side – that will be decided when he gets there, he said – but he'll be heading to the NCAA Division I level with that rare two-way commitment as both a pitcher and a hitter/fielder.
"It's awesome – it gives me an opportunity to go either of both ways," he said while noting: "In the ACC it's really hard to be a two-way player, so as I get to college I'll probably go one way or the other, but it's a great opportunity for it to be open like that where I can go one way or the other, what they choose once I get there."
But before then, Eike will take on his final season of high school next spring.
He came into this year's campaign having reached states with Powhatan in 2018 as a sophomore.
"It adds a little experience," he said. "You've been there and you know what that feeling's like to pass on to your teammates who are younger and have not experienced that yet."
This year, he was part of a young team overall that he felt was able to learn how to play well together and mesh together well as the season went along.
He and his teammates battled out to a 12-7 record and reached the regional quarterfinals – not as far as the previous season when he reached the state quarterfinals. But not being able to get as far motivates him going into his senior year.
"It really just gives me something to push forward to to next year, knowing that we don't want another ending like this year," Eike said.
And with a young team comes several experienced returners for next year. After Powhatan Baseball showcased that pretty much anybody and everybody on the roster could play – and play well – the team will look to continue its show of depth as most of 2019's infield is expected to return in 2020.
After making First Team All-Region in two different positions, Eike went on to make First Team All-State as a pitcher and Second Team All-State at shortstop.
While Eike said it was awesome to be named Region Player of the Year, awards like that are not his main focus.
"It's not something I really think about," he said. "I just like to go out and play my game and whatever happens, happens."
This offseason, Eike is looking to work on his speed, keep up the weight-room grind and improve in every facet of the game.
"I'm never satisfied with where I'm at," he said. "I always want to get better, and I just want to be the best person on the field at all times – that's just my mentality."