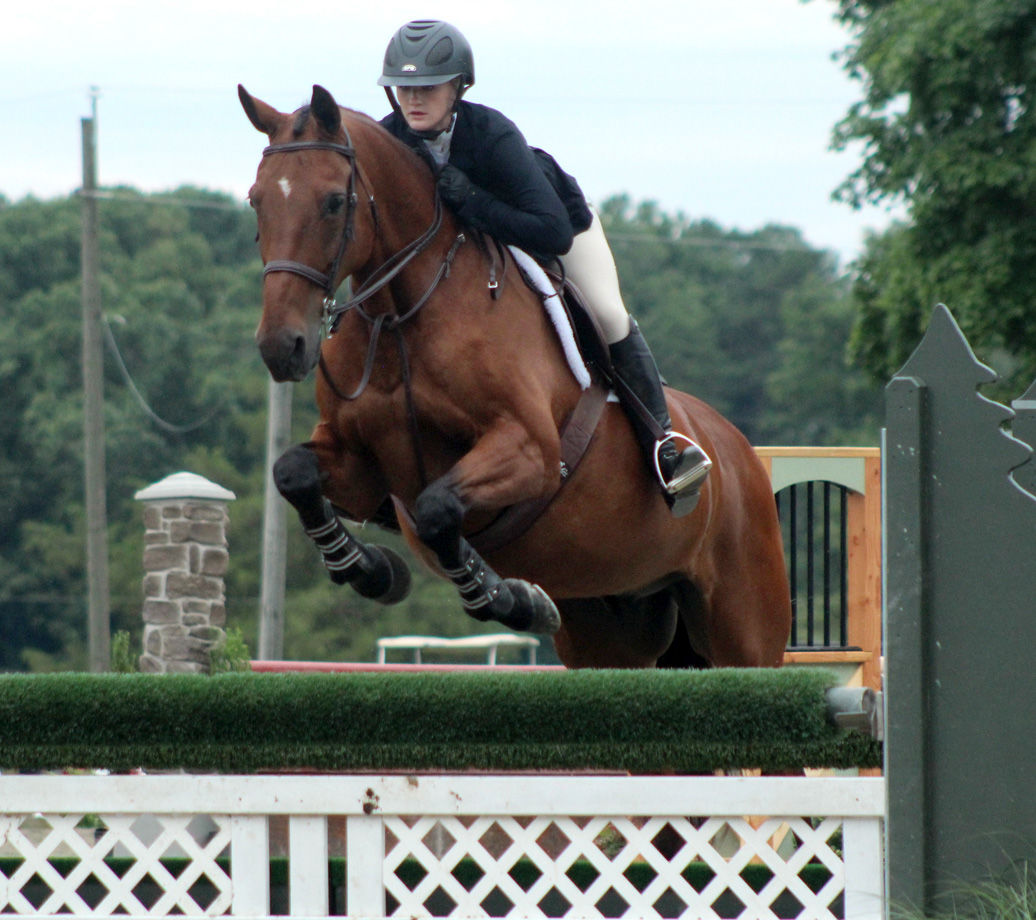 Blessed Sacrament Huguenot rising senior earned career-best 3rd in Deep Run Horse Show's Bryan Trophy Horsemanship Class
MANAKIN-SABOT – The love and passion for riding and showing horses was passed down to Elizabeth Carter.
Just as her mom rode when she was younger, Carter has grown up working with horses and riding them all the time. She loves the bond that you create with the horse you're riding – the relationship that you build with them, what they bring for you and what you give to them.
"I think it's a really neat interaction," she said.
Carter's commitment to the sport is a daily one. She rides the horses at her barn in Powhatan every day, while also going to the Hampden Row stable in Manakin-Sabot – where she rides and trains with Katherine Schmidt and Janet Simpson – for lessons once to twice a week.
Schmidt – who had actually moved down to Virginia from Connecticut around the same time that Carter began riding at Hampden Row – has seen that Carter has really good instincts when it comes to what the horse is going to do next, and how to best work with them.
She's also a very hard worker.
"You can tell her to get to the barn at 4 a.m. and she wouldn't bat an eye," Schmidt said of Carter. "All day long, she'll be out there riding and helping, which goes really far in this sport. It's not really a sport [in which] you can just show up and get on your horse and get off and leave – there's so much more that goes into it as far as horse care and horsemanship.
"To be a really good horse person, you have to have all of that," Schmidt said. "And she does."
Carter has had plenty of success along the way. She recently enjoyed a strong showing at the Deep Run Horse Show in Manakin-Sabot, earning 13 placements. She also earned her best Bryan Trophy Horsemanship equitation class finish yet: a third place with Talinsky, whom she has leased for a year. In previous years, Carter had placed eighth and fourth in the prestigious class.
"It was really awesome to finish in the top three," Carter said. "It was one of my goals to finish in the top three, and to be able to accomplish that with such a cool horse – it was a great feeling."
Compared to how Carter rode last year, Schmidt observed that, this year, she's riding with a lot more feel and, Schmidt believes, "a lot more confidence…going into the equitation classes and thinking, 'I belong here.'"
"Her having that edge where she wants to win and do well, that sets you apart from the other competitors," Schmidt said. "Walking in the ring with that confidence is something that I've seen progress from last year to this year, and that's due to a lot of hard work and dedication and putting in the practice that she has."
Over the last year, Carter and Talinsky have fostered a strong partnership while learning plenty from one another. Carter said the warmblood horse – who was imported from Europe seven years ago – is "awesome; he's like a big dog basically. He'll do whatever – you can lead him around, he doesn't really care…he's a cool dude, and he's super fun to have around."
Talinsky also has experience across the disciplines, having competed in the hunter, jumper and equitation events.
"He knows his job," Schmidt said of Talinsky. "He goes into the show ring and he's got his game face on. That's what you want out of a show horse, too."
Talinsky was one of two horses that Carter rode at the Deep Run Horse Show. She also competes with Andiamo, a junior hunter and warmblood whom she's had since he was a baby. She's been working with Andiamo for the past four years.
The pair earned eight placements together at the show, including a couple of runners-up finishes in Junior Hunter Over Fences classes and a third place in a Junior Hunter Handy class.
"It's really rewarding to have worked with him since he was a baby and brought him up," Carter said. "For him to be able to walk in and lay down really nice trips, it was a really good weekend."
Andiamo, she said, definitely has a lot of personality.
"He's super fun – he's kind of like the naughty little brother," Carter said ("That's a good way to describe him," Schmidt added) while also noting: "He's really cool. He's a good boy."
Talinsky and Andiamo, Carter pointed out, couldn't be any more different in the ways that they go and want you to ride them.
"Talinsky takes you a little bit more; he's a little bit stronger," Schmidt said, "and Andi, you've got to encourage a little bit more, so you could say that they're opposites."
"You kind of have to readjust yourself and remember what each horse wants you to do," Carter said. "But I feel like I've done a pretty good job of it."
"For her to learn the versatility of riding two very different horses is really a good thing for her and her future," Schmidt said. "Whatever she chooses to do going forward, she'll be able to ride multiple types of horses and figure them out pretty quickly, which is a really good skill to have."
Carter is also a versatile competitor across different sports. The rising senior at Blessed Sacrament Huguenot has been a cheerleader in the fall and a leading player on the BSH girls' basketball team in the winter.
"I think it definitely keeps you fit, because you definitely need to be fit to ride horses," Carter said of competing in school athletics. "It does take time away from the horses, which is kind of a struggle sometimes because you have to make that up. But you just have to balance time well and figure out schedules and make it all work."
Carter is looking forward to the Equitation Finals this fall. Her competition goals include having consistent rounds while also having fun and continuing to learn.
Schmidt and Carter are also working together on getting Carter onto an NCAA Women's Equestrian team.
"I'm trying to help her get prepared for that because I was on a team myself," Schmidt said. "Having the opportunity to ride on a team is something that a lot of girls in equitation strive for, and I think that's a really attainable goal…she's well on her way to being able to do that."
For Carter – Schmidt emphasized – the sky really is the limit.
"If she keeps working hard and is dedicated to it" – Schmidt said of Carter – "she's got the talent to go as far as she wants to in this sport."