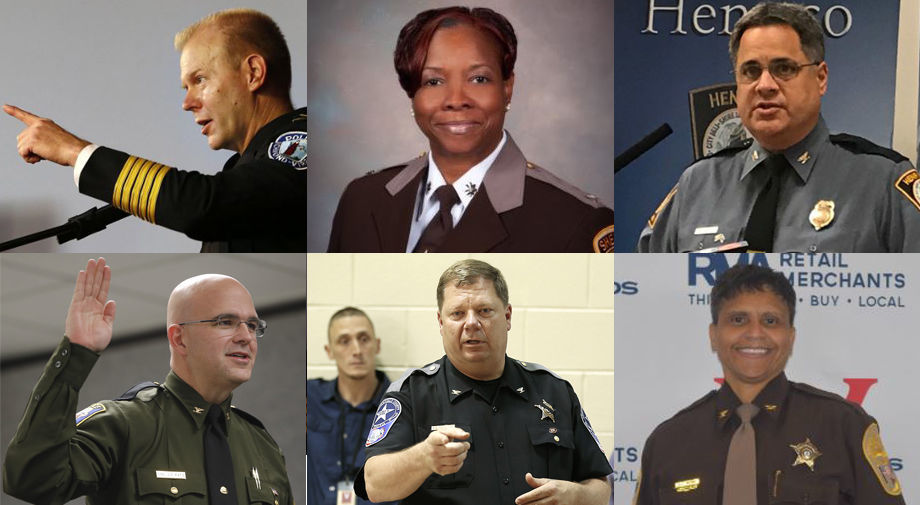 As the coronavirus has spread locally and across the nation, Chesterfield Police Chief Jeffrey Katz posted a message on Facebook that appears to hold true for law enforcement throughout the Richmond area: "The COVID-19 pandemic is NOT a get-of-out-jail-free card in Chesterfield County."
Katz also noted that Chesterfield Sheriff Karl Leonard, who is responsible for housing those arrested, "assured me that the Chesterfield County Jail is open for business."
Richmond-area police chiefs and sheriffs contacted last week expressed similar sentiments: The pandemic will not result in a slowdown of enforcement of the law, or of officers making custodial arrests for all major crimes and certain minor ones.
And local sheriffs said there's no move to limit the number of prisoners being housed in their jails, which they believe for the most part provide a much safer environment for inmates than what they potentially would be exposed to on the outside.
The jails have put in place stringent measures that control access to inmate housing areas, and they are quarantining new arrivals for two weeks or more to ensure they are not infected by the virus.
"We feel that the jail is probably the safest environment to be in right now," Leonard said. "It's controlled, we have limited access, and we have 24-hour medical staff in place. You can't guarantee that in the community. I think it's doing a disservice to let them out of jail right now."
Said Henrico County Sheriff Alisa Gregory: "There's been no move or push by the judges or anybody else to just mass release people because of the coronavirus."
Gov. Ralph Northam has encouraged law enforcement, prosecutors and judges to reconsider arrests and incarcerations, and to weigh modified sentences, over concerns that jails and prisons could be overrun by COVID-19.
Two days before Northam's remarks, the ACLU of Virginia and other legal advocate groups called for the release of many inmates awaiting trial on misdemeanors or nonviolent felony charges, given what the advocates said was the threat of the coronavirus to incarcerated populations. But the call to release inmates appeared reactionary to some local law enforcement officials, who said it was made with little or no knowledge of the safeguards being put in place.
Some jails and prisons in counties and states outside Virginia are releasing inmates by the thousands, in many cases after pressure from public health officials and criminal-justice reform advocates.
So far, there have been no reported cases of coronavirus-infected inmates or corrections staff in local jails or state prisons, as jailers have stepped up efforts to safeguard prisoners.
"You're never going to be 100% certain to prevent something from coming," Leonard said. "But with the measures we put in place, we think we're going to have a very high success rate."
In Chesterfield, Leonard said all new inmates are screened after being brought through a rear entrance of the jail, and held in a downstairs area for two or three days for evaluation. They are then moved to another section of the jail for 14 more days, "and only then are they put into the general population."
"We've pretty much sealed our entire second floor of the jail, so all of those inmates cannot be exposed to anybody coming in," he said.
Through the front door, all the jail's kitchen workers, nurses and other employees who walk in daily are required to have their temperatures checked and answer a series of health-related questions. Deputies also are queried and checked.
In addition, the jail has temporarily halted all its programs that require volunteers to come into the jail.
Henrico's Gregory and Richmond Sheriff Antionette Irving said nearly identical measures have been put in place in their jails.
At the Richmond Justice Center, new inmates are held in an intake area until their arraignment on charges, then held for one to three days for evaluation. They are then moved to the jail's pre-classification section for about 14 days before being put into general population, Irving said.
"We have remote visitation for inmate families and professional visits," Irving said. "Attorneys and outside medical or mental health professionals answer a series of questions from our COVID-19 checklist as well as have their temperatures checked. Contractors and employees have their temperatures taken when they arrive at work and outside contractors or inspectors answer a series of questions, as well as have their temperatures checked."
At a recent news briefing, the governor also encouraged law enforcement agencies across the state to issue summonses to lawbreakers — "if public safety dictates" — instead of making custodial arrests.
Richmond-area police chiefs said that's a discretionary practice that officers largely do anyway for offenses that do not require a custodial arrest under state law.
"Our officers are always using their discretion on what is the best resolution for a situation," said Richmond Police Chief William Smith.
If an officer determines that an offender will discontinue an unlawful behavior, will come to court as directed and does not pose an ongoing threat to the community, then "it is far more efficient for us to issue a summons," Smith said. "Because it allows us to address the criminal activity and it puts us back into service so we can be ready to respond to other issues."
Aside from that, Smith said, "When it comes to violent crime, we're doing exactly the same things that we always do" — pandemic or not.
Said Henrico Police Chief Humberto Cardounel Jr.: "We're telling our officers that basically we still have to provide for law and order" during the uncertainty of the COVID-19 outbreak.
"But we need to go about doing our jobs in a practical and prudent manner in light of what we're facing with this pandemic," Cardounel said. "So we're not saying that anyone gets a pass on crime; we are going to hold people accountable, and we're not going to allow for a sense of lawlessness."
"But in best situations, where there's some discretion between custodial arrests and releasing them on a summons, we're saying you have the legal authority to release on a summons, and you should do that — when it's practical and prudent," the chief said. "But that's always been there."
Cardounel added: "We're not taking a softer approach on crime. But what we are striving to be more judicious in what options or what discretion we have to still ensure law and order."
Cardounel said it's too early to say whether the number of custodial arrests in Henrico have dropped since the pandemic has ramped up. "I think time will tell," he said.
Anecdotally, Gregory said the Henrico jail system is "seeing a steady number of intakes from Henrico police and other law enforcement agencies, so that hasn't slowed down."
Chesterfield's Katz said his officers are going about their duties as they normally would and are not making enforcement decisions based solely on the pandemic.
"There are a lot of people in today's society that are rightfully scared of this virus, and nobody really knows what it's going to bring or how it's going to impact us long-term," Katz said. "And there's so many compounding factors associated with it, everything from obviously health to economics, to just our way of life."
"So there's a lot of anxiety, and I think the one thing that law enforcement is charged with doing is making sure people — to the extent that we can — feel safe," the chief added. "So part of our job, I think, is to reassure the community that we're going to continue to do our job and protect them from those who would exploit them during a time when people are probably feeling more unsafe than normal."
"This society is pivoting because of this health issue, but we're out in numbers and we're doing our jobs."