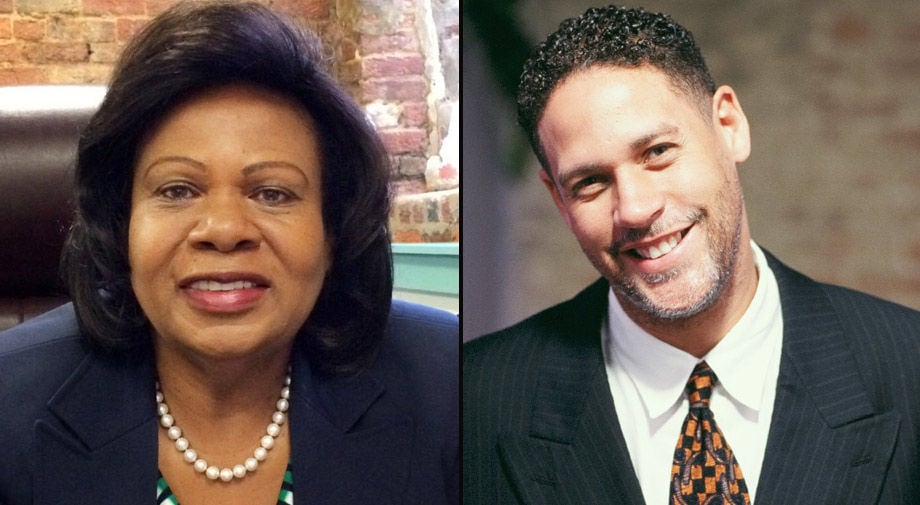 State Sen. Rosalyn R. Dance, D-Petersburg, told her hometown mayor in a personal phone conversation in February that she would work to cut all federal and state funding for the city if the mayor failed to rally the City Council around a motion to fire the city's nonelected leadership.
"You will get no state money. You will get no federal money. You will not because my reputation is out there," Dance told Mayor W. Howard Myers, according to a notarized transcript and recording of the conversation obtained by the Richmond Times-Dispatch.
"There's no project that you've got out there that the state will support unless Lashrecse and I say, Governor, yes, we want you to support this," said Dance, referring to Del. Lashrecse D. Aird, D-Petersburg.
Myers said Saturday that he was the victim of political threats by Dance.
"She threatened me, if I didn't do what she wanted," he said.
At the time of Myers' and Dance's conversation, the City Council was under public pressure to consider parting with City Manager William E. Johnson III after weeks of protests over Johnson's handling of Petersburg's finances. Calls for Johnson's ouster grew louder after a finance audit found overspending of the total general fund budget by $1.8 million, increasing the city's total budget shortfall to $6 million.
Myers' conversation with Dance prompted then-City Attorney Brian K. Telfair to hire former Del. Joseph D. Morrissey's law firm, asking politics-savvy attorney Paul Goldman to assess the situation at the city's expense. The contract with Morrissey's firm has since been terminated because the City Council did not authorize it.
Dance, a former mayor of Petersburg, said in a phone interview Saturday that the emergence of the transcript of her conversation with Myers is "an attempt to distract" from Myers' own troubles. Today, the City Council will meet in closed session to discuss a motion to strip Myers of his mayoral duties.
In Petersburg, the mayor's role is mostly ceremonial and the city manager is responsible for day-to-day operations of the city. As an elected official, Myers cannot be taken off the City Council, but his fellow council members, who elected him mayor, could strip him of that role and vote one of their own into the office.
Dance did not know the conversation was being recorded. Myers said in an email Sunday that he recorded the call to "have a record of her threats."
He said that during a meeting with Dance at her home before the phone conversation, she told him to write up City Council proposals for hiring and firing city leadership.
"I knew that when I did not comply that she would call and demand to know what was going on," Myers said. "So naturally to protect me and the people of Petersburg, I decided to record the phone call."
Dance spoke with Myers on Feb. 13 ahead of a closed City Council meeting Feb. 16 during which members, for the first time, were to discuss an exit for Johnson.
During the phone conversation, Myers was reluctant to give in to Dance, who pressed him to take the lead and unite the council behind a motion to oust Johnson.
"I do have a mind of my own," Myers said in the conversation, uncomfortable with Dance's persistence.
"I'm asking you to allow me to digest what you have given me to work with. Allow me to figure out how to make my decision for Tuesday night. ... I'm not going to make a decision or a rash decision immediately because someone tells me something. I need to understand," Myers said.
Dance stands by the comments she made in her conversation with Myers, she said Saturday.
"This was in defense of the city of Petersburg, trying to help the mayor. He is in so much trouble. My concern in the beginning has been justified," Dance said.
As to telling Myers that she would work to cut state and federal funding for Petersburg, Dance said that it is important to understand the context of the conversation about saving a city that is millions in debt.
"(Myers) wanted to keep them in place, that city manager and attorney. And you want me to ask (state legislators) to send more money down here? That was my concern. You owe a lot of money, and now you are thinking in good faith that I am sending more money down there? No way."
The transcript shows that Dance also told Myers that she and Aird would publicly distance themselves from Myers and criticize his leadership.
"To tell you the truth, come Tuesday, if this ain't resolved, she and I both are going straight to the media," Dance told Myers.
"We're going to hold our press conference and we are going to say that … we have lost confidence in the leadership. ... (Petersburg) is where we live and where I have lived and raised my family. I do this unselfishly. I've taken the heat of whatever's been thrown my way, but this is the worst ever."
Dance then proceeded to tell Myers that "this is hard ball," adding that Myers was "truly insulting" her intelligence.
"Don't think I just want to set you up. Don't think I did not pray. I've been praying ceaselessly for the last couple days that the right thing will happen, that we will correct this, that we will go on, that we will shut those people down because you can shut them down. It's all in how you come out on Tuesday, but you control the message."
Dance then told Myers that there would be no written record about her communication with him that would link her to the mayor's actions.
"From this point on I'm not writing anything. I'm just talking to you. There is nothing," Dance said.
"There won't be a paper trail. They will not find my name attached to anything, nothing. It is totally in your shop. I have made the decision there will be nothing. There will be nothing coming my way to you telling you what to do, nothing. I'm just talking to you. You can use it for what it's worth or what it's not, but I would not try to hurt you."
Reached late Sunday, Aird said: "Having briefly reviewed the draft 22-page transcript, it is important to clarify that I do not have the power to withhold state funding from the city of Petersburg or any locality that I represent. During the 2016 General Assembly session, I introduced and advocated for two budget amendments at the request" of Petersburg.
After the conversation, Myers postponed the closed City Council meeting scheduled for Feb. 16, citing an "unspecified threat" as the reason. Myers' decision angered several City Council members, who said they were unaware of the nature of the threat. Five of the seven council members still showed up at Union Train Station that day, along with a number of residents.
On Feb. 17, Telfair said that racial slurs and threats of physical violence against some members of the City Council and administration staff led to the cancellation.
On Feb. 18, the City Council reconvened and voted unanimously to start negotiating an exit for Johnson, the city manager.
The council also voted to negotiate a separation with Telfair — the city attorney — and to hire a law firm to work out the agreements.
Johnson was eventually dismissed March 3. Telfair resigned that same day. He has since found a job as an attorney for Spencer Shuford LLP in Richmond.
Telfair said in an email Saturday that he was "gravely concerned" with what he called Dance's threat to "withhold state and federal funding from Petersburg if the mayor did not give in to her wishes."
"I also found the call troubling as Senator Dance stated that there was no way to trace her actions back to her," Telfair said. "As city attorney, I decided to hire Morrissey and Goldman after listening to the phone conversation. This was a legal matter."
Goldman said in a phone interview Saturday that Telfair "made a wise choice" hiring Morrissey's law firm. He said Dance's phone call was "clearly a kind of thing" that would "make anybody uncomfortable."
Morrissey, a former state delegate from Henrico County, has his own history with Dance. Last year, he launched an unsuccessful bid for Dance's Senate seat. He has since announced his candidacy for Richmond mayor.
"Howard needs some help here because there is all kinds of people coming after him, and all in the context of the water fiasco," Goldman said.
Petersburg has been plagued with water billing issues, with many people reporting they had not received water bills from the city for months. Others were billed more than usual, sometimes thousands of dollars.
The utility situation and the city's financial crisis sparked a movement of residents pushing for a change in leadership, resulting in Johnson's ouster and Telfair's resignation. Many of those residents have made Myers their next target.
Ward 1 Councilwoman Treska Wilson-Smith, who made the motion to unseat Myers that will be debated today, said Saturday that the City Council never approved the city's contract with Morrissey and Goldman.
"In March, Mr. Goldman came to a closed session meeting. That was the first time I and the majority of council members had ever seen him," Wilson-Smith said.
"One of us asked who hired him and we were told by the mayor that the attorney did. We as a council never authorized that, and (Goldman) did not have anything to report. He just talked about what he would do and how he would go about it. We weren't really pleased with him."
On March 21, interim City Manager Dironna Moore Belton sent a letter to Morrissey on behalf of the City Council, terminating the city contract.
Information about the cost of Goldman's services was not immediately available Sunday.
Goldman said he will still attend a community meeting that Myers wants to hold in Petersburg this week, where Goldman will present his findings of Myers' role in the water billing problems.
"It's true that we stopped working when we got the letter by the city terminating the contract. But we have a draft report and it's in pretty good shape. It indicated what we found. It's a long piece. They can release it or not release; that's up to them," Goldman said.
Goldman said it "would be helpful" if the public knew the facts.
"People will be surprised about some of the things that will come out. Then they can make up their own minds. But I think it's unfortunate the way it has come out."
Goldman said his report concludes that Myers cannot be blamed for the water fiasco.
"The mayor has no control over these things. The power is with the city manager," Goldman said.
(804) 649-6537
Twitter: @MSchmidtRTD