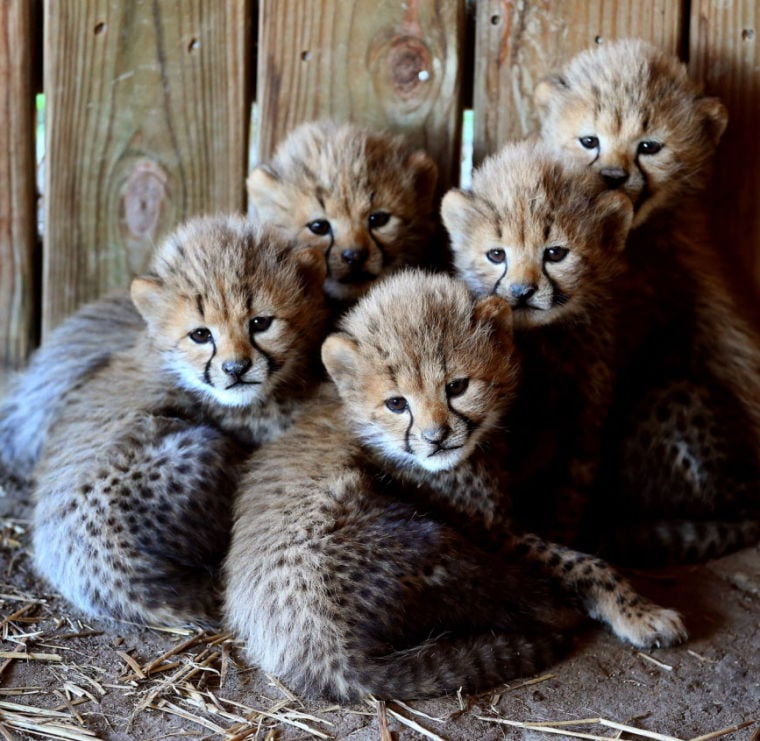 Online voters overwhelmingly decided to name the Richmond Cheetah Cam cubs after five area localities.
The winning names are Chester (for Chesterfield), Richie (for Richmond), Rico (for Henrico), Hanna (for Hanover) and Amelia.
"Those are some good names and symbolic of the Richmond area," said Jim Andelin, owner and director of the Metro Richmond Zoo in western Chesterfield County. The cubs were born there Oct. 6.
Nearly 1,870 people cast votes at the website for one of four sets of names, and the Richmond-area names won overwhelmingly with 901 votes.
Five African names came in second with 493 votes, presidential names got 321 votes and biblical names got 152 votes.
"They were all combinations that we would have been fine with," Andelin said.
Those final names were among nearly 9,000 submitted by the public in an earlier round of voting.
Here is how to tell the cubs apart:
Richie has a shaved area, about 1 inch by 1 inch, on his left rear hip. Rico has the mark on his right rear hip.
Hanna's mark is on her right front shoulder. Amelia's is on her left front shoulder.
Among the final voters for names, Maria Booth of the Matoaca area was chosen at random to receive prizes that include a yearlong family pass to the zoo and a private viewing of the cubs.
Meanwhile, Andelin said he plans to put the cubs on display at the zoo, probably in early March. Earlier, Andelin said he wasn't sure he would display them for fear that they might become stressed. But Andelin said he did some research and found that by March they should be old enough to do fine.
The cubs will go on display with their mother, Lana, in an enclosure Lana previously inhabited. That enclosure is not fitted with a camera, Andelin said, so that would probably end the Cheetah Cam — but maybe just temporarily.
Andelin plans to try to breed the cubs' father, Kitu, with another female at the zoo. If all goes well, there could be new cubs around mid-March.
Then, if people want it, Andelin said, he might start the Cheetah Cam all over again.