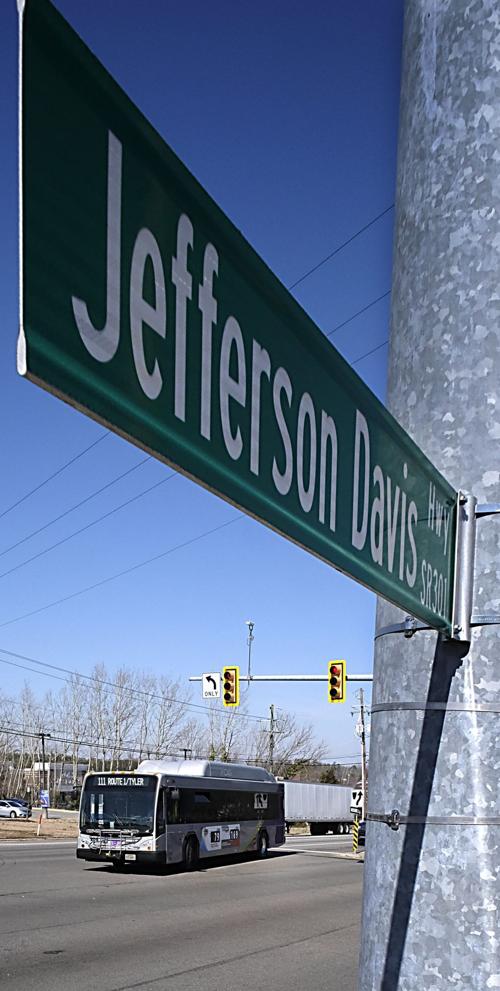 The Chesterfield County Board of Supervisors on Wednesday endorsed removing Confederate President Jefferson Davis' name from a stretch of highway in the county.
The unanimous vote, on the board's consent agenda alongside other items deemed noncontroversial, came with no board discussion or public comment. It marked the latest in a series of steps that local governments, school systems and higher education institutions in the region have taken to scrub vestiges of the Confederacy from prominence.
The board approved a resolution asking the Commonwealth Transportation Board to change the name of the county's stretch of the highway to "Route 1," a designation it already bears. The name was chosen after conversation with local civic and business associations, said Jesse Smith, Chesterfield's deputy county administrator of community development.
"Just keeping it as Route 1 seemed to be the option that made the most sense," Smith told the county board at its informal meeting ahead of Wednesday night's vote. "Most folks in the area already call it that."
The state board has the authority to formally change the name, Smith said. He expects that board could take up the matter later this summer.
Prompting the county vote is a state-imposed deadline. Earlier this year, the Virginia General Assembly approved a measure that would rename all portions of Jefferson Davis Highway to "Emancipation Highway" effective Jan. 1, 2022, if local governments do not rename their respective portions of the road.
The state legislation requires localities to pay the cost of replacing street signs. The county projects the cost at about $100,000, but it could be lower, Smith said. The county will send out notifications to property owners and businesses that are affected by the change.
With Wednesday's vote, Chesterfield joins Richmond in moving to change the name of the road.
The Richmond City Council voted last year to rename its stretch "Richmond Highway." The decision came after a summer that saw the city remove Confederate iconography from the public sphere amid rolling protests against police brutality and white supremacy.
Other local boards and institutions have shed Confederate names in the past year, too. Henrico County changed the name of a recreation center once dubbed Confederate Hills. The Hanover County School Board renamed two schools with names that previously glorified Confederate leaders. Virginia Commonwealth University removed symbols of the Confederacy from its campus this year, and John Tyler Community College has indicated it will change its name this summer.
(804) 649-6734
Twitter: @__MarkRobinson