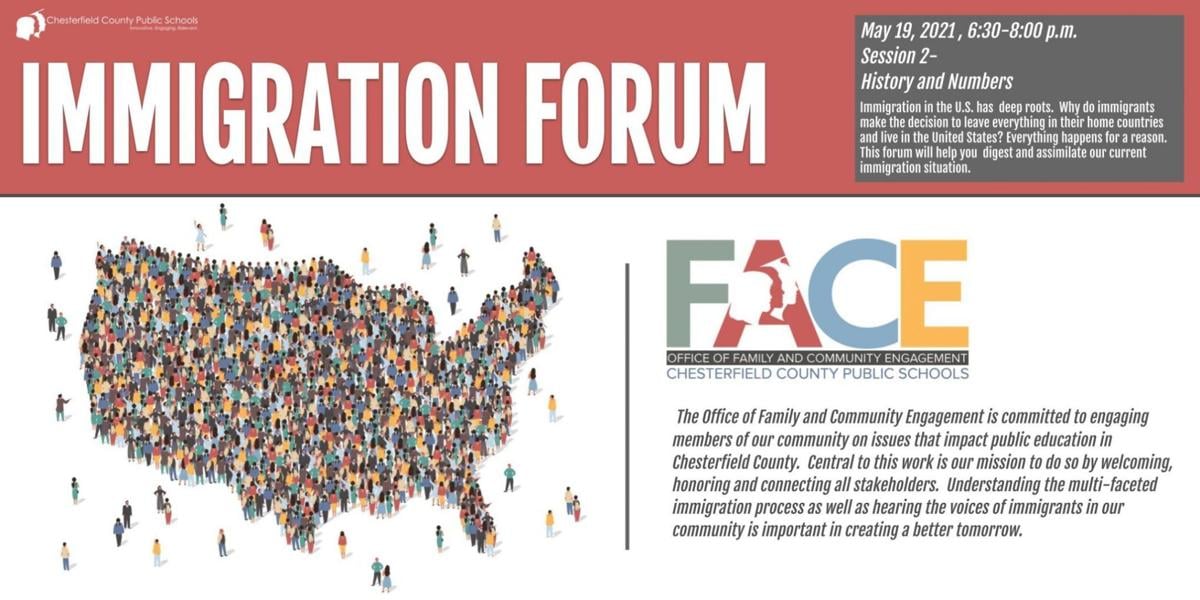 Since last summer, the Chesterfield County Public Schools has held conversational sessions focused on racism, the LGBTQ+ community and now immigration.
Beginning in April and running until August, the school system's Office of Family and Community Engagement is hosting five immigration forums focused on residents sharing their own lived experiences, the legal process for obtaining immigration status in the United States, immigration reforms and children. The next session is Wednesday evening, which will continue last month's conversation on the legal process.
"Designed to shed light on the complex issues surrounding immigration and tell the stories of our immigrant families, this series provides a wonderful opportunity for us to gain an understanding and find connectedness," said Juan Santacoloma, the school system's multicultural outreach specialist and facilitator of the immigration forums.
Chesterfield County is home to more Latino residents than Richmond, Henrico and Hanover counties, and has the third highest Black and Asian populations among the four localities, according to July 2019 U.S. Census Bureau estimates.
Students of color in Chesterfield represent approximately 54% of the overall student population and there are 103 home languages represented in the school system; 85 of them are represented in the English as a Second Language program, Santacoloma said.
The division's top languages spoken in student homes are Spanish, English, Arabic, Mandarin, Korean, Vietnamese, Khmer, Gujarati and Urdu, he said.
In last month's inaugural session, Richmond-area residents shared their stories including their reasons for coming the United States and challenges they faced. The five residents, including an immigration attorney, were from Mexico, Vietnam, Senegal and Thailand.
"I know as an immigrant that sometimes it's not easy to share our own immigration experience," said Santacoloma during the April 28 session. He came to the United States in 2000 after escaping a guerilla warfare group in Columbia.
In 2003, at the age of 12, Nancy Torres walked from Mexico to the United States border with her parents and six siblings. It took the family 10 days to make the journey and upon arriving, settled in Chesterfield County.
Torres, who attended Falling Creek Middle School and is a Meadowbrook High graduate, recalled not wanting to leave Mexico at first. Her parents had spent three years in America before coming back for her and her siblings.
However, Torres said her life changed dramatically upon leaving her home. In Mexico, she said her family focused on surviving day to day with little to no food and clothes. She looks back on where she came from and what she has accomplished and said she is "so glad to be part of this country."
Wednesday's virtual immigration forum begins at 6:30 p.m. and will focus on the question: "Why do immigrants make the decision to leave everything in their home countries and live in the United States?"
Speakers for Wednesday include Saltanat Liebert, an associate professor at Virginia Commonwealth University's L. Douglas Wilder School of Government & Public Affairs and Kate Ayers, executive director of ReEstablish Richmond, a nonprofit that works with refugees and new immigrants in Richmond to help them establish roots through programs that help them gain transportation independence, learn about health and wellness and an employment readiness program.
The remaining immigration forums will take place on June 23, July 21, and Aug. 18. Interested participants may register through an Eventbrite link.