The Feb. 1 issue will be the newspaper's last edition, according to owners Carol and Frank McCracken. The announcement was made in the Jan. 25 edition of the Chesterfield Observer.
"For over 27 years, the Chesterfield Observer has been the fabric of the community. We are heartbroken we are no longer able to report the local news and goings-on," owner Carol McCracken said via email.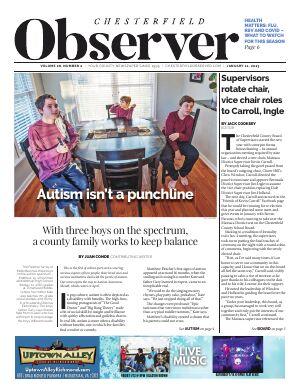 The independently run newspaper covers Chesterfield County and currently distributes 60,000 copies a week. The local paper employs six full-time staff and three part-time staff.
The owners cited a significant decline in advertising revenue caused by the COVID-19 pandemic.
The McCrackens reported better-than-average financial performance in 2018 and 2019, but said the newspaper's advertising base never rebounded after the pandemic began in 2020.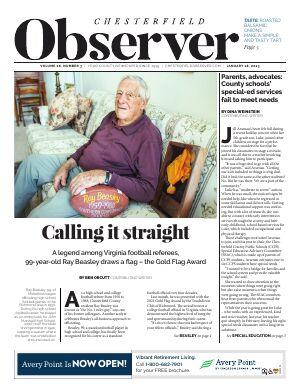 In 2021, supply-chain stresses brought an 8% increase in the cost of newsprint, and other production costs more than doubled, financially prohibiting the Observer's ability to publish the annual Guide to Chesterfield, a key revenue generator, the owners said in a statement.
The owners also said "the financial realities largely caused by the 2020 pandemic had become insurmountable" and they decided to shutter the newspaper.
Greg Pearson founded the Observer in 1995 and ran it until 2014.
"I birthed the Observer in 1995 and it grew to become the largest circulation weekly newspaper in Virginia, with almost 71,000 copies in 2014 when I sold it. I feel as if I have lost a child," Pearson said.
The closure of another local newspaper highlights severe ongoing declines in local journalism. According to a study from Northwestern University's Medill School of Journalism, Media and Integrated Marketing Communications released in late June, the United States continues to see newspapers die at the rate of two per week.
According to the report, the country had 6,377 newspapers at the end of May, down from 8,891 in 2005. An estimated 75,000 journalists worked in newspapers in 2006, which was down to 31,000 in 2022, the report said in June. The study also reported that annual newspaper revenue dropped from $50 billion to $21 billion in the same period.
According to an Associated Press story, "360 newspapers have shut down since the end of 2019, all but 24 of them weeklies serving small communities."
In 2019, the Virginia Press Association awarded the Chesterfield Observer the grand sweepstakes prize for overall excellence for a large weekly newspaper in Virginia.
"We greatly appreciate the support over the years," Carol McCracken said on Tuesday. "We will very much miss the opportunity to bring you the local journalism that you have come to love and expect weekly."
Colleen Curran (804) 649-6151
@collcurran on Twitter