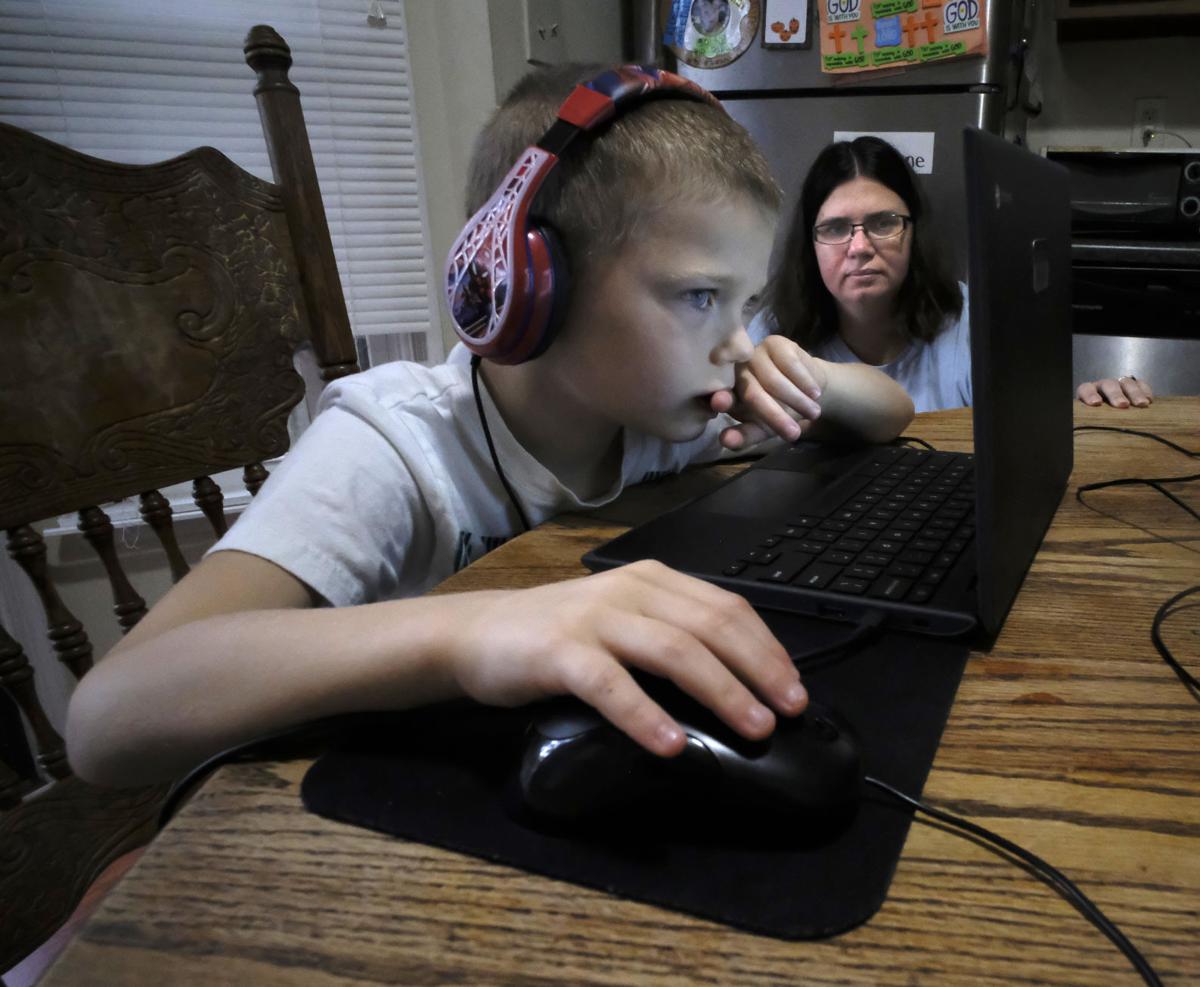 When Anya Ruzicka needs to upload a test or homework, she first takes a picture with her cellphone, sends it to her personal email address, downloads the photo, and finally uploads to Canvas, an online learning management system.
This process for the Chesterfield County virtual learning student can take five to seven minutes.
Ruzicka, 17, a senior in the International Baccalaureate program at Midlothian High School, has to use her personal phone and not her school-issued Chromebook when taking photos of her classwork because her laptop camera is always on for a Google Meet class. She has to use her personal email because Chesterfield County Public Schools doesn't provide email accounts for students.
At the beginning of this year's budget season, the proposed budget for Chesterfield schools included $66,092 for the district to take the next step in providing student email accounts. However, after the School Board was asked by the Board of Supervisors to create a list of unfunded priorities, the email funding was taken out of the budget and placed on that list.
"Chesterfield Schools has never had active email service for students. Students use Gmail addresses to log into G Suite applications, but Gmail is turned off," said Shawn Smith, a schools spokesperson
Richmond Public Schools, Hanover County Public Schools and Henrico County Public Schools provide email addresses to students.
Smith said students are able to communicate with their teachers through Canvas.
However, on Canvas, Ruzicka is unable to retrieve messages from any student or teacher from outside of her designated classes, making it difficult to connect with organizations and clubs.
"Not having a student email address requires me to give my personal email address to my teachers if I would want to communicate. … It's an invasion of privacy," Ruzicka said.
Ruzicka is also unable to create Google Meet video sessions without a teacher present on the call. For group projects she and her peers resort to using their personal devices and FaceTime.
Her mother, Annette Ruzicka, has advocated for Chesterfield students to receive email accounts since 2017.
"I was disappointed that the initiative didn't make the cut, but I was hopeful that this means there's finally an understanding in the district of how important this is and how much this will assist our students and our teachers in being able to communicate effectively," Annette Ruzicka said.
As part of a military family, the Ruzicka children have attended 12 school districts, some of which have provided student email addresses. While at first skeptical, Annette Ruzicka soon saw the benefits to her children having accounts.
Academically, having an email account helps students not have to jump through several hoops to upload a paper assignment. She also noted that having a school email can help students with applying to colleges and scholarships.
In terms of a student's social and emotional well-being, an email address can help connect students, especially now, when students may still be in virtual learning. It would allow for clubs to meet online and be available to all students.
The $66,092 cost would have covered extending Gaggle safety monitoring over the proposed student email accounts, Smith said. Gaggle is a business specializing in student and school safety with various online programs, including G Suite, also known as Google Workplace; Microsoft Office 365; and learning management systems.
The Chesterfield School Board sent a $744.7 million budget proposal and a five-year, $421.4 million capital improvement plan for the fiscal year that begins July 1 to the Board of Supervisors earlier this month. The supervisors are expected to vote on the county's general fund and the five-year capital improvement program budgets, which include school funding, in April.
Other items on the school system's $7.4 million unfunded priorities list include a county-funded payroll system, a proactive preventive maintenance program, and professional learning and mentor support for new teachers.
At Richmond Public Schools, all students in elementary through high school are provided email addresses. Before the coronavirus pandemic, the district assigned email addresses only to middle and high schoolers but then included elementary students when the district transitioned to virtual learning.
RPS uses Gaggle to scan email communications and provide interventions when necessary. The district allows only trusted and approved outside domains, said Danielle Pierce, a schools spokesperson.
For Hanover schools, high schoolers who are at least 13 have had a school email since January 2019, said spokesperson Chris Whitley.
Those students are allowed to email only their teachers, administrators and other students who have access to the school-issued Google email accounts. However, students can contact a college admissions office as long as the college email is an ".edu" address. Students can also contact other outside education-related domains such as the military.
For safety measures, the school system has a private domain with Google that only permits access to services for staff and students. There is also a "student-specific subdomain, which is governed by our most restrictive security policies, to further protect our students," Whitley said.
Henrico provides email accounts for all middle and high school students. High schoolers have had accounts for nearly six years, said Andy Jenks, a schools spokesperson. Middle schoolers received access this current school year, though some had access earlier.
Students, including elementary, are able to communicate with their teacher or another trusted school system adult through Schoology, a learning platform.
Henrico schools teach digital citizenship to all students at early grade levels to enforce teaching about appropriate use with a student email account. The district also has anti-spam capabilities and email blacklisting.