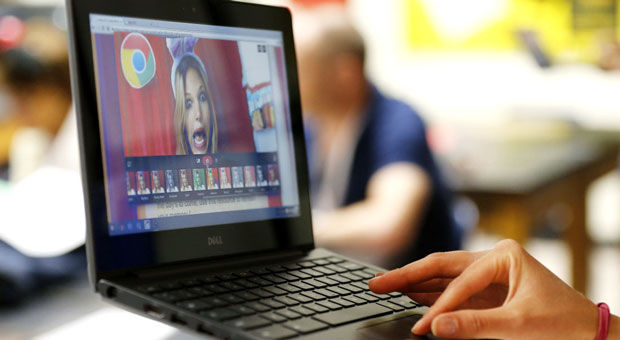 The Chromebook computers used by every middle schooler in Chesterfield County this school year will remain in their backpacks for the state's Standards of Learning evaluations this spring, replaced by older Windows laptops that can handle the state's testing software.
Virginia uses an older version of a program called TestNav that does not work with the Chromebooks, iPads and other tablets that many school divisions are buying for daily instruction. Leaders at the state Department of Education say the upgrade is at least a year away, in large part because of the complexity of converting its bank of more than 20,000 questions.
The delay is leaving local districts in limbo, unable to replace older, more expensive laptops they will need once a year with newer, cheaper devices such as Chromebooks.
"The computers that are not in use in the middle schools because they have Chromebooks, we transferred a lot of the laptop carts to elementary schools. Now, we're moving them back into the middle schools for the testing season," said Adam Seldow, technology director for Chesterfield schools. "We'd like to push more of the technology into the elementary level and focus our replacement plan on lower-cost devices. Until the state approves the SOL testing on various mobile devices including Chromebooks, we have to continue with this plan."
Chromebooks cannot run a program called Java that the old testing software requires. But that's not the only issue that is making the conversion time-consuming and costly, said Sarah Susbury, the state's director of test administration, scoring and reporting.
Programmers will have to make sure every question shows up properly on any size screen. And questions that require students to show their work, such as by graphing a set of numbers, will have to be coded to work with touch screens. Every question will have to be reviewed by Susbury's department to ensure that images are correctly sized. The goal is to make sure students do not score lower on evaluations because of any problems with how the test is delivered, she said.
"This isn't just like downloading the newest version of an Internet browser," Susbury said. "If all of our tests were merely multiple choice, then this would be very different. But we have tests that challenge students to take what they've learned and apply it in very different situations."
Chesterfield bought 32,000 Chromebooks — all high school students will receive one starting this fall — knowing that they would not work on SOL tests. The program costs Chesterfield about $5.1 million a year, money the county was previously using for other computers.
Seldow said the division has a two-year plan to keep older machines while waiting for the upgrades.
Susbury said next spring will be the earliest that the state will have the new software, known as TestNav 8, available for elementary school testing. She said it's too early to place a timeline on other grade levels or to estimate the cost of the upgrade.
"Certainly, we empathize with the state in their situation. We agree they should go about doing this conversion in a thoughtful, careful manner," Seldow said. "(But) this is really hampering our district's ability to do long-range technology planning because we don't have the ability to rely on those computers to do everything the state requires us to do."
Frederick County Public Schools faces a similar situation. Every sixth-grader in the district carries a Chromebook to class. But the district's technology team has been pulling old computers out of storage this semester, spending hours preparing them to deliver the state tests.
Technology director Robert Yost said his district and others neighboring it would like to buy more Chromebooks because they are easy to set up and cost about half as much as traditional laptops, but the uncertainty is keeping them waiting.
"It's hindering us. We're not going to stop moving forward with our 1-to-1 initiative, but it makes us keep computers around that are 5 to 7 years old to test on," Yost said.
Virginia first began testing students online in 2001. Since then, the state has provided about $60 million a year to divisions to help pay for computers compatible with SOL tests. And the state has initiatives that buy iPads or other devices for low-performing schools.
Susbury said the state supports using those devices for daily instruction. And it's not against using them for testing, she said, but the state isn't yet prepared for that.
A temporary solution for divisions with Chromebooks will be used by a couple of districts around the state this year, Susbury said. But that solution — which basically allows the Chromebooks to display the test as it runs on another machine — is costly.
Yost said Frederick County would have had to spend $150,000 to provide the test on 2,000 Chromebooks. In Chesterfield, with nearly 14,000 students using Chromebooks, the cost would have been much higher.
"What we were going to spend just to test this year on 2,000 devices, we could buy half a grade level of Chromebooks," he said. "It's pretty much wasted money to use them to test this year."