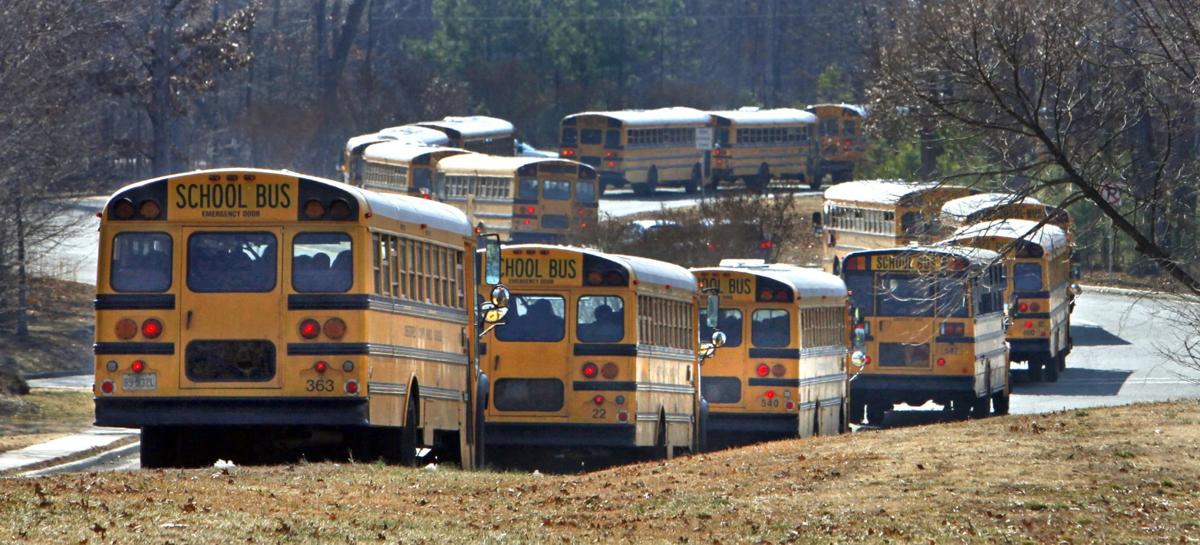 Chesterfield County Public Schools leaders who think issues inside the classroom are getting less attention from county officials than school construction projects are seeking more independence from the county government heading into annual budget talks.
The School Board withdrew from the county's Audit and Finance Committee and created a parallel panel dedicated to school affairs Tuesday, over the written objections of County Administrator Joe Casey.
"Our ability to collaborate in settings like [the committee] has allowed both of us to successfully address many of the serious issues that have arisen," Casey wrote interim schools Superintendent Donald Fairheart last week after learning of the division's intentions.
Fairheart laid out the system's concerns in a follow-up letter to Casey dated Oct. 8. Fairheart's letter admonished the county for what he said was overstepping its legal boundaries and taking an outsized interest in governance of the school system, citing conversations about pupil-teacher ratios, supports available for English language learners and potential sites to relocate schools during renovations.
"To be clear," the letter goes on to say, "the School Board works for the citizens of Chesterfield County, not the county government and its staff."
Before voting to break away and create a new school system committee, School Board Chairman James Erbach said the School Board must be answerable to its constituents.
"We must have a voice in how such a committee is run," said Erbach, who until this week was on the committee with fellow School Board member Javaid Siddiqi.
"Under the previous structure, the School Board was unable to select topics to add to the agenda," Erbach said. "We cannot carry out our duties under such conditions."
The Board of Supervisors formed a committee in 2015, over the objections of the School Board, to oversee $300 million in school construction after an internal audit found that the school division's construction department kept such shoddy records that they violated state law and county policies.
The problems go back to the last decade: In one instance in 2003, the school system couldn't produce paperwork to prove it had received the refund it claimed it had after paying nearly half a million dollars for school design to a firm it severed ties with.
About a year after the creation of that committee, the Board of Supervisors voted to consolidate it with two other committees and name it the Audit and Finance Committee.
Casey detailed what he sees as the committee's successes in his response to Fairheart's first letter informing the county of the School Board's determination. The panel as structured two years ago resolved several key financial issues regarding retirement and health insurance plans, a failed effort to privatize custodial services and the school's capital budget, Casey said.
Among the sticking points: higher-than-expected bids for several of the school projects county voters agreed to pay for in 2013 with a $300 million bond package. Believing it would be more cost-effective to build new schools than to renovate the aging facilities, the county added $100 million to the plans, relying mostly on more money borrowed through bonds.
Quoting an African proverb to underscore his disagreement, Casey advised the school system that officials could go faster alone, but farther together. "Without knowing further information, this appears to be a 'go fast' moment without the benefit of dialogue and collaborative spirit," Casey wrote.
In his response to Casey, Fairheart said the new committee will work with school system staff and continue to rely on reports from the county's internal audit department.
Casey pointed out that a separate committee working on many of the same issues could cost taxpayers more money.
"I cannot foresee any reason to create a redundant, inefficient resource for internal audit," he said in his letter.
In an interview after the vote, Carrie Coyner, the only School Board member to vote Tuesday against splitting from the county committee, said she felt more could have been done to resolve the school system's grievances.
"I don't believe ... the Audit and Finance Committee has been effective in civil discourse, with helping to advance understanding our common vision and goal," she said.
School officials said they have not been able to add certain items to meeting agendas and were sometimes subject to discussions that had no bearing on school division matters, among other issues.
When asked about the school division's qualms, Deputy County Administrator Matt Harris said county staff members generally take direction from the committee in preparing the agenda for committee meetings.
While some issues have not received as much attention, he said school maintenance and facilities has been a major topic for both sides.
School officials still need to structure the new committee, but Erbach said the tentative plan is for the committee to include two School Board members and community representatives for each of the county's five magisterial districts.
The committee will also report directly to the School Board, rather than the county administrator or the superintendent, to avoid any perception that either has "an undue influence over an audit report," Fairheart said in his letter.
While the new committee will be supported by school system staff and the county's internal auditor, Coyner said she's leery about who might be appointed to the committee, and would prefer school division staff members having a more active role in supporting the county committee.
"We need people who have knowledge or strong understanding of our past and where we want to go — that takes the School Board and Board of Supervisors and our employees," she said."I felt that rather than forming a citizen committee, that it's best to keep the same form."
Erbach said the problems have persisted for a while and that the idea of withdrawing from the joint committee had been discussed even before former Superintendent James F. Lane left last spring to become the state's superintendent of public instruction.
Supervisor Steve Elswick, who serves on the committee, did not immediately respond to calls and messages Thursday afternoon. Lane said he had a prior commitment and was unavailable for an interview Thursday.
Erbach also said incoming Superintendent Mervin B. Daugherty, whose first day will be Nov. 1, has also been consulted on the matter and that he's in support of the School Board's decision.
Erbach said some officials are also open to the possibility of opening a seat or two to include a county supervisor in order to keep working together.
Harris said he hopes the controversy over the split will not overshadow upcoming committee meetings about the school system's capital projects and maintenance needs.
"We're going to move forward and continue to dive in," he said. "We're plowing ahead with our work on what will undoubtedly be an important topic in this upcoming budget process."
The county's Audit and Finance Committee is scheduled to meet Tuesday. School division leaders and staff members are not likely to attend, Fairheart wrote.