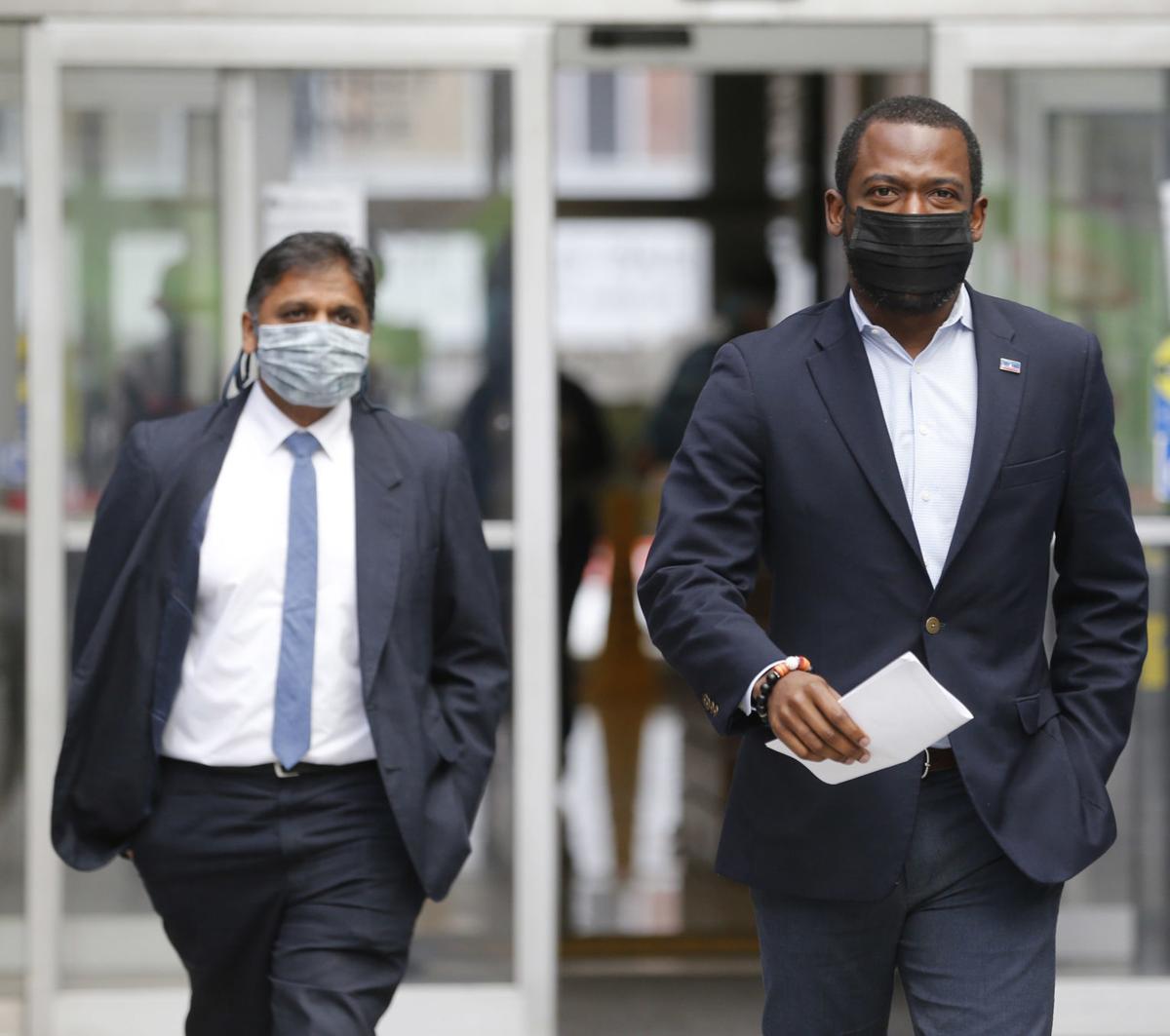 Richmond is doling out $5.8 million in federal and local dollars to address housing instability and homelessness during the COVID-19 crisis.
The bulk of the sum — $4.2 million — comes by way of the CARES Act, the massive federal relief package adopted last month in response to the coronavirus. Richmond Mayor Levar Stoney announced Tuesday that he wants to supplement that amount with $1 million from the city's Affordable Housing Trust Fund.
"These dollars are vital to address the urgent housing needs within our community, especially for our homeless and housing insecure," Stoney said in a statement.
The $1 million from the trust fund requires a budget amendment and City Council approval. If the council approves, the funding will be made available with the federal dollars through an application process administered by the city.
Separately, the mayor directed an additional $550,000 to two nonprofits using authority the council granted him in its emergency declaration last month.
Homeward, the region's coordinating agency for homeless services, will receive $300,000 for shelter and support services during the pandemic. Housing Opportunities Made Equal, a nonprofit the city partners with on its eviction diversion program, will get $250,000 to bolster its efforts.
"Despite the uncertainty around the budget, we are allocating these funds to serve the Richmond families most in need," Stoney said.
Cases, hospitalizations increase in the state
The Virginia Department of Health reported Tuesday that 9,451 people in Virginia have tested positive for COVID-19 — an increase of 461 from the 8,990 reported Monday — and 321 people have died of the virus.
VDH on Tuesday started reporting probable cases of COVID-19 on its website, saying there are 179 probable cases in Virginia.
The 321 confirmed deaths reported by the department is an increase of 21 from the 300 reported Monday. VDH says there are another three probable deaths from the virus.
State health officials have said there's a lag in the reporting of statewide numbers on the VDH website. Figures on the website might not include cases or deaths reported by localities or local health districts.
VDH also said that 58,354 have been tested for the virus in Virginia, 1,581 have been hospitalized and 251 people are on ventilators, an increase from Monday
The Virginia Hospital and Healthcare Association reported that 22% of the state's ventilators are in use and there are nearly 6,000 available hospital beds throughout the state.
The number of people who have been discharged from hospitals also went up, from 1,110 on Monday to 1,324 on Tuesday.
VCU Medical Center announced Tuesday that it will soon begin treating COVID-19 patients using the plasma from blood of people who have recovered from the disease.
Plasma taken from people who have recovered from COVID-19 contains antibodies that may help those who are still sick to fight off the virus. Plasma is part of the blood.
VCU Medical Center has received approval under the Mayo Clinic's Expanded Access Program to administer the plasma as a treatment for those suffering from the disease and is preparing to use the treatment on a patient this week, according to a news release.
The academic medical center is also participating in a clinical trial testing an antiviral drug, remdesivir, but there are currently no proven treatments for COVID-19.
The hospital is now asking for people who have recovered from COVID-19 to register to become plasma donors.
Those who have tested positive for COVID-19 and have recovered and either tested negative or been without symptoms for 28 days can register to donate at chrichmond.org/plasma.
"If you have had COVID-19 and recovered, your blood likely contains immune components called antibodies that target the COVID-19 virus," Dr. Jeffrey Donowitz, infectious diseases specialist at Children's Hospital of Richmond at VCU, said in a news release. "These antibodies may be able to help treat patients with severe cases of COVID-19."
VCU freezing salaries at their current levels
Virginia Commonwealth University is rolling out a salary freeze effective Monday, according to VCU's COVID-19 website, which called the move "another way to mitigate the financial risks the university continues to face both this year and next." VCU had previously announced a hiring freeze, something many colleges have done in the face of the coronavirus pandemic.
VCU is projecting $50 million in lost revenue because of the crisis, at least $13 million of which is mostly due to refunds and credits to students, according to a letter from members of Virginia's congressional delegation last week.
The salary freeze includes all faculty and staff raises except for faculty promotion and tenure.
"This includes all base salary increases, bonuses, sign-on bonuses, recognition awards, non-promotion and tenure promotions, supplements, and temporary pay," the university said.
Other exceptions will be reviewed by a team of four university executives, including Provost Gail Hackett and Chief Financial Officer Karol Kain Gray, and "may be granted on a very limited basis."
VCU also is extending its freshman response deadline from May 1 — the date many schools in the U.S. set for students to decide where they'll go — to June 1 for students who were accepted to the university by April 1.
UR says standardized tests are optional
The University of Richmond is going test-optional for next year's incoming class, an admissions practice gaining more traction with the cancellation of college entry exams because of the coronavirus pandemic.
The school announced the temporary change Tuesday, saying SAT and ACT scores won't be needed for first-year students starting at UR in 2021. Virginia Tech announced the same last week.
"We recognize the unique circumstances impacting current high school students, particularly high school juniors who would normally spend the spring and summer engaged in the college search process," said Stephanie Dupaul, the university's vice president for enrollment management. "By making this temporary change in admission practice we are better able to support students who will be applying to the University of Richmond, and who may not be able to complete testing in time for our early application dates."
Students can still submit the standardized test results as part of the application, the university said in a news release.
The College Board, which administers the SAT, said last week that it is canceling the testing scheduled for June and could opt for a virtual SAT if schools don't reopen in the fall. The ACT, the other primary college entry test, also said it's launching an online testing option while still planning in-person tests in September, October and December.
Roughly 50 colleges across the U.S. have dropped the SAT or ACT requirement because of the pandemic, according to a list compiled by the National Center for Fair and Open Testing last week.
(804) 649-6023
Staff writers Mark Robinson, Justin Mattingly, Bridget Balch and Paul Whelan contributed to this report.