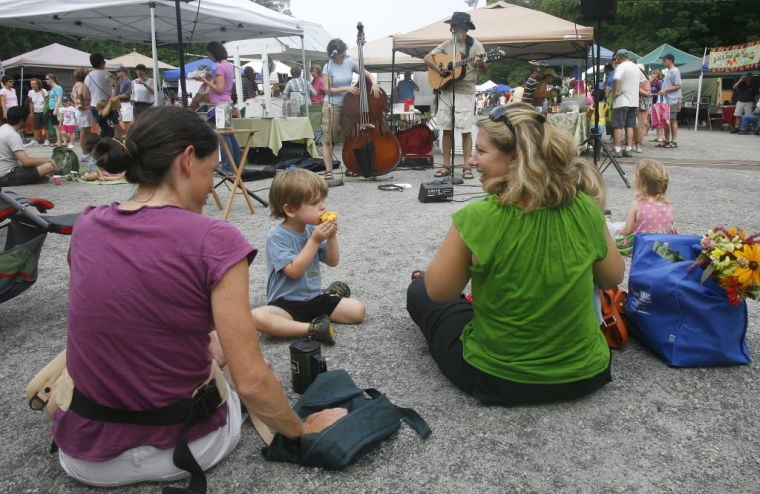 The South of the James Market will be staying year-round at its location in Forest Hill Park.
You can stop by South of the James every Saturday morning from 9 a.m. to noon to enjoy fresh produce, vendors and food trucks in a fun and festive atmosphere.
Food trucks like Mrs. Yoder's Donuts are a regular, as are The Hungry Turtle, The Bagel Tent and more.
The news became official in November 2013 from GrowRVA on Twitter:
"It's official! The #SOJ market is staying in Forest Hill Park year-round! Thanks for all the support, and we'll see you at the market! #rva"
It's official! The South of the James Farmers Market will STAY in the park all year. Thanks so much to the Forest Hills Neighborhood Association and Forest Hill Park for being so hospitable. We are looking forward to a great continued season!
And a HUGE thank you to all of you who showed us so much support for staying in the park. We couldn't have done it without you!
The South of the James Market is the most popular farmer's market in Richmond and even though the season is winding down, the market doesn't want the party to stop at Forest Hill Park.
The people behind the market want to keep it year-round at Forest Hill Park. See the full release from Grow RVA:
GrowRVA is ready to make the commitment to Forest Hill Park to offer the South of the James Market year-round, thanks to a dedicated group of vendors who, after 5 seasons of a transient winter market, are ready to settle down. 
Our last market at Forest Hill Park for this season is scheduled for December 7, but we would like to continue on a smaller scale beyond that time, until the market resumes in May. We typically have 100 vendors at the market during the regular season. The Winter market season includes about half that.
In previous years, the Patrick Henry Charter School has hosted our winter market, but due to new construction, this is no longer an option. We've considered other locations but feel that Forest Hill Park is the best place for us to offer a consistent, producer-only, SNAP-accepting market in the area.
"We hope to continue our relationship with the Forest Hill Neighborhood Association to make Forest Hill and the Westover Hills area a Saturday destination for Richmonders and tourists throughout the whole year," said Karen Atkinson, Grow RVA founder & owner. "This market provides an income for many families who could especially benefit from the ability to sell their products during the holiday season and new year."
GrowRVA has created an online petition to help measure support and will make petitions available at the market this weekend as well.