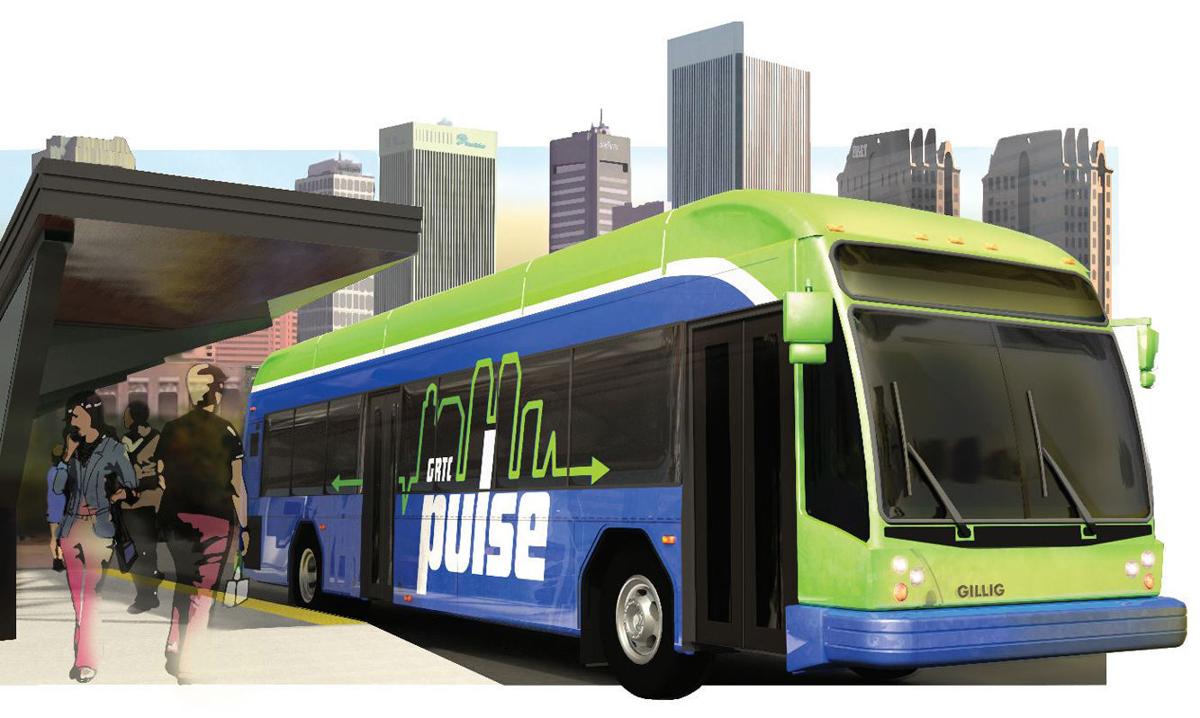 Gov. Terry McAuliffe warned Tuesday that if Richmond opts to delay plans to build a bus rapid transit line on Broad Street, the city could very well lose its federal funding for the project.
"If they don't want it, that is their decision, but we're not going to wait forever and I will give the money back to the federal government," McAuliffe said in an interview Tuesday. "They'll take it back very quickly."
The Richmond City Council is scheduled to vote on the project, called The Pulse, at its meeting Monday. The vote had been scheduled to take place late last month, but the meeting was canceled because of snow.
Ahead of the vote, some City Council members and a coalition of 10 neighborhood groups have called for the project's timeline to be pushed back a year, which would put it in line with an earlier construction schedule.
McAuliffe said that with other localities in the state competing for the same funding, a year is too long to wait.
The bulk of the $49 million project is funded by a $25 million competitive federal grant that McAuliffe lobbied federal officials to get. The state is chipping in an additional $17 million, leaving the city to pay $7.6 million and Henrico County to pay $400,000.
"This is a very good deal for Richmond," he said. "They've got to make a decision. ... I worked hard to get it, they said they wanted it, we came up with $42 million."
Organizers with the neighborhood groups, called the Coalition for Smart Transit, were unmoved by McAuliffe's ultimatum.
"Just because something is on sale doesn't mean you should buy it," said Jonathan Marcus, the coalition's chairman. "The transit plan as it stands now does not address Richmond's transit problems, and it saddles the city with an unknown debt for an unknown period of time."
The project would more than halve travel times along the Broad Street corridor between Willow Lawn and Rocketts Landing, according to GRTC Transit System. It would serve 14 stations in the city and Henrico and use a mixture of dedicated lanes, coordinated traffic signals and off-board ticketing to speed travel. GRTC plans to run buses every 10 minutes during peak travel times.
---
Tonight marks a defining moment in the future of our Greater Richmond Region. We are poised to take our community to the next level through the development of an innovative and cost-effective rapid transit system.
---
Critics have said the project would hurt Broad Street by taking away parking spaces and disrupting business during construction, while not improving access to transportation in parts of the city that are not currently well-served.
GRTC and supporters have said the system is a logical improvement to the city's busiest bus corridor and is a first step toward a broader, regional rapid transit system.
It's unclear whether the project currently has enough support on the council to move forward. Among the outstanding questions City Council members have said they want resolved before a vote is how much it would cost to operate the service annually.
GRTC officials initially said they expected the project would cost $3.8 million a year, but that number would be offset with changes elsewhere in the city's bus system.
In the past two weeks, GRTC refined its estimate, saying it would cost between $551,840 and $980,034 in its first year.
The number accounts for plans to reduce the frequency of GRTC's current Route 6, which runs along the corridor and would duplicate Pulse service. The range depends on fare revenue generated.
Of the increased operating cost, Richmond would be responsible for between $345,556 and $773,750, while Henrico would pay $206,284.
Councilman Parker C. Agelasto said he opposes increasing GRTC's annual $13 million subsidy from the city without first having a larger discussion about Richmond's budget priorities.
"If this runs a $2 million deficit," he said, "we need to discuss whether we're willing to fund that and cut from schools or public works."
---
Supporters of bus rapid transit in Richmond have been taking the pulse of the Richmond City …
---
Councilman Chris A. Hilbert, 3rd District, who is often a swing vote on the council and has said he supports delaying the project a year, did not respond to a request for comment on McAuliffe's remarks.
Councilman Charles R. Samuels, 2nd District, who has also expressed concerns about the project, said he agrees with McAuliffe that a year would be too long a delay. But he said he is proposing amendments that would push the project back 30 to 60 days to give council members another chance to sign off on the project before it's implemented.
"I'm trying to work with both sides to get a good project passed and not a project that's not ready for prime time," he said.
Other council members, including Ellen F. Robertson, 6th District, and Kathy Graziano, 4th District, have said unequivocally that they're ready to move forward. Likewise, Mayor Dwight C. Jones has said it's time to act on the project.
---
Richmond has secured state funding to comprehensively review — and potentially, reorganize —…
As if to prove no good deed goes unpunished, Richmond's bus-rapid transit (BRT) system is dr…
The Richmond Planning Commission voted unanimously Monday to approve plans for a bus rapid t…
Proponents of a planned high-speed bus line from Willow Lawn to Rocketts Landing hope the pr…
---
(804) 649-6580
Twitter: @nedoliver