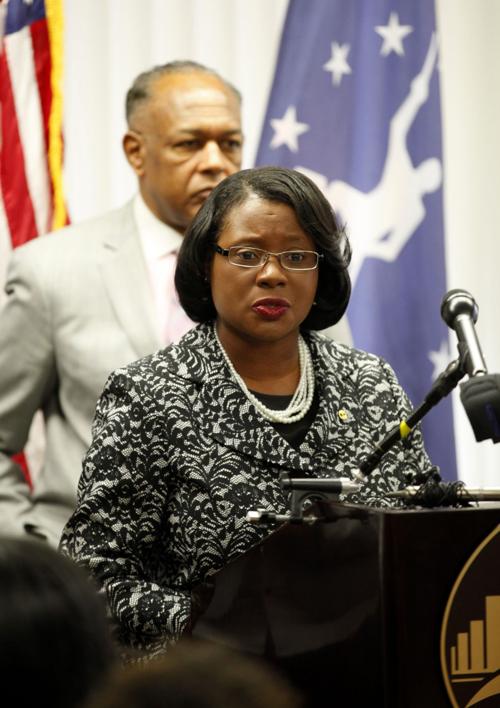 Selena Cuffee-Glenn will become the city of Richmond's chief administrative officer next week after the City Council voted Monday to approve her hiring.
Last month, Mayor Dwight C. Jones named Cuffee-Glenn, most recently the city manager in Suffolk, as his nominee to lead the daily operations of city government. Appointees for the top City Hall job must be confirmed by a council vote, and Monday's action clears the way for Cuffee-Glenn to begin work May 18.
"I just say welcome and thank you very much for your willingness to serve," said Council President Michelle R. Mosby, 9th District.
The council confirmed the appointment as part of its consent agenda, a package of non-controversial items approved in a single vote.
Cuffee-Glenn had a long career in Richmond as a neighborhood planner before going to Suffolk, holding positions with the Richmond Redevelopment and Housing Authority and at City Hall.
"She started her career right here in this building,' said Grant Neely, the mayor's chief of staff, who said Cuffee-Glenn has a proven record of efficient management and responding to difficult situations in Suffolk, such as a powerful 2008 tornado.
In brief remarks Monday, Cuffee-Glenn said she would strive to live up to expectations for "government that's going to be efficient, effective and accountable."
In addition to overseeing city operations, the chief administrative officer also serves as a conduit between the mayor's administration and the council.
"I do believe you're the right person at the right time," said Councilwoman Cynthia I. Newbille, 7th District.
A few council members urged Cuffee-Glenn to develop effective working relationships with all council members and be responsive to constituent issues.
"I wish that the administration had given us more information, more access, the ability to talk to you before tonight," said Councilman Parker C. Agelasto, 5th District. "And I hope that with your leadership, that you will come with a sense of collaboration."
Councilwoman Reva M. Trammell, 8th District, asked Cuffee-Glenn to work with all council members, not just those who have more favor with the mayor.
"We're looking for a chief administrative officer that's going to treat all of us fairly," said Trammell, a frequent Jones critic.
Cuffee-Glenn will replace Christopher L. Beschler, who has been serving as acting chief administrative officer since the sudden departure of former top administrator Byron C. Marshall last September.
Beschler will return to his previous role as deputy chief administrative officer for operations.
The terms of Cuffee-Glenn's compensation have changed since the mayor named her as his pick in mid-April.
The salary listed in her April 14 offer letter was $203,000, but a revised offer letter dated May 2 set her salary at $208,700. The amount of annual deferred compensation also rose, from $15,000 to $20,700. An automobile allowance of $950 per month was removed in the more recent offer letter.