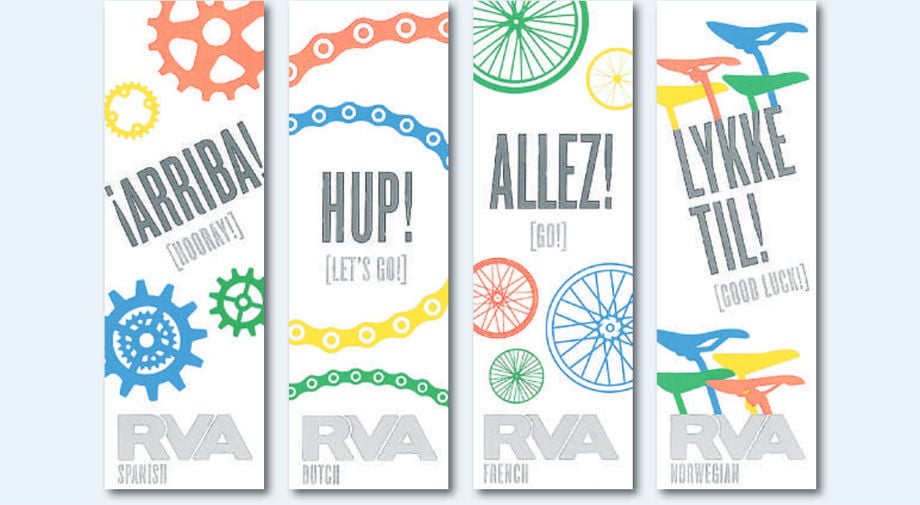 Broad Street is still haunted by the Ghost of Christmas Past, but it's about to be renewed by a glimpse of things yet to come.
As of Monday, Christmas trees, snowflakes and gift wrapping still graced the decorative banners attached to light poles on the downtown stretch of Broad that splits City Hall and Capitol Square.
This week, however, Venture Richmond will begin swapping out the winter-themed banners with new designs tied to the UCI Road World Championships coming to the city in September.
"We're welcoming the world to Richmond with the bike race," said Lucy Meade, director of marketing and development for Venture Richmond.
She said about 200 of the banners will be installed downtown starting today, weather permitting.
Meade said the winter banners usually are taken down in February, but Venture Richmond was waiting for the new banners to arrive to avoid having to pay twice for removal and installation.
The new banners feature bike-themed art — including spokes, sprockets and handlebars — and cheers translated into 18 different languages.
The translations proved tricky, Meade said, because of the differing salutatory phrases from language to language. For example, the English "Cheers" doesn't translate easily. With the help of the Global Education Office at Virginia Commonwealth University, Venture Richmond decided on equivalents in other cultures, ranging from the Dutch "Hup!" — Let's go! — to the Portuguese "Tudo de bom!" — All the best!
Meade said Venture Richmond looked at the nationalities of participants in previous bike races as well as other immigrant cultures with a presence in Richmond.
The banners also include phrases in Farsi, Arabic, Urdu, Russian, Hindi and Vietnamese.
The nine-day bike races, which will run from Sept. 19 to Sept. 27, are expected to attract 450,000 on-site spectators and a worldwide television audience of about 300 million.
"We hope it creates some awareness for what's here and what's to come," Meade said.
She said the banners are designed to stand the test of time, and hopefully can be used into 2016.
---
Richmond 2015, the organizing body of the 2015 UCI Road World Championships, announced the official schedule and course modifications for cycling's preeminent competition.
Richmond restaurant owner Jake Crocker is telling business owners they will be able to cash …
As Richmond prepares to host one of the largest cycling competitions in the world, a scathin…