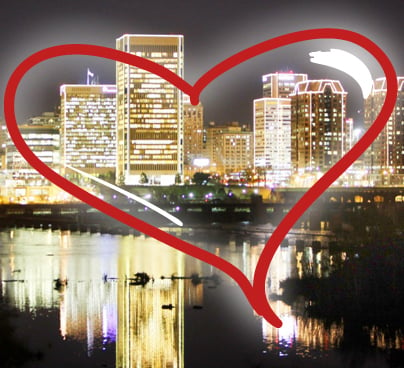 Guess what, RVA, our region is the "most content area" in America, according to a recent study from the  U.S. National Bureau of Economic Research.
Who are we to question this?
(Our theory: It might not hurt that Pharrell Williams is from Virginia, Virginia Beach actually -- Norfolk-Virginia Beach area is second on the list. Remember the RVA Happy video?)
We would at least say -- even with all the bickering over baseball stadiums, schools, transportation, potholes, regional disagreements, et al -- RVA is a "glass-half-full" town. We've got a lot of great things to appreciate in Richmond. Happy it is!
"How happy is your city? Study says Richmond is America's most contented area – with New York its unhappiest (but they say people come for the money anyway)
"New York is America's most unhappy region, a new study has found – while Richmond tops the table as American's most contented place.
"The study from the U.S. National Bureau of Economic Research relies on a large survey that asks respondents about their satisfaction with life.
"Researchers say that despite this, areas such as New York still attract people because of its job prospects.
"New Yorkers are the among the unhappiest people in the country, the researchers found. Richmond-Petersburg topped the table."