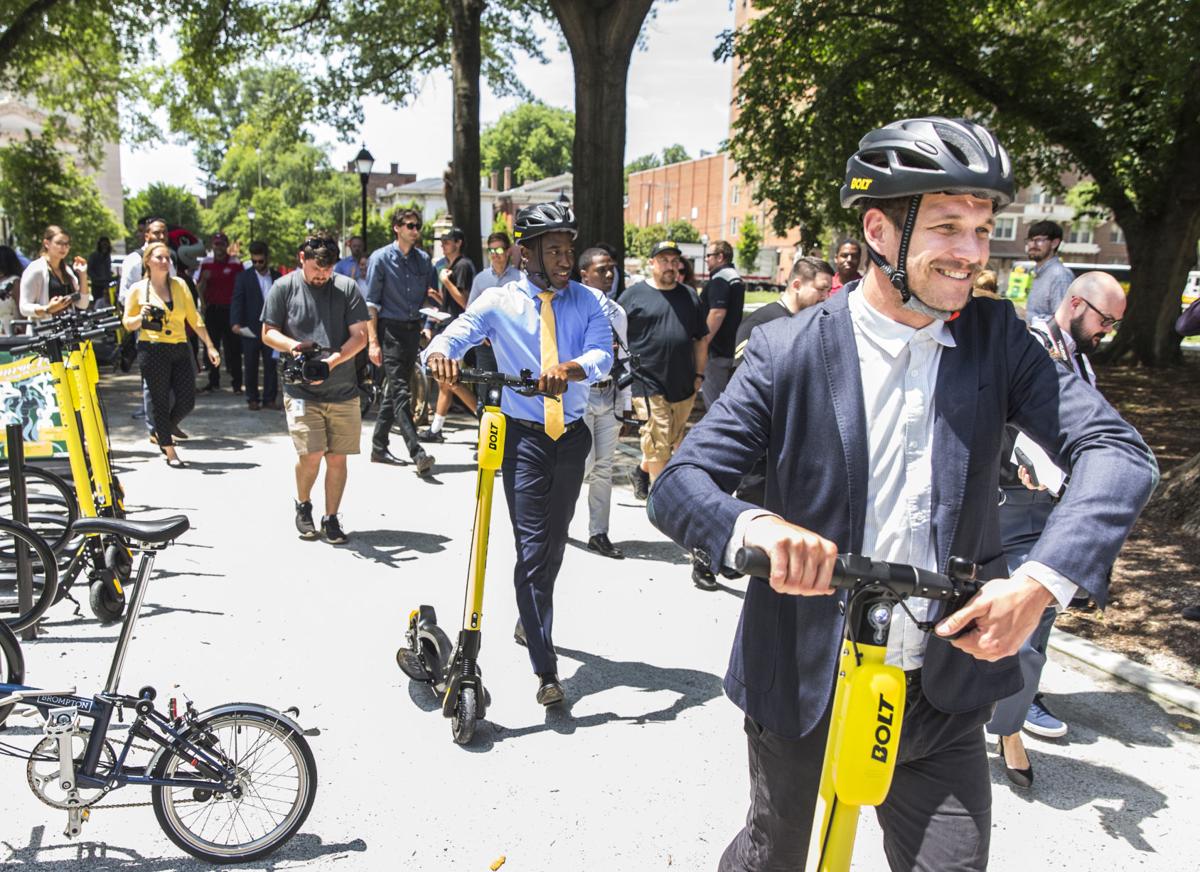 ROANOKE — A Miami-based company is the first applicant hoping to bring dockless e-scooters to Roanoke.
Bolt Mobility aims to deploy 400 of the electric scooters across the city when its application is approved, according to its paperwork. The company was recently the first to obtain a permit to operate in Richmond.
Chris Chittum, Roanoke's director of planning, building and development, said the application is being reviewed by a range of city departments, including his, transportation, the police, and parks and recreation, and Bolt Mobility already has submitted a revised proposal.
It's unclear when approval might come from the city manager, Chittum said. Since it's the first time through the process, city officials are working through it carefully.
The Roanoke City Council approved regulations in June for the e-scooters, which are in wide use in major cities and are now filtering down to smaller markets. The two-wheeled, battery-powered vehicles are typically activated by a smartphone app and the user pays a fee per minute. Users leave the e-scooters at their destination for another user to find and ride it.
While increasingly popular, the scooters have been controversial, too, drawing complaints that they litter city sidewalks and are unsafe .
Under a new state law, Virginia localities can't ban the e-scooters, but can regulate them. Roanoke requires a permit fee of $5,000 per year. Bolt Mobility is paying the city of Richmond $45,000 to roll out a fleet of 500 e-scooters, including approximately 35% targeted for low-income neighborhoods. The cost for users is 25 cents per mile in Richmond.
Chittum said Lime, one of the more recognizable brands, is also interested in operating in Roanoke.
Bolt's e-scooters are distinct for having a foot platform on each side of the center rail so riders face forward. They have a maximum speed of 15 mph, according to the application.
While most users will access the e-scooters via a smartphone app and pay digitally for rides, Bolt has a cash payment option for users who don't have bank accounts or credit cards and a method for starting an e-scooter for users who don't have a smartphone.
The company also offers a 50% discount to low-income customers, the application says.
The company's vehicles in Richmond have required more attention than expected.
In its first month of operation there this summer, Bolt has seen a quarter of its fleet of e-scooters vandalized — broken in half, set on fire and thrown in the James River.
Chittum said the company is planning rider safety sessions as part of its public launch.