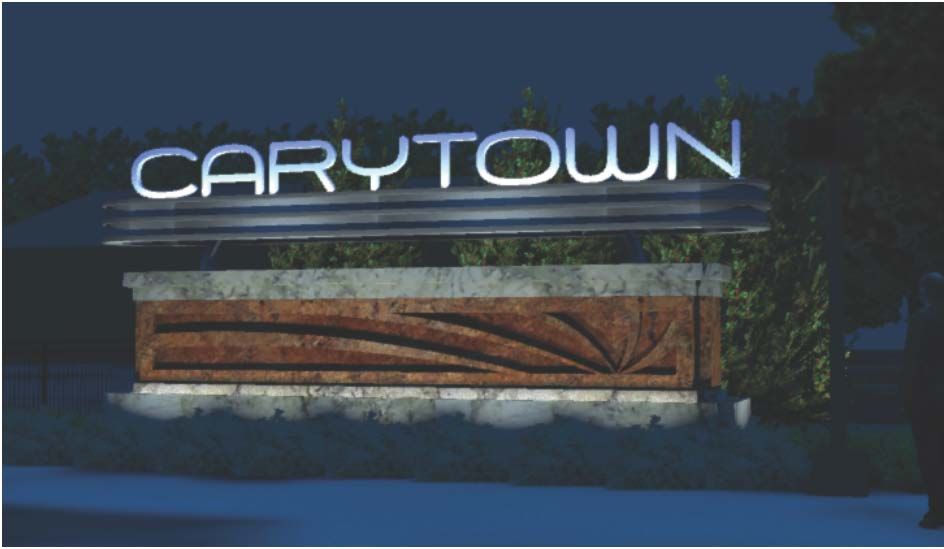 If motorists have any confusion about when they have arrived in Carytown, the city of Richmond is aiming to remedy that with an 11-foot-tall, lighted gateway sign.
City officials have proposed a sign with a 24-foot-wide granite base and the word "Carytown" spelled out in white metal atop a steel band, according to documents laying out the proposal by the city's Department of Economic and Community Development.
The sign, estimated to cost $250,000, would be installed near the entrance to the International Shopping Center, which is anchored by the Kroger grocery store. It would replace the existing sign at Cary and Thompson streets.
In a document outlining the proposal, city officials said the sign is meant to create a "sense of arrival to a special district" near the offramps that lead to the intersection.
The proposal is scheduled to go to the Urban Design Committee for review Thursday.
The Richmond Planning Commission approved a larger version of the sign in 2011, but the sign was never installed because of unforeseen use restrictions on Virginia Department of Transportation property, according to city documents.
The Carytown Merchants Association has pressed for a new sign for several years, and the city application notes that the group supports the current design.
Representatives of the merchants association could not be reached for comment Friday.
The sign would be paid for with capital funding allocated to Carytown gateway improvements years ago.
The city planning staff has some concerns about the current iteration of the proposed sign. A staff report says the sign's proposed size "overwhelms the pedestrian scale of the commercial corridor," and suggests it should be placed at a different angle to be more visible from Cary and Thompson rather than being aligned toward Thompson.
Some Richmonders were less than thrilled with the price tag.
"It's a total waste of money," said Mark Shively, a Forest Hill resident who said he's a frequent patron of such Carytown establishments as New York Deli and Road Runner Running Store. "Everybody knows where Carytown is."
City Councilman Parker C. Agelasto, whose 5th District includes Carytown, called Carytown a "major commercial corridor" and an important revenue source for the city, but he questioned whether the $250,000 sign is the highest priority for the merchants and the best use of funds.
"The city is always looking to support the merchants and the small businesses that we have. We try to work with the merchants in terms of things we can do to improve the attractiveness of their commercial areas," Agelasto said. "At the same time, this needs to be done with prioritization."
The sign documentation lists no timetable for when it would be installed.