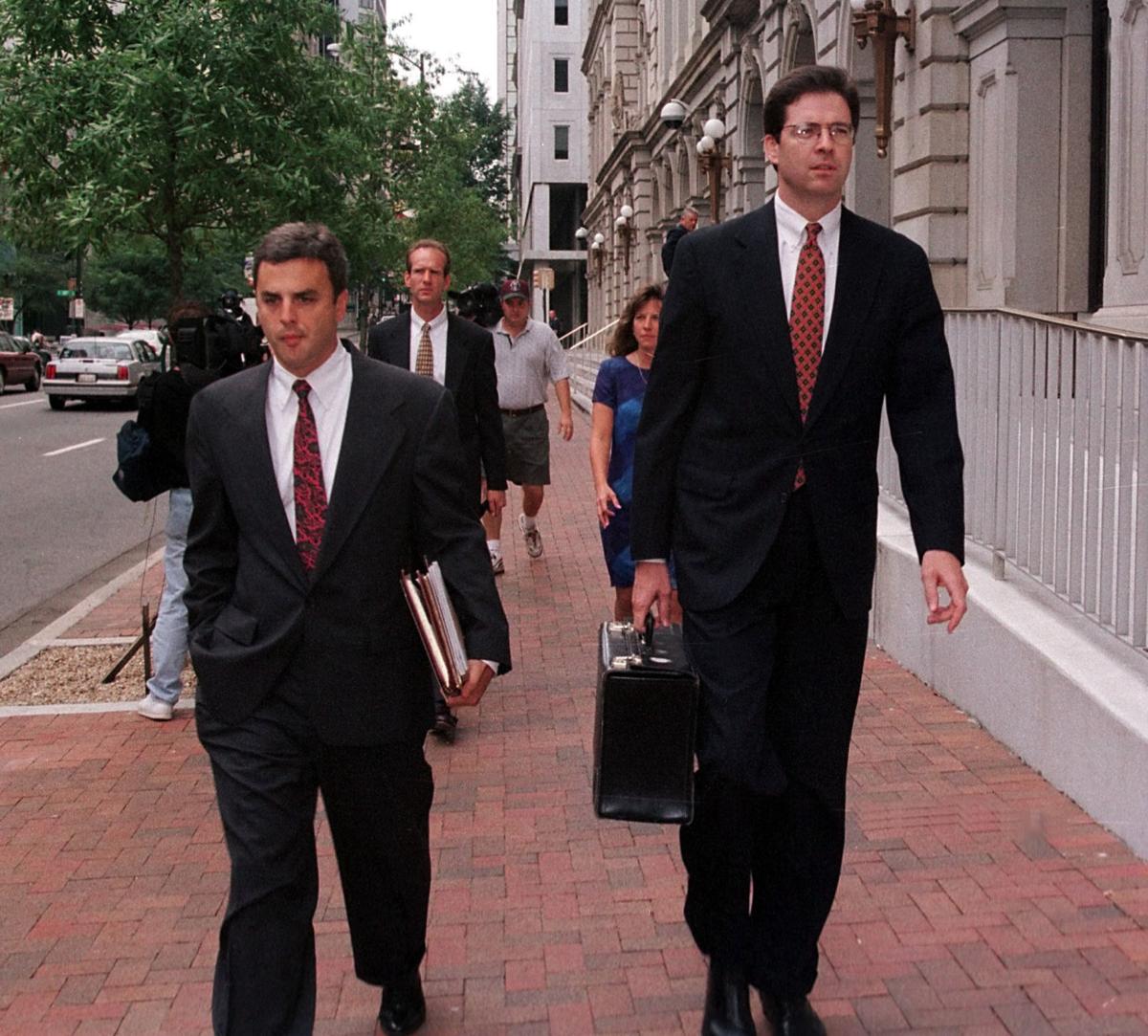 In James Comey's new book, the former FBI director writes about highly charged national issues, but also includes highly personal passages about his time in Richmond and the death of a newborn son.
Two decades ago, Comey lived in Henrico County with his wife, Patrice, their young son and two older daughters. To the family's joy, a new member was added at 12:58 p.m., Aug. 4, 1995, when Collin Edward Comey was born.
By 10 a.m. the next day, he was in the neonatal intensive care unit suffering from a blood infection that would kill him on Aug. 13. Shortly before Collin died, his sisters saw him a last time.
Comey writes: "Patrice was holding Collin, and handed him to each of his sisters. The girls took turns rocking him and speaking to him, saying goodbye, and then handed him back. After the girls left, I held the little guy for a while and then Patrice held him. His mother sang to him until he stopped breathing, and then long after."
There has been some sharp reaction to Comey's controversial new best-seller, "A Higher Loyalty: Truth, Lies, and Leadership," in which, among other things, he likens President Donald Trump to a Mafia don, triggering tweets from Trump blasting Comey as a liar and "slimeball."
The book conveys his accounting of the 2016 election and the sensational investigations of Hillary Clinton's emails and Russian interference.
However, Comey's references to his years in the Richmond area, from 1993 to 2001, surely were among the most personal for him to write.
A native of Yonkers, N.Y., Comey grew up and attended public schools in Allendale, N.J. He graduated from the College of William & Mary, where he met his future wife. After graduating from law school at the University of Chicago, he clerked for a federal judge in Manhattan.
In 1987, he became a federal prosecutor in Manhattan in an office then headed by Rudy Giuliani, and where he helped prosecute the Gambino crime family.
The Comeys moved to the Richmond area in 1993 and he went into private practice with the McGuireWoods law firm and taught at the University of Richmond School of Law. He returned to federal prosecution in 1996 as an assistant U.S. attorney heading up the Richmond Division of the Eastern District of Virginia.
His book recounts notable cases and experiences while in the area that taught him lessons and later inspired him, including his role in the founding of Project Exile, an anti-gun violence program, and his prosecution of former Richmond Mayor Leonidas Young.
Comey, however, also writes about the death of Collin. "It is difficult for me even now to describe that scene, as a brokenhearted mother rocked her baby to the end of his short life," Comey wrote.
"In the summer of 1995, Patrice and I lived in a five-bedroom colonial in a planned neighborhood in Richmond. It was the kind of place where the local fire company would bring the truck to your house on a child's birthday, where the neighbors all know each other, where the kids spent endless hours out in the quiet street drawing chalk roads to play bike games. Our two little girls thrived in the new house, and were joined by a little brother in 1994. And then came Collin."
While at 7 pounds, 6 ounces, the baby appeared healthy, he was fighting Group B Streptococcus, or GBS, a bacteria that is harmless to mothers but can kill babies. The bacteria can be reliably detected toward the end of pregnancy and easily treated with penicillin during delivery. However, Comey notes that testing and treatment were not regular hospital practices in 1995.
The morning after he was born, Collin had a high fever and was placed in the intensive care unit. He was soon placed on a ventilator, "the machine inflating his little chest again and again. Patrice hardly slept, and often drifted off while sitting up in a chair by his side."
"She sat with him, hour after hour, day after day, holding his little fingers and singing nursery rhymes to him," Comey wrote. The doctors showed them the damage revealed by brain scans and explained that only the ventilator was keeping him alive.
"But they wouldn't tell us what to do; they wanted us to tell them whether to remove Collin from the ventilator. How could we do that? He was there, alive, right in front of us, and we were being asked to give up and let him die."
The Comeys reached the difficult decision. "In the midst of indescribable grief, she somehow saw what else needed to be done. Our son was not yet 2 and couldn't understand what was happening, but our older girls could. For their sake, Patrice decided that they deserved, they needed, to face the truth."
"The girls had held our baby in the first minutes of life, Patrice reasoned. They should hold him at the end. His death shouldn't be hidden from them or it would loom too large as they grew. I never would have had the wisdom to see this," Comey wrote.
The Comey girls were prepared by the family and brought into the private hospital room to say goodbye to Collin.
The death angered the Comeys. He wrote, "Because he was born with a doctor who didn't support testing and in a hospital that didn't require all doctors to order it, he was dead."
In a column that ran in the Richmond Times-Dispatch on Aug. 28, 1995, Patrice Comey wrote about Collin's death from GBS: "A part of me died with him that afternoon and I do not want another baby, mother, father and family to suffer this tragedy."
"I do not want to frighten anyone with this story. But I cannot allow the death of my beautiful boy to become just one in a long line of GBS tragedies that are shrugged off by well-meaning obstetricians. ... Every woman tested and every baby saved gives some meaning to Collin's short life and tragic death," she wrote.
Comey writes that his wife channeled her grief into a campaign, among other things traveling across the country and speaking to the Virginia General Assembly. "She didn't do anything alone, but her voice, along with the voices of many other good people, changed our country. All mothers are tested now, and their babies live. Something good followed unimaginable bad."
After the events of Sept. 11, 2001, Comey returned to Manhattan to take over the post once occupied by Giuliani.
His wife's views, he writes, influenced his views on the purpose of the justice system. "In the years that followed Collin's death, I have seen a lot of bad things happen to good people, and I have been asked to help explain it and give those losses some sense of meaning."
"I just don't know, and I have little patience for those who claim to know. What I do know is what Patrice taught me: There is meaning and purpose in not surrendering in the face of loss, but instead working to bind up wounds, ease pain, and spare others what you have seen."
Comey writes, "Nothing will ever justify some losses, but we can channel grief into purpose and never allow evil to hold the field. In that mission lie the beauty and genius of our justice system."
Other Richmond experiences were less painful but equally useful after he left for Manhattan and later Washington.
One involved Project Exile, a program that was pioneered in Richmond in 1997 as a partnership between local and federal law enforcement to give people caught with illegal guns long sentences in faraway prisons.
In 1998, U.S. District Judge Richard Williams, who was no fan of Project Exile — which was established to help curb Richmond's burgeoning homicide toll — called Comey's boss, U.S. Attorney Helen Fahey, on the carpet ostensibly because of an administrative error that led to a prisoner failing to be brought to court on time.
The courtroom was packed with area law enforcement officials, and Comey writes that the rattled judge focused his ire on Comey, instead of Fahey.
"I owe my entire career in leadership to Helen Fahey's confidence, not just in me, but in herself. She glowed in the achievements of her people — who loved her back — and we blossomed in her glow. She had the confidence to be humble," Comey wrote.
After Comey left Richmond and took over as the U.S. attorney for the Southern District of New York, it was a Richmond case — secondary to the prosecution of Young, the former mayor — that convinced him he needed to prosecute Martha Stewart for obstruction of justice.
It involved a young preacher whom Comey did not name in the book, hoping he has since made a good and happy life for himself. However, he was identified in Richmond Times-Dispatch accounts as the Rev. James S. Miller, the youth pastor at the church then led by Young.
Comey told Miller he did not believe he had kept any of the money he had helped Young embezzle. "Admit this, I told him, and you will be okay. Lie, and I will prosecute you for it. Mayor Young will turn on you, someday, I told him."
Miller did not take the deal and was prosecuted, convicted and sentenced to 15 months for lying during the investigation.
Young testified against him. Judge Williams, according to The Times-Dispatch, told Miller at his sentencing that while Miller's loyalty to Young might seem admirable to some, "he certainly doesn't return it."
Comey wrote that he was saddened when Miller turned down the deal. Years later, he wrote in his book, "As I stared out of my Manhattan office window and remembered that young minister, I was suddenly ashamed of myself.
"He was not famous. I was probably the only person outside Richmond who knew his name. And here I was, the United States Attorney in Manhattan, hesitating to prosecute Martha Stewart because it would bring criticism," he wrote.
Comey wrote that Stewart had lied to authorities during an insider trading investigation and that he was concerned people would think he "was bringing the case to get famous."
"I was actually considering letting her go because she was rich and famous. What a miscarriage of justice. What a coward I was," he confessed.