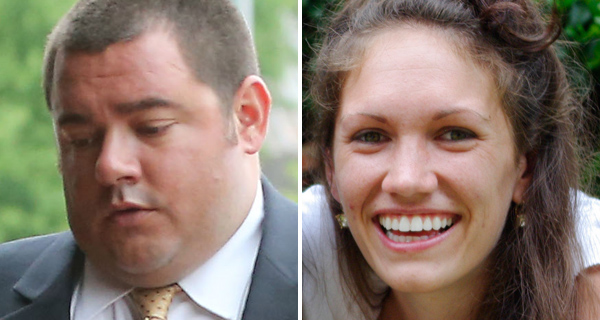 A Richmond judge on Wednesday approved a $100,000 settlement in the wrongful-death lawsuit against the hit-and-run driver who struck and killed Lanie Kruszewski as she was riding her bicycle in Richmond's West End.
The Kruszewski family had sought $5 million in the civil lawsuit filed in June against Elias Webb, 32. The complaint cited sorrow and mental anguish among the effects suffered after Kruszewski's death.
Aubrey Ford, an attorney for the Kruszewski family, called the $100,000 "woefully inadequate," but said it represented the total limits of available insurance coverage held by Webb and a member of the Kruszewski family.
"It's 100 percent of the available insurance coverage applicable to this particular catastrophe," Ford said of the settlement, which was approved by Judge Richard D. Taylor Jr. of Richmond Circuit Court.
According to the order approving the settlement, the $100,000 will be paid by Webb's insurance carrier, Agency Insurance Company of Maryland, and the Kruszewski family member's carrier, GEICO.
Ford added that it would have been fruitless to further pursue damages from Webb, who is serving a three-year sentence for a hit-and-run conviction, because the defendant essentially has no assets.
Kruszewski's death and the criminal case against Webb, which were widely reported, had galvanized bicycling advocates and outraged many in the community. Some have suggested that Webb, the son of a lawyer, has received special treatment. That perception has been fueled by the fact that he is serving at least part of his sentence in a Henrico County-run jail instead of the overcrowded Richmond City Jail.
Steven Benjamin, a local attorney with no ties to Webb's criminal or civil case, said that Webb's father, even if he is rich, would not be responsible for damages in the civil lawsuit.
"What's important to understanding this settlement is that the liability is Elias Web's alone," Benjamin said. "There's no indication that his parents have any liability or any fault whatsoever."
"Lawyers aren't necessarily as wealthy as people imagine," Benjamin added.
In February, a Richmond jury found Webb guilty of leaving the scene of an accident that caused injury or death and recommended a three-year sentence. Judge Margaret P. Spencer imposed the term in July.
Webb still is being held at Henrico Jail East as he awaits transfer to a state prison. His placement at the Henrico-run facility became controversial this summer when the Kruszewski family cried foul and Richmond prosecutors asked Spencer to order that Webb be held in the city facility until he is moved to a prison.
Spencer ruled in August that she lacks the authority to order the transfer because Virginia law grants sheriffs and jail superintendents the power to move prisoners between facilities.
However, she added that she could find no "reasonable basis" for holding Webb in a Henrico-run jail.
She also directed the Virginia Department of Corrections to receive Webb in accordance with a section of state law that says people convicted of felonies after Jan. 1, 1995, and sentenced to one year or more shall be placed in DOC custody within 60 days of the final sentencing order being sent to the head of the DOC.
It has been more than four months since he was sentenced. Officials with both the Richmond and Henrico sheriff's offices have said Webb did not get preferential treatment. One Richmond official testified in court that it typically takes about a year for the DOC to take inmates held at the city jail.
A spokeswoman with the Corrections Department said in an email in August that she could not discuss any specific case, but she added that it can take from nine months to a year for the department to take custody of a prisoner.
In the civil case against Webb, the plaintiff was Kruszewski's mother, Patty Kruszewski, managing editor of the Henrico Citizen and the administrator of her daughter's estate.
Lanie Kruszewski was fatally struck on the night of July 29, 2012, as she was riding her bike east on River Road near its intersection with Bridgeway Road.
Kruszewski, 24, was riding from her job as a server at Osaka Sushi & Steak to her boyfriend's home in Richmond's Fan District.
She was on her white bicycle with large white headlights in front, flashing red lights in the rear and red reflectors, according to the lawsuit.
Webb's sport utility vehicle also was eastbound on River Road when it struck Kruszewski.
"Webb negligently, carelessly and recklessly operated his motor vehicle such that he caused his motor vehicle to collide with Lanie's bicycle," the lawsuit says.
An attorney who represented Webb in the civil case could not immediately be reached for comment after Wednesday's hearing.