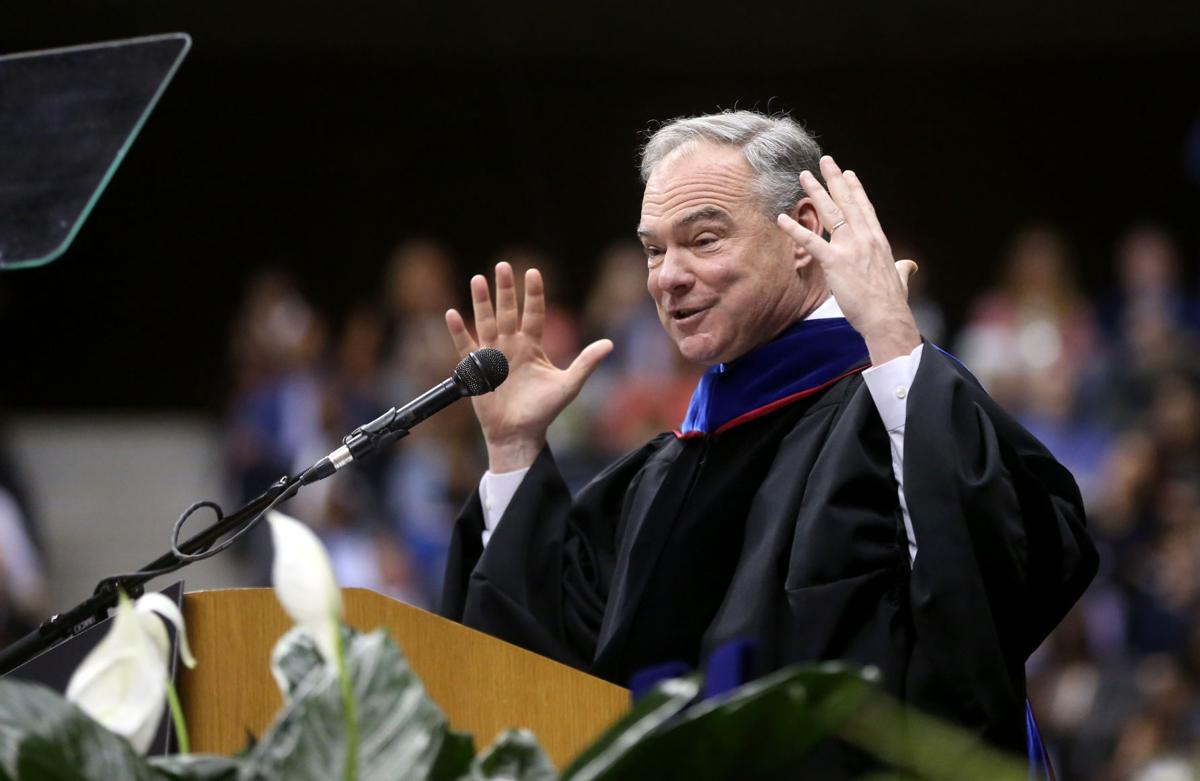 Sen. Tim Kaine, D-Va., handled duties as the keynote speaker for Virginia Commonwealth University's commencement on Saturday, telling graduates stories about the importance of listening to others.
"Graduation speeches are notoriously difficult. No one is interested in what a graduation speaker has to say. It is impossible to be memorable when you're thinking about the emotions of the moment and the party that you're going to have afterwards," Kaine joked during a 17-minute speech in the Richmond Coliseum.
Of three graduations for himself, he said, "the most memorable was my high school graduation. I remember nothing of what the speaker said and I was the speaker at my high school graduation."
VCU awarded 5,000 professional, graduate and undergraduate degrees.
Kaine, a former Richmond city councilman and mayor, Virginia lieutenant governor and Virginia governor, was the Democratic Party's vice presidential nominee last year. He lives in Richmond with his wife, Anne Holton.
He told graduates about something he learned after taking office as a senator in January 2013 and talking to an aide about constituent calls.
Many callers started off by yelling, but within a minute the aide calmed them by listening and asking questions. Callers didn't expect someone to actually listen, and they were surprised and grateful, Kaine said.
He told a story from his time as Virginia governor, from 2006 to 2010, about his communication with Speaker of the House William J. Howell, R-Stafford.
The two disagreed on many things, "but we liked each other. And even through disagreement we talked to each other. And through talking, we learned about some points where we actually agreed that we wouldn't have realized had we not kept talking," Kaine said.
"We found areas where we could make progress because we never stopped communicating and listening to each other."
Kaine and Howell worked together on a measure to restrict smoking in restaurants. They also cooperated on efforts to preserve thousands of acres of open space.
Kaine shared a realization he had during last year's presidential campaign, triggered by something an interviewer said.
"It wasn't my ability to speak Spanish that meant anything to anybody, it was my ability to listen to people in Spanish, to listen to them speaking in the language where they felt the most comfortable," he said. "People want to be listened to."
University President Michael Rao introduced Kaine, and focused his own remarks on encouraging graduates to be open to changing their beliefs if they learn new information.
"When we ignore a new truth, when we refuse even to consider the legitimacy of something that we might disagree with — it really limits our ability to experience new things," Rao said. "And that's going to hold back humanity. Because it will block our beliefs about what might be possible for any one of us to achieve.
"Changing your mind — I'm telling you — is not a sign of weakness. It's a sign that you know more than you used to know."
(804) 649-6061
Twitter: @patrickmwilson