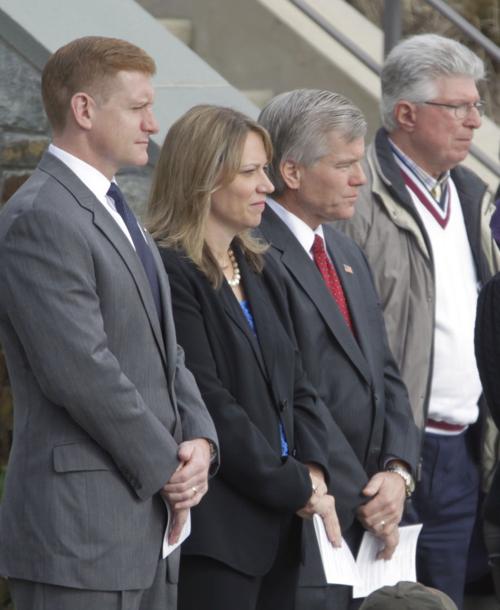 Former Gov. Bob McDonnell, who is facing years in prison after being convicted of corruption counts in September, attended the Veterans Day ceremony in Richmond on Tuesday.
"I've been here every year for many years," McDonnell said. "It's a special day for people who served our country. I just wanted to come and be with fellow veterans to thank them for their service."
McDonnell, a retired Army officer, was one of several hundred people who attended the Commonwealth Veterans Day Ceremony at the Virginia War Memorial.
Unlike previous years, when he came as an invited dignitary, McDonnell arrived quietly after the event started and stood in the back. He was not officially recognized by any of the speakers, including Gov. Terry McAuliffe.
During the ceremony, McDonnell was approached by several well-wishers and stood chatting with people long after the official program ended.
Virginia's 71st governor, who served from January 2010 to January 2014, was convicted Sept. 4 on 11 of 13 charges. His wife, former first lady Maureen McDonnell, was convicted on nine of 13 counts.
Judge James R. Spencer will sentence McDonnell on Jan. 6. Maureen McDonnell will be sentenced Feb. 20. The judge agreed to delay her sentencing because one of her lawyers will be involved in a trial in New Jersey on Jan. 6.
McDonnell would not answer questions about his case or what he is doing with his time as he awaits sentencing.
"I'm doing well," he said. "I've got a good group of friends. I've got great faith in God and I'm doing well."
(804) 649-6348
Twitter: @LouisLLovio