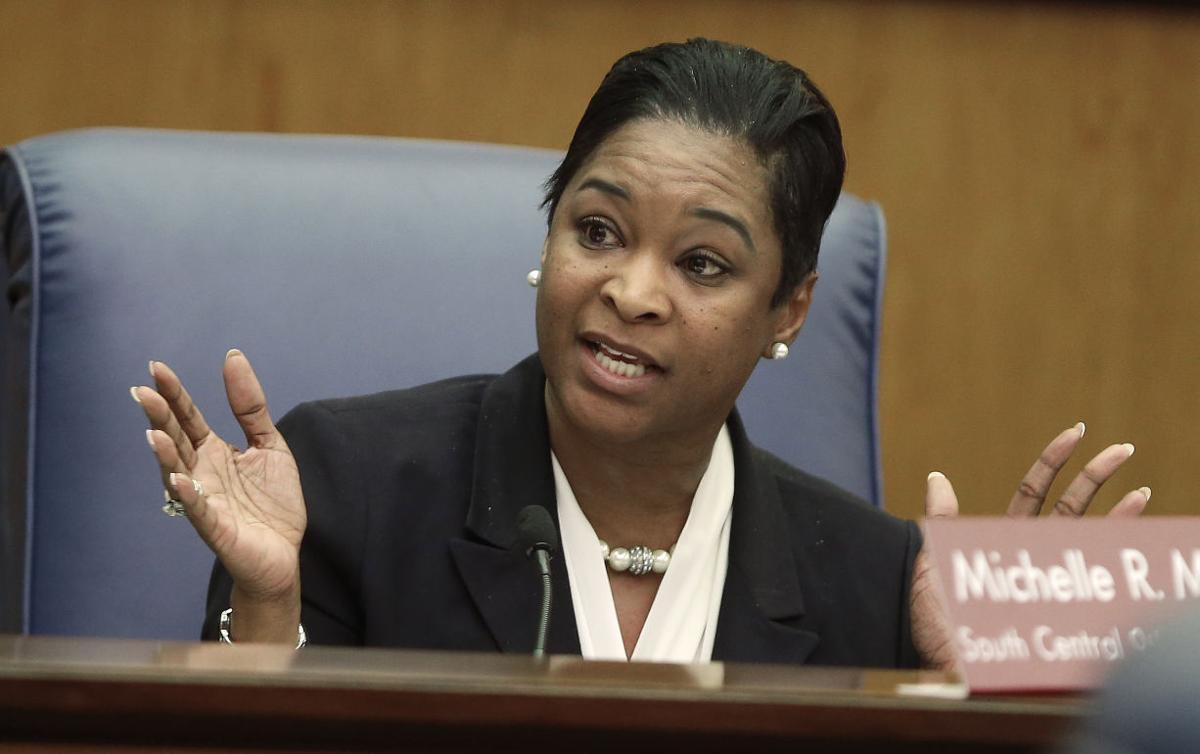 Richmond City Councilwoman Michelle R. Mosby is trying to gather enough votes to become the next council president, according to seven people with knowledge of the politicking taking place ahead of leadership elections in January.
Mosby declined to comment on her intentions this week, but 3rd District Councilman Chris A. Hilbert said he plans to support Mosby and is seeking to serve as her vice president.
If Mosby is successful, it would be an impressive achievement for the first-term council member. She also would become the first black woman to lead Richmond's governing body.
Mosby, a hair salon owner and real estate broker who represents South Richmond's 9th District, would take the gavel from current Council President Charles R. Samuels, a lawyer who represents the Fan District-anchored 2nd District. Samuels would like to stay on as president, according to multiple sources.
But Mosby would bring some baggage to the most high-profile position on the council. It's widely known that the man she hired to a taxpayer-funded job as her constituent liaison lives at her home, though Mosby says there's nothing romantic about their relationship.
In a brief phone interview Thursday, Mosby did not dispute the living arrangement with her liaison, Uzziah A. Harris. The hiring of council liaisons is subject to approval by the full council, but members are given wide latitude to handle district matters as they see fit.
Harris, who earned a liaison salary of $58,000 per year as of June 30, is also a pastor. He holds his worship services at Mosby's hair salon on Forest Hill Avenue, which is where the councilwoman keeps her district office. Mosby's hair salon is not technically in her council district, but it is much closer to her constituents than the council offices downtown at City Hall.
With the vote still a month away, the tally seems fluid, but Mosby appears to be mounting a serious challenge to Samuels. This week, several council members either did not respond to phone calls or declined to speak publicly about whom they plan to support. Samuels also declined to comment.
In offering support to Mosby with hopes of becoming vice president, Hilbert would receive an elevated platform from which he could run for mayor in 2016.
"I have told Ms. Mosby that I would support her and I am seeking the vice president's position," Hilbert said Thursday. "Nothing's final until the vote in January and I hope I receive the support of my colleagues. I believe that I will, but that ultimate decision is up to them."
Explaining his support for Mosby, Hilbert said she has been "thoughtful and assertive in her opinions."
"I've been impressed with her growth during her first year on council and look forward to working with her," Hilbert said.
Hilbert, who has represented the North Side district since 2005, said Thursday that he is considering a run for mayor but has not made a decision.
The looming retirement next year of Republican state Sen. John Watkins, whose 10th District overlaps with several City Council districts, could add another factor to the whirl of ambitions and alliances.
The potential changeover in council leadership could entail a larger turn in city governance. Mosby is generally seen as a reliable ally of Mayor Dwight C. Jones, while Samuels plays a more unpredictable and independent role. On the marquee issue in recent city politics, the mayor's proposal for a baseball stadium in Shockoe Bottom, Mosby supported the mayor's plan and Samuels opposed it.
Though Mosby is one of the quieter council members, she's known to occasionally deliver impassioned speeches, some of them aimed at critics in the audience.
The presidential position mostly involves running meetings and organizing the council. The council president is also first in line to become acting mayor if a vacancy arises. The president earns a $27,000 salary compared with $25,000 for regular members.
The council elects new leadership every two years. Samuels was elected by a unanimous vote at the first meeting of 2013, when 6th District Councilwoman Ellen F. Robertson was re-elected vice president.
Though there are no rock-solid voting blocs on the nine-member council, Mosby typically aligns with Robertson, 7th District Councilwoman Cynthia I. Newbille and 4th District Councilwoman Kathy C. Graziano.
Mosby or any other presidential hopeful could vote for themselves, according to the city attorney's office. With the addition of Hilbert's support, Mosby could have five votes, a majority.
Some sources have suggested 5th District Councilman Parker C. Agelasto may also support Mosby, but his position doesn't appear to be set in stone. He declined to comment.
Mosby handily defeated then-Councilman Douglas G. Conner Jr. in 2012. Conner, a businessman, had held the seat since 2007.
Early in her council tenure, Mosby successfully pushed through a "ban the box" ordinance that eliminated a requirement that forced most city job applicants to reveal felony convictions on their initial paperwork. Mosby also helped start a foundation called Help Me Help You devoted to helping former offenders reintegrate into society.
This year, the council voted to spend $1.7 million to purchase a former church campus in her district to convert into a recreation facility and park.
In September, WTVR-Channel 6 reported that Mosby's council liaison, Harris, was living with her in her home. In an interview with the TV station, Mosby said Harris is her pastor and friend. Mosby has said there's nothing romantic in her relationship with Harris.
In July 2013, Harris registered his ministry, called "A New U ... A New Chance," with the State Corporation Commission using the same address that Mosby listed on her most recent statement of economic interests. Mosby appointed him as her liaison in October 2013.
Harris did not reply to requests for comment.
The council is scheduled to meet Monday for what will likely be its only formal session in December. Electing new leadership will be the first task the council takes up in January.