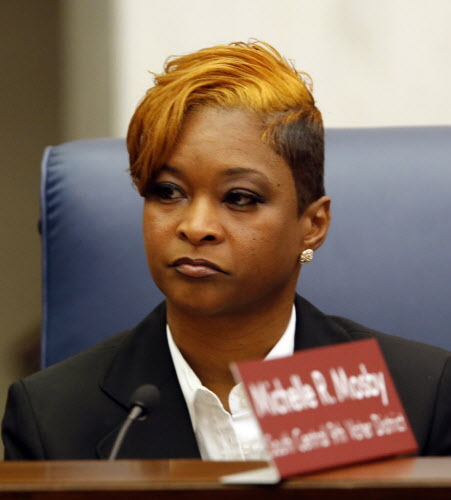 With the support of dozens of people who packed into Richmond's City Council chambers Monday night, the council voted unanimously to eliminate requirements that applicants for many city jobs acknowledge prior felony convictions on initial applications.
Though the "ban the box" ordinance's passage was never in doubt — it was on the council's consent agenda — about two dozen speakers, including many with felony convictions, lined up to relate the challenges of trying to support themselves and their families after serving their time.
"I have never had rights in my life," said Kevin Hunter, 46, who said he was convicted of a felony when he was 18. "I have found myself resorting back to my old ways at times because I felt it was hopeless. … I've never gotten a job when I've checked the box."
Many said they didn't expect the measure to end the difficulty that convicted felons face finding employment and housing after release, but added that the city could set a powerful example.
"If the city does it, it will have an effect on those vendors and contractors that do business with the city," said Richard Walker, who served 14 months on a cocaine possession conviction. Walker founded Bridging the Gap, a Richmond nonprofit that serves ex-offenders, veterans and at-risk youth, in part because he had such a hard time finding a job and a place to live.
"Give them an interview," said Walker, who also serves on the Richmond Regional Re-entry Council. "Give them an opportunity."
The ordinance, first pushed by Councilwoman Michelle R. Mosby, 9th District, prevents the documents used by the city to solicit initial applications from containing "any question pertaining to an applicant's criminal conviction history" except "to the extent required by federal or state law or for positions that the council, by resolution, has determined should not be subject to this prohibition."
It was paired with an expedited resolution Monday night that detailed which city positions will still be subject to the check-box requirement. They range from public safety jobs such as police, firefighters and animal control to positions with financial responsibilities and those that require work with children and confidential documents.
The ordinance — similar to measures adopted in dozens of cities across the country — won't prevent the city from conducting background checks and asking about felony convictions in the interview process. Rather, it is intended to avoid applications from being rejected outright based on a conviction that may not be relevant to the position, proponents said.
"It's why I became a council member," said Mosby, elected last fall. "People came up to me and said, 'Help me, please.' "
Sharon Judkins, the city's deputy chief administrative officer over Finance and Administration, said effective today all new job postings that aren't barred to those with felony convictions will not include the check box.
The council delayed an ordinance that would have closed the loophole the city administration used to help secure Bon Secours Richmond Health System as the major sponsor for the Washington Redskins training camp now under construction off West Leigh Street.
The ordinance, which would amend city code "for the purpose of providing that revenues from the sale, lease or other use of former school properties be set aside for the construction of new public school facilities or for the operations of the School Board" was sent to back to the council's Land Use, Housing and Transportation Committee for more review.
A 2008 council ordinance dictated that proceeds from the sale of surplus school property would revert back to the school system for building needs, though the language referred only to sales, not leases.
A long-term lease for a Bon Secours hospital expansion at the Westhampton School property at Libbie and Patterson avenues, which was turned over to the city in 2009, was a key piece of the economic development deal that secured $6.4 million in naming rights and other contributions from the hospital system for the $10 million training camp.
City officials acknowledged that the deal wouldn't have worked if the city sold the property to Bon Secours, because of the requirement that the money go to Richmond Public Schools. City Council Vice President Ellen F. Robertson, 6th District, and Councilman Chris A. Hilbert, 3rd District, said there are concerns over allowing one-time building proceeds to be used for School Board operations.
"I want to think this thing through and look at all the angles," Hilbert said.