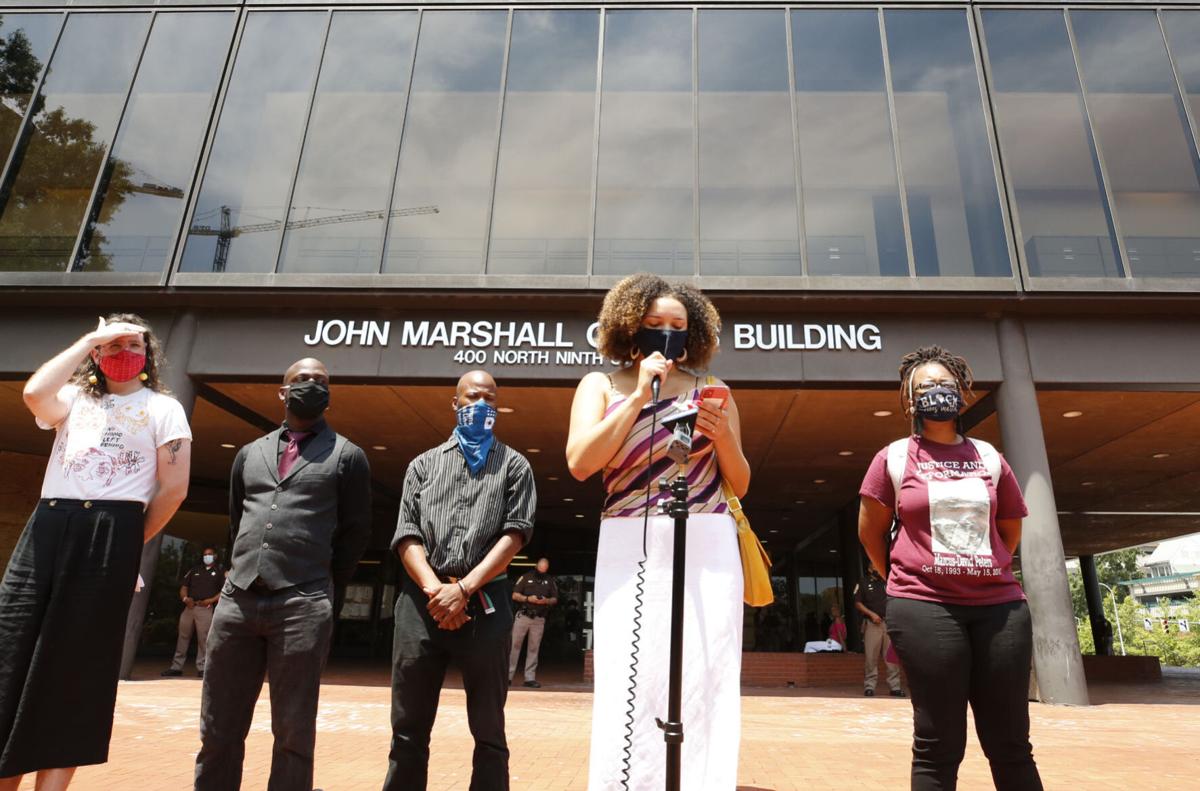 Michaela Hatton sighed in relief Thursday as she left the third floor of the John Marshall Courts Building — "for the last time," she noted.
For the 23-year-old, that relief came after nearly a year of facing a minimum of six months in prison for two felonies — assaulting a law enforcement officer and inciting a riot during a protest outside city police headquarters in June.
On Thursday, those charges, which she had originally pleaded no contest to in October, were reduced to misdemeanors — disorderly conduct and unlawful assembly, after Assistant Commonwealth's Attorney Caitlin Robb Kelly said she was "satisfied that the defendant met the requirements" of a plea deal. Kelly declined to say anything further on the record.
"As a social worker, it's a badge of honor that she can say she was out there fighting for people," her attorney, Sara M. Gaborik, said, adding that the plea deal "allowed us to be creative and find a way to resolve this without a six-month mandatory minimum hanging over her head."
On the night of June 14 — the 18th straight day of demonstrations in Richmond in the aftermath of George Floyd's murder — Hatton was arrested after she'd crossed a police line.
In a summary of evidence provided in October, Kelly said Hatton encouraged the crowd of nearly 400 to join her crossing the line. When a Richmond police officer grabbed her wrist, Hatton hit a Richmond officer in the arm with her megaphone.
The plea agreement called for Hatton to complete 50 hours of community service, complete the Richmond Police Department's month-long Citizens Police Academy, and write an essay that reflects on her decision to disparage a Richmond police officer in a Twitter post in August. Its terms were negotiated by Hatton, Gaborik, Kelly and the officer she'd been charged with assaulting.
Neither Kelly nor Gaborik would provide the Richmond Times-Dispatch a copy of the essay.
Gaborik said several of her clients arrested during the uprisings last summer have written essays as part of a plea.
"I can't say the essays that my clients have written have been well-received by the commonwealth," Gaborik said. "But they did what they were asked to do. And many found it cathartic. For them, it was a way to provide context for why they were protesting."
Hatton also declined an interview after the hearing, in which Richmond Circuit Judge Beverly Snukals allowed Hatton to withdraw her earlier pleas and enter new no-contest pleas to the misdemeanor charges. A no-contest plea is essentially a guilty plea that means a defendant will not fight the charges but does not admit guilt.
According to the plea deal, Snukals sentenced Hatton to 90 days with all 90 suspended for each of the two charges.
(804) 649-6527
Twitter: @AliRockettRTD