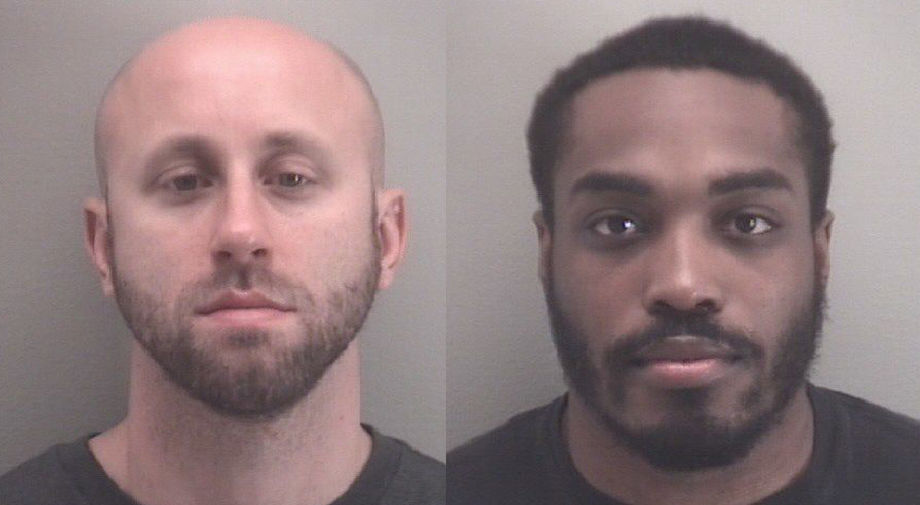 An agreement has been reached for two Richmond police officers charged with three misdemeanor counts of assault and battery during civil unrest in the summer of 2020, but details were not made public during a hearing Friday.
Mark Janowski and Christopher Brown are expected to plead not guilty. What is unclear is if the charges would be dropped or reduced, if the officers meet requirements set forth in the agreement. The case, which was set for a jury trial next week, was continued for six months.
Commonwealth's Attorney Colette McEachin, who is leading the prosecution, and attorneys for the two defendants, Jacqueline M. Reiner, Edward K. Nickel and Peter B. Baruch, declined to answer questions from a reporter, citing the matter as still pending. Both sides said they would discuss the details once it was over.
While it is not unusual to defer the disposition of the case, "not revealing the details of the agreement is unusual in a case of such high public interest," said veteran defense attorney Betty Layne DesPortes. "Trust in the justice system requires transparency."
More than 300 protesters were arrested during the months-long and near-nightly protests last year. Most were offered community service to have their charges dismissed, and the specific details were typically disclosed by McEachin's office ahead of those deferred dispositions.
Touting transparency and accountability last year, McEachin adopted a new policy committing to publicly name police officers indicted by a grand jury for any crime involving abuse of authority or excessive use of force "while in the performance of their duties." That was just months before Janowski and Brown were indicted, and they are the only officers named since the policy took effect.
"Probably these defendants are being treated no differently than any other person would be in similar circumstances," said Steven D. Benjamin, DesPortes' law partner. "But public confidence in an unbiased justice system requires transparency so that people can see equal treatment for themselves. Otherwise, in a high profile case, it looks like there is something to hide. Even when that might not be the case."
If the officers don't fulfill the terms of the agreement within the six-month time frame, "the only consequence being that they will be tried on all charges?" Richmond Circuit Court Judge W. Reilly Marchant asked the attorneys, who all agreed.
Marchant interrupted the proceeding on Friday after only one of the defendants, Brown, attempted to enter pleas of not guilty.
"I don't know that we'd take these pleas at all," the judge told the attorneys, who agreed taking the pleas Friday was premature and should be revisited in six months. "We're not accepting or denying the plea agreement."
Lawrence West, the founder of BLM RVA, who was present for many of the protests in the summer of 2020 and was a fierce advocate for removal of the Robert E. Lee statue on Monument Avenue, attended Friday's hearing. Afterward, he said he was happy to see "justice served."
"If you can bring anyone to justice, you should bring everyone to justice," West said. "The scales are not necessarily balanced, but it's refreshing to see some movement toward that end."
Janowski and Brown are accused of assaulting three young women with O.C. fogger, a chemical irritant, at about 3:45 a.m. on May 31. It was the second night of unrest following the murder of George Floyd by a Minneapolis police officer.
The teenagers, ages 17 to 19, were stopped at a red light in the 200 block of North Belvidere Street, shouting profanities at a group of officers standing nearby.
"F- — it, spray 'em," an officer in the group said just before the two officers, who the Richmond Police Department's internal affairs identified as Janowski and Brown, crossed two lanes of traffic and sprayed into the open window of the car hitting the victims in their faces, according to prosecutors.
At trial, their attorneys intended to argue that the officers' actions were "reasonably necessary to disperse and quell the riot," and thus immune from criminal prosecution, according to motions filed in the case and earlier arguments made. Prosecutors have said their "actions exceeded both legal and administrative authority" since the young women were neither rioting nor unlawfully assembled at the time.
Earlier this week, Marchant ruled that the defense team could have a licensed clinical psychologist opine that the officers acted consistently with police training, while disallowing a witness for the prosecution saying the opposite: that the officers acted outside of police training and violated the department's policy.
RPD's general order states that "O.C. Fogger should not be directed at a person's face." It goes on to say that the chemical irritant "can be very hazardous" in confined areas and "should only be considered as an option under the most extreme circumstances, after the officers have carefully considered all other options, including disengagement."
The officers have been on administrative leave since they were first charged in October 2020. It's unknown how this agreement will affect their employment status with the department. The department didn't respond to a reporter's questions Friday afternoon.
An internal investigation, which examines whether an officer broke police procedure or policy, typically starts only after any criminal charges are resolved. In this case, internal affairs detectives brought the incident to the attention of prosecutors while reviewing body-worn camera footage from the protests, so it's unclear where that process stands.