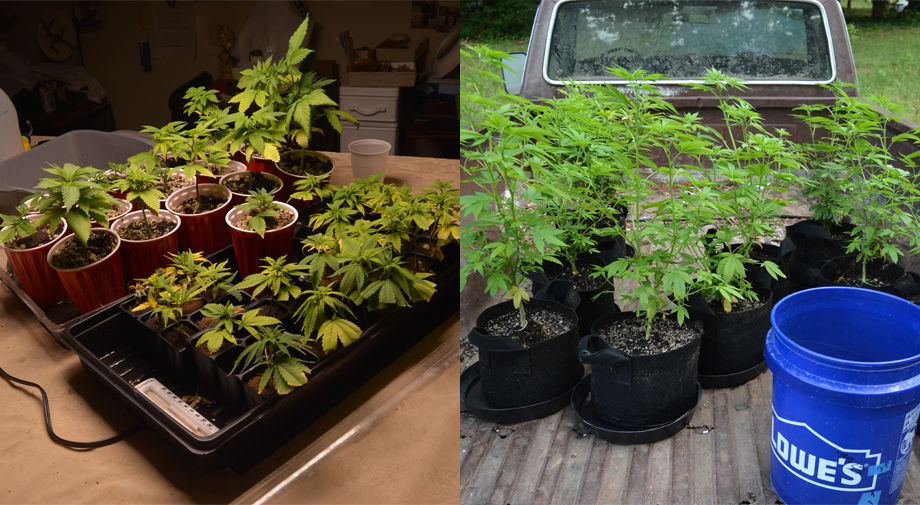 A Chesterfield County man charged with felony possession of more than 50 marijuana plants will serve 10 days in jail and pay a fine after pleading guilty to two misdemeanors — a case his attorney says illustrates the inconsistencies in Virginia's new cannabis law and the confusion it can create for recreational pot users trying to navigate the rules.
Charles A. Miller Jr., 57, was arrested on Aug. 10 on felony charges after police were called to his home and found 43 marijuana plants in his home and nine more in his truck, far more than the four plants allowed under the state's new pot law, which went into effect on July 1. Police also found roughly 1½ pounds of bagged, harvested marijuana.
Last week, in a plea deal negotiated between the prosecutor and his attorney, Miller pleaded guilty in Chesterfield General District Court to reduced, misdemeanor charges and was sentenced to 12 months in jail with 11 months and 20 days suspended and fined $1,000.
Chesterfield prosecutor Jeff Einhaus and defense attorney Julian Viscidi agreed that misdemeanor convictions were appropriate in this case.
"The offenses were nonviolent, appeared to be isolated incidents and the defendant lacked any significant criminal record," Einhaus said. "Looking at the totality of the circumstances, the [prosecution] sought an active jail sentence and a hefty fine to hold Mr. Miller accountable for his choices."
Although the case has been settled with Miller avoiding felony convictions, Viscidi said he would expect to see similar cases arise across Virginia, "where there is a great deal of confusion over separating personal use in the privacy of one's home, versus the amount of marijuana the law proscribes as 'intent to distribute' and rises to a felony level."
Viscidi, who studied the intricacies of the new law to prepare for the case, said part of the confusion stems from how much marijuana a person can produce in conjunction with the legally allowed number of plants they are allowed to grow. And the matter is further complicated by the free seeds that some supply shops have given away to people who want to grow and harvest their own pot.
"It just doesn't add up," said the attorney, who is a former Chesterfield prosecutor. "It's as if they are setting people up to be felons."
Miller's defense "was that there is substantial confusion as to the new laws on marijuana," Viscidi added.
A single marijuana plant can produce 17.5 ounces of marijuana bud, and Virginians now are allowed to possess up to four plants. That means that individuals are allowed to possess more than 4 pounds of marijuana bud alone, not including the weight of the plant itself, Viscidi said.
"Yet if someone was found with 4 pounds of marijuana, they would almost certainly be charged with a felony," said Viscidi, who noted the weight of marijuana that Miller possessed was much less than that.
The new law allows Virginians 21 and older to possess up to an ounce of marijuana for personal use. Anyone found possessing more than an ounce but less than a pound can be subject to a civil penalty of not more than $25. Anyone convicted of possessing more than a pound can be charged with a felony.
Buying and selling marijuana will remain illegal in Virginia until Jan. 1, 2024, when retail sales are expected to begin. Adults can privately share up to 1 ounce of marijuana, as long as it's given away and not sold.
Although the new law restricts to four the number of marijuana plants a household can possess, Miller was provided 50 to 100 marijuana seeds for free by a hemp retail store when the law went into effect this summer, Viscidi said.
"These aspects create a great deal of confusion for citizens over what exactly they can and cannot do and creates inconsistencies in the law itself over how it is realistically applied," Viscidi said. "While a small number of plants recovered from Mr. Miller were large enough to be considered mature, the vast majority were tiny plants that had not even produced any actual marijuana. They were small sprouts from the many seeds he was legally provided."
Miller initially was charged with felony possession with the intent to sell, give or distribute more than 5 pounds of marijuana and possessing between 50 and 100 marijuana plants. The plea deal reduced those charges to possession of between 11 and 49 plants, and possession with the intent to distribute less than 1 ounce of marijuana.
During the first seven weeks of the new law, only 25 marijuana-related arrests were made in Richmond and the counties of Chesterfield, Hanover and Henrico — a 90% drop from the 257 arrests made during the same seven-week period in 2020, according to law enforcement officials in those localities.
Miller was one of 20 people arrested or issued summonses in Chesterfield for marijuana offenses during the first seven weeks of the new law. In Miller's case, a person who jointly owns the house with him called police, telling authorities that Miller was in possession of more than four marijuana plants. Both owners gave police consent to search the residence.
Miller now has a "far better understanding of the new laws and we are confident he will abide by them," Viscidi said.