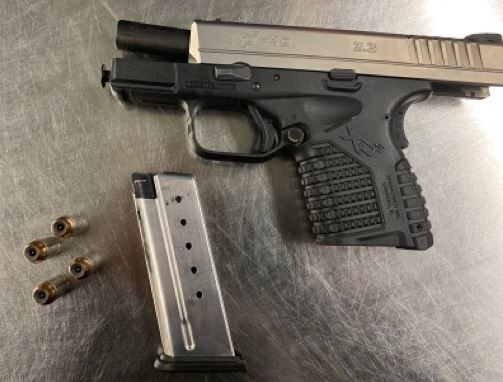 A loaded handgun was found on New Year's Eve in a Chesterfield County woman's carry-on bag at Richmond International Airport, bringing to 22 the number of guns confiscated at RIC in 2020 — a new record — despite a dramatic drop in airline passenger traffic.
The 22 firearms detected at the airport's security checkpoints surpasses the old record of 18, set in 2017, and is eight more than 2019's total.
The record was surpassed despite a 60.8% plunge in passenger traffic at RIC through November because of the coronavirus pandemic, compared with the same period in 2019. December's passenger count is not yet available.
"When you consider that the passenger volume at Richmond was significantly lower in 2020 due to the pandemic, it is an extremely disappointing trend," said Chuck Burke, the U.S. Transportation Security Administrator director for RIC, in a statement. "With fewer travelers in 2020, the expectation was that fewer firearms would be brought to the airport. But that didn't happen."
The trend has spilled over into the new year. On Sunday, a 35-year-old Richmond woman,  Talisha Colene Chambers, was caught with a handgun and charged with carrying a firearm inside an airport terminal and carrying a concealed weapon.
Most travelers caught with guns have told the TSA and Richmond airport police officers that they simply forgot about their weapons. That appears to be the case with the Chesterfield woman, who was stopped Dec. 31 with a .40-caliber semiautomatic pistol loaded with four rounds. It was found in her carry-on bag as it went through the security checkpoint X-ray machine, a TSA spokeswoman said.
TSA officers alerted airport police, who responded to the checkpoint and confiscated the woman's gun. Jonique Rippy, 30, was cited for carrying a weapon inside an airport terminal, an RIC spokesman said.
Less than two weeks earlier, on Dec. 19, a Glen Allen man was caught with a .40-caliber semiautomatic pistol loaded with 11 rounds; that weapon was discovered in his carry-on belongings as well, the TSA said. Michael Apenteng, 36, was cited for possession of a weapon inside the terminal and carrying a concealed weapon, the airport spokesman said.
Two travelers were caught with loaded guns over the extended Thanksgiving holiday weekend, including an off-duty Richmond police officer who forgot about his loaded 9 mm pistol as he prepared to board a flight to upstate New York.
Last year, a Dinwiddie County man and his new bride were preparing to board a plane for a flight to Hawaii for their honeymoon when TSA officers detected a loaded 9 mm pistol in the man's carry-on baggage. The misplaced gun disrupted the couple's plans.
Every traveler caught with a gun is charged with a misdemeanor criminal offense and is required to face a judge in Henrico County General District Court. In addition to any criminal penalties that may be assessed if convicted, the travelers also face substantial federal civil fines.
A typical first-offense fine for carrying a loaded handgun into a checkpoint is $4,100 and can go as high as $13,669, depending on the circumstances.
The TSA believes the type of travelers booking flights during the pandemic may partially explain why the number of firearms detected has not fallen with the reduction of flights. Far fewer business travelers have booked flights during the pandemic, and as frequent flyers, those passengers are well-acquainted with federal aviation rules and protocols, the TSA spokeswoman said.
Business travelers tend to fly midweek and are often enrolled in the TSA's PreCheck program, which allows a faster, more seamless screening.
But since the pandemic, the TSA said it has seen an increased number of infrequent flyers who are booking at the last minute, often on low-cost airlines, and they often change their plans and flights because the airlines are not charging fees to rebook those flights.
The infrequent travelers also frequently fly on Sundays, which has become the busiest travel day for passenger volume. Those travelers are not as familiar with the protocols, rules and regulations.
"Not carrying a gun on a plane is nothing new," Burke said. "TSA has been in existence for 19 years, but for decades preceding TSA, there has been a regulation barring guns on a plane. Yet this year we saw an exorbitant amount of travelers attempting to do just that. The consequences are costly."