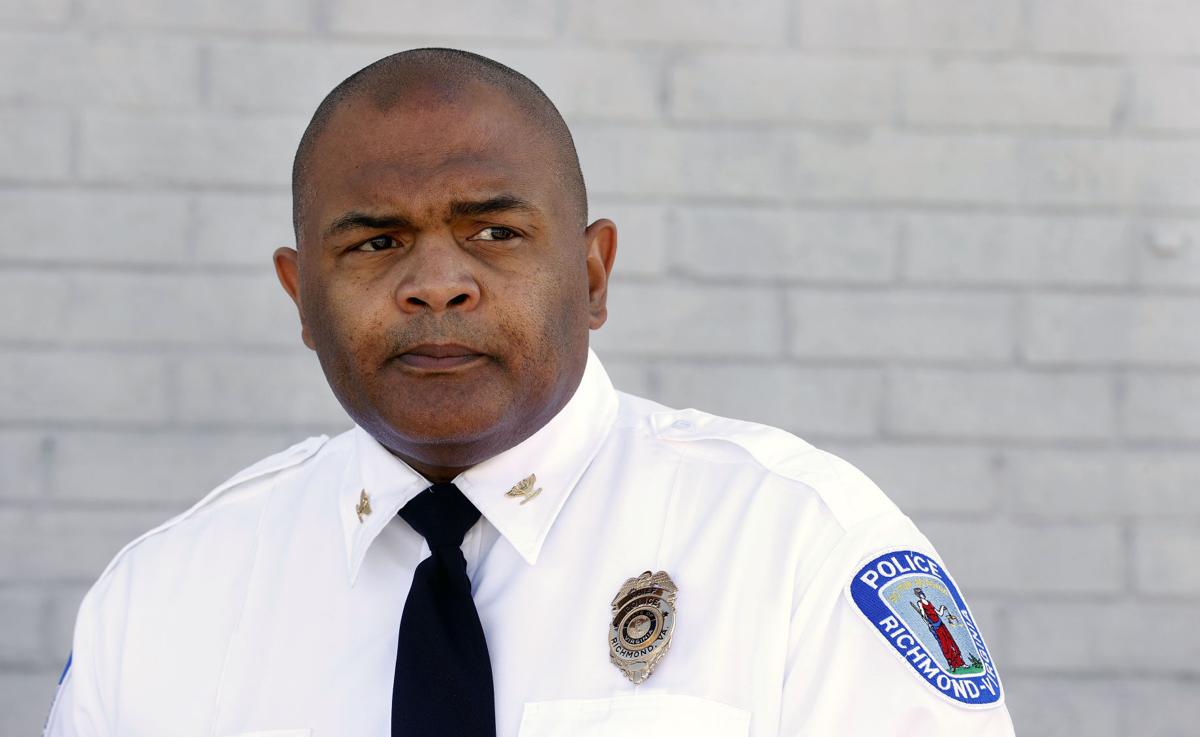 A week after a task force trying to establish a police oversight board publicly criticized the Richmond chief for lack of communication, Gerald M. Smith made himself heard at Wednesday night's meeting.
"Nope, nope, nope," said Chief Smith, shaking his head in disagreement with an assertion from task force members that they'd been trying to reach him for over a month.
"These communications started last week," said Smith, adding that the most effective review boards work in collaboration with the police rather than in confrontation.
The nine-member task force has met at least weekly since March 15. It was appointed by the City Council to make recommendations for the creation of a civilian review board to investigate police misconduct. The group is tasked with gathering input from police, as well as other community stakeholders, and up until last week hadn't heard from the department.
Last Wednesday, May 19, the task force publicly called out Smith on Twitter, saying it had made several attempts to reach out privately. The task force also tweeted that it was publicly inviting Smith and other officers to its next meeting.
The following day, Smith phoned Erik Nielson, a task force member and University of Richmond professor, to discuss Nielson's request for a ride-along — a program the department suspended during the pandemic.
The Richmond Times-Dispatch published a story online Friday and in Saturday's print edition about the task force's frustrations about communications with Smith.
On Monday, Deputy Chief Victoria Pearson reached out to an RTD reporter asking to be put in touch with task force members. Pearson heads the police department's Office of Professional Accountability.
By Monday evening, Pearson and several task force members had exchanged emails.
Pearson also attended Wednesday's meeting, introducing herself and saying she'd make herself available to the board.
"I certainly believe the work you all are doing is very important and critical," Pearson said. "Part of my role in professional accountability is looking at some of these issues ... whatever I can do as we move and continue to move with law enforcement reform and showing to the citizens of Richmond that we do require accountability and are transparent in the process."
An April 8 email Pearson sent to Joyce Davis, the City Council's interim chief of staff, never reached the task force.
In the email, Pearson asked to be added to an invite list for public meetings of the task force and said she would like to be introduced to the body and make herself available for any questions. Davis replied that she would forward Pearson's email to Eli Coston, co-chair of the task force.
Davis said in a phone interview on Thursday of this week that although she had intended to forward Pearson's email to Coston, she apparently did not do so. Davis pointed out that she did, however, send Pearson a chain of emails that same day containing a standing Zoom link for future meetings and Coston's email address.
Pearson said Thursday that she followed what she believed was proper protocol in reaching out to the task force through the interim chief of staff for the council, given that the council had created the task force.
"I don't believe that it's necessary to go through me to get to the task force," Davis said. "Certainly, it is a route to go. I am not the person who schedules for the task force."
"They had ample opportunity to attend and make contact," Davis added.
At the task force meeting this Wednesday, the tense exchange between Smith and members came about 35 minutes into the meeting amid a presentation from Sharon Fairley, a professor at the University of Chicago Law School who shared unpublished research about the form and function of the 71 civilian oversight bodies in the nation's 100 largest cities. Fairley previously served as chief administrator of the Independent Police Review Authority in Chicago and helped build Chicago's new Civilian Office of Police Accountability.
Earlier, minutes after joining the meeting, which was held via Zoom, Smith virtually raised his hand. He posed several pointed questions about Fairley's research into the proliferation of oversight entities since the death of George Floyd a year ago.
"We're looking at citizen review, not oversight — review," Smith said. Of the study, he asked: "Were there problems that needed to be addressed? Were there an exorbitant amount of use-of-force complaints? Or other complaints of use of force that was maybe not excessive, but unnecessary? Did the study take into account whether or not the police agency was working as it should rather than not working as it should?"
Fairley called her research "agnostic," focusing on the prevalence and primary functions of civilian oversight rather than why the bodies were created or their effectiveness.
"The ones that are most effective are the ones that work in partnership with the police department for the betterment of the police department, for the betterment of the community. Those that actually communicate with the police department," Smith said. "Those are the ones that tend to be the most effective and make the most significant change successful.
"There are other models. It is really a battle. They seem to want confrontation, those boards that are built for confrontation as opposed to partnership and in the spirit of community and making things better. Those are the ones that tend to not do as well as those that are in the spirit of partnership."
He then dodged a question about setting a meeting with two members of the task force, saying he'd prepare a presentation of the department's internal investigative and disciplinary review processes, as well as the city's grievance policy.
"We're getting that together and we're going to be reaching out to you to get on your calendar so that we can present that to the board in your entirety," Smith said.
He also asserted that the department had "reached out to the board a few times."
At Wednesday's meeting, Bill Pantele, a former City Council member and an attorney for the Richmond Coalition of Police, introduced himself, saying, "The patrol officers association is here listening and happy to help."
As the discussion turned to the potential powers the eventual board will have — a discussion that has been ongoing for weeks — Smith rankled at the idea of it having the authority to fire him or his officers.
"If [officers] are listening to this conversation, I know tomorrow I will be fielding a lot of concerns from a lot of officers out there that they're not hearing a collaborative effort being developed but a confrontational effort," Smith said. "I just know tomorrow my officers will be asking questions. They were already nervous about the process."
Coston, co-chair of the task force and a professor at Virginia Commonwealth University, said that to be successful, the task force needs to work with police and, more importantly, it wants to do so.
"This process is going to go much more smoothly if we can be responsive to the police concerns," Coston said. "The ultimate goal of a civilian oversight body is to build trust between the police and the community. Certainly approaching that from an adversarial perspective is not helpful. We do want collaboration. We want to work with the police.
"We want to hear what your questions about this process are, what your concerns about this process are, and also to help your officers who might have reservations understand the benefits of civilian oversight for the entire police department."
Jarrod Blackwood, an attorney who is not a member of the task force but has attended several meetings, offered this insight:
"The purpose of the CRB is to ensure accountability of the police to the public. The side effect of that accountability is building trust between the police and the public," he said during Wednesday's meeting. "The entire goal of the CRB is to ensure that officers, as well as the citizens, are treated fairly. So I think we need to start assuming the intent of the task force as being fairness as well. So if we're going to give you, Chief Smith, that leniency and that leeway and assume that you have good intent, I think that you should give the task force that same deference."
In an unrelated discussion, more frustrations boiled over when the group learned its request for funding for a website and a research assistant was unlikely. The task force's discussions are frequently mired by procedural bureaucracy that its members, all of whom are volunteers, aren't sure how to navigate.
"I feel like we're being rushed and the city is saying go 65 mph and the city is throwing down speed bumps every 2 inches," Jewel Gatling said. "You can't tell us to hurry up and go, hurry up and go, and we're trying ... and then it's this bump and that bump."
"I feel like it's a setup," Gatling said.
Councilwoman Stephanie Lynch responded: "It sounds like you all are getting frustrated by some of the same processes that we get frustrated by."
"Welcome to the bureaucracy," she added.
Lynch also asked for better communication from all sides going forward. She, as did Nielson, applauded Smith for his stated support of a civilian review board.
"For the first time in a long time, we have a progressive chief, who is willing to be here," Lynch said.
(804) 649-6527
Twitter: @AliRockettRTD
Public safety editor Reed Williams contributed to this report.