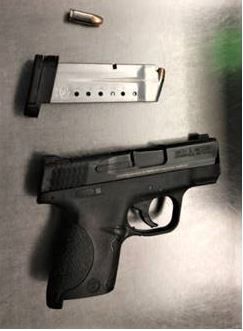 Early on the morning of Nov. 14, a Dinwiddie County man and his new bride were preparing to board a plane at Richmond International Airport for a flight to Hawaii, where they had arranged to spend their honeymoon. A misplaced gun would disrupt their plans.
As the man's carry-on baggage passed through a security checkpoint X-ray machine, U.S. Transportation Security Administration officers discovered his 9 mm semiautomatic pistol loaded with eight rounds, including one in the chamber.
Apparently mortified by the find, the man apologized, saying the weapon had slipped his mind, authorities said. "Instead of groom's day it was doomsday when man was arrested on his way to honeymoon," the TSA announced in a recent news release.
"His excuse was that I forgot it was there, which he mentioned right off the bat," said Chuck Burke, the TSA's federal security director for RIC.
The man, 28, who lives in the Dinwiddie community of McKenney, was detained and charged with carrying a concealed weapon and carrying a weapon inside an airport terminal, both misdemeanors. Officers confiscated his gun.
The incident marked the 18th time this year that TSA agents discovered an illegally packed firearm in a traveler's carry-on belongings at RIC. That ties the record set in 2017, when air travel was not historically depressed by a worldwide pandemic.
Passenger traffic at RIC has declined dramatically this year because of the novel coronavirus — 60% overall from January through September, compared with the same period in 2019.
Nevertheless, the number of firearms being detected has increased. Several other airports across the country have seen a similar rise.
In August, the TSA noted that its officers detected firearms in carry-on bags at a rate three times higher in July than during the same month in 2019, despite passenger volume being significantly lower.
Officers detected 15.3 guns per million people in July, compared with 5.1 guns per million people screened during July 2019. The TSA said that rate was particularly alarming, given that about 75% fewer passengers were screened in July 2020 compared with the same month last year.
The TSA believes the type of travelers booking flights during the pandemic may partially explain why the number of firearms detected hasn't fallen with the reduction of flights.
Far fewer business travelers have booked flights during the pandemic, and as frequent flyers, those passengers are well-acquainted with federal aviation rules and protocols, said TSA spokeswoman Lisa Farbstein. Business travelers tend to fly midweek and are often enrolled in the TSA's PreCheck program, which allows a faster, more seamless screening.
"But what we have seen since the pandemic hit are infrequent flyers who are booking at the last minute, often on low-cost airlines, and they are changing their plans and changing their flights because the airlines are not currently charging fees to rebook," Farbstein said.
"They also are flying frequently on Sundays," she added. "Sundays are now the busiest travel days for passenger volume, quite a change. And so we believe that these passengers are not as familiar with the protocols, rules, regulations."
Burke, RIC's federal security director, said the infrequent or first-time travelers booking flights because of reduced ticket costs "are just not paying attention or they're forgetting" about the prohibition of carrying unsecured firearms on flights.
"It's just a mindset for more people that are traveling for the first time, who can now afford the tickets because they're cheaper, and then they're just not checking [their belongings] ahead of time," Burke said. "And despite the signage that's at the checkpoint area, that doesn't even spark a memory for them. And it's kind of alarming."
"But the good part about it is, that along with our workforce and the increase in our technology capabilities, we're catching them," he added. "There's no doubt in my mind that ... even if they intentionally tried to get through the checkpoint and secrete a weapon, it's going to be caught."
Authorities said the nationwide surge in firearm sales may also be playing a role in the number of guns being detected at airport checkpoints.
In Virginia, gun sales soared to historic levels this year. Through October, there were 650,840 transactions, up 83% from the 355,015 transactions during the same period in 2019, according to mandatory criminal background check records maintained by Virginia State Police.
The 650,840 transactions during the first 10 months of 2020 has surpassed the old record of 505,722 transactions for all of 2016, the last year of the Obama presidency. Sales jumped in June of that year after 49 people were fatally shot in a terrorist attack inside a gay nightclub in Orlando, Fla., and again in July when five officers were fatally shot and nine others wounded in an ambush in downtown Dallas.
Virginia's spike — which largely mirrors national trends — has been attributed to a tumultuous year marked by the long-term uncertainty of COVID-19 and the economic turmoil it brought, protests over racial injustices, activists' demands to defund the police and increased firearm restrictions passed by the Democratic-controlled General Assembly that some feared would dry up the availability of certain firearms and magazines.
In an examination of firearm sales nationally, the Brookings Institution, a research group based in D.C., noted that after President Donald Trump issued a proclamation declaring a national emergency related to COVID-19, gun sales surged nationally over the next 12 days — jumping to more than 120,000 per day and peaking at 176,000 on March 16. Over 700,000 additional firearms were sold in March.
Then, after George Floyd was killed on May 25 by police in Minneapolis, which sparked protests nationwide, sales of firearms again surged nationally, reaching 150,000 per day on June 2 and June 3, according to Brookings. Firearm sales remained strong throughout June as public discussions about Black Lives Matter and defunding the police were pervasive, Brookings noted in a July publication.
Consequently, June firearm sales were the highest on record, with an estimated 3.9 million sold nationally. Virginia set a new monthly record in June, with 81,204 transactions, according to the Virginia Firearms Transaction Center operated by state police.
Despite his brief detention at RIC, Keith Abbey, the Dinwiddie man caught with the gun, was issued a summons and let go. It appears he and his wife eventually made it to Hawaii for their honeymoon.
"I'm not quite clear if he made his flight, but he probably did," Burke said.
Recent Facebook posts by the couple indicate they arrived and enjoyed their first dinner date Nov. 16 at a club in Lihue, Hawaii. Several attempts to reach Abbey for comment were unsuccessful.
He is scheduled to make his first appearance on the gun charges in Henrico County General District Court on Wednesday. In addition to any penalty he might face if convicted, he also faces a substantial federal civil fine.
A typical first offense for carrying a loaded handgun into a checkpoint is $4,100 and can go as high as $13,669, depending on any mitigating circumstances, Farbstein said. This applies to travelers with or without concealed gun carry permits because even though an individual may have a concealed carry permit, it does not allow for a firearm to be carried onto an airplane.
"When you're packing for a flight, my advice is to make sure that your baggage is empty when you start to pack to ensure that there is nothing prohibited in it," Burke said.