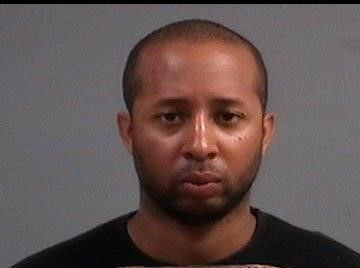 A former Chesterfield County police officer has been found guilty of exchanging nude or partially nude photos with a 17-year-old girl while he was employed with the department in a plea agreement that reduced his original felony charges to misdemeanors and requires no active jail time.
Brandon Hyde, 31, pleaded not guilty to two counts of contributing to the delinquency of a minor but agreed not to challenge the prosecution's evidence in a deal designed to protect the victim from having to testify. A Chesterfield Juvenile and Domestic Relations District judge accepted the agreement and convicted Hyde of the two misdemeanors, and sentenced him to 12 months in jail with 12 months suspended on each count.
Hyde originally was charged with solicitation of child pornography and using an electronic device for the exploitation of a child. Chief Deputy Commonwealth's Attorney Jennifer Nesbitt said the decision to reduce the charges was based primarily on "protecting the victim from ever having to testify."
Nesbitt also noted that Hyde was swiftly fired by Chesterfield Police Chief Jeffrey Katz, who at an April news conference called to announce Hyde's arrest said he sent correspondence to the Virginia Department of Criminal Justice Services seeking revocation of Hyde's law enforcement credentials.
Katz said Hyde, an honorably discharged Marine and sergeant in the Virginia National Guard, was "completely forthright about his conduct" with the girl when confronted and did not attempt to conceal or make excuses for his wrongdoing.
The chief said an internal investigation determined that Hyde had met the girl prior to being hired by Chesterfield police in January 2017 but two years later he sent an inappropriate photo to the victim and solicited photos from her. The officer and the girl told investigators their relationship was never physical, Katz said.
Nesbitt and Deputy Commonwealth's Attorney Rhanelle Collins-Meredith, who jointly prosecuted the case, said the evidence involved Hyde sending partially nude photos of himself to the teen and encouraging her to do the same. The victim sent a photo that exposed an intimate part of her body, the prosecutors said. The activity occurred between March 1 and Aug. 1, 2019.
In addition to the suspended sentences, the court ordered Hyde not to have any further contact with the victim or unsupervised contact with any other children other than his own. The plea agreement was reached in June.
Defense attorney John Click, who represented Hyde, could not immediately be reached for comment. An employee at the law firm where Click works said he would be tied up all day Friday taking legal depositions.
Katz said Hyde came to the department with "impeccable references." He graduated from the police academy on June 1, 2018, and completed his field training on Aug. 30 of that year. He worked as a uniformed patrol officer throughout the duration of his employment, the chief said.
Katz said an internal investigation of Hyde's conduct commenced after the chief's office received information on Feb. 20 from another officer concerning a rumor that Hyde may have had an inappropriate encounter with a 17-year-old girl in 2019.
Hyde was on military assignment with the Virginia National Guard until Feb. 22, and upon his return he was put on administrative duty with pay as the department continued to investigate. On March 1, Hyde was placed on administrative leave without pay, and then fired on March 12, Katz said.