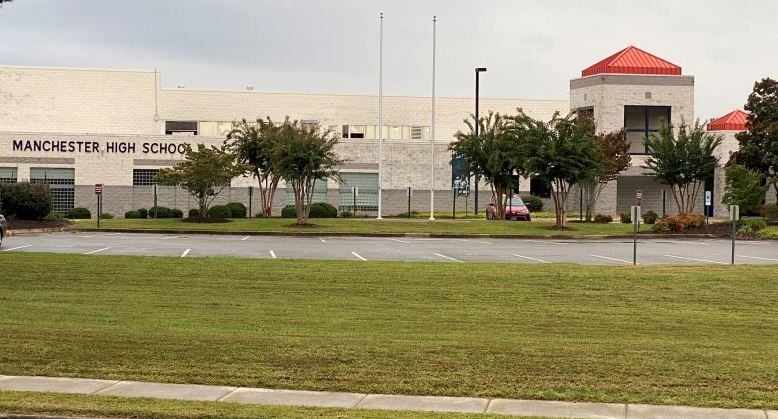 A former Manchester High School teacher and coach has been acquitted of taking indecent liberties with an underage student after a judge who heard evidence in the case determined the alleged victim's testimony of what she claimed occurred lacked consistency.
Chesterfield County Substitute Circuit Court Judge William R. Shelton last month dismissed the felony charge against Joshua L. Alford, 32, after agreeing to a defense motion to strike the evidence because it did not rise to the level sufficient for a conviction.
Alford had maintained from the beginning that he and the alleged victim, then 17, had not engaged in sexual activity at the school, as the girl claimed, said defense attorney Arnold Henderson.
Alford was arrested in December 2019 for what police said at the time was an inappropriate relationship with a student. Police said Alford met and began communicating with the girl during the 2016-17 school year, and that evolved into sexual contact during the 2018-19 school year.
"The bottom line was that this young lady that made this allegation had in fact changed her version of the events numerous times," Henderson said. "At first she wrote a letter to the school administration that it never happened, that he would never do anything like this and that she would never allow him to do anything like this."
"Then she told the police, after they questioned her several times, that, OK, I'm frustrated ... it happened one time," the attorney said. "We had versions [that included] it never happened and it never would happen, to it happened one time, it happened two times, to it happened three times."
Henderson said the girl, who had been the defendant's teacher aide, also provided inconsistent statements about where the alleged sexual activity occurred.
It varied from a room next to the school's gym to classroom trailers outside the school, "and they don't even have trailers outside of the school," the attorney said.
The girl also described tattoos that Alford supposedly had on his upper thigh and groin area that don't exist, Henderson said. "He doesn't have, and never has had, any tattoos."
Assistant Commonwealth's Attorney Joshua Loren said the girl alleged that she performed oral sex on Alford in the boys training room under circumstances in which she was taken advantage of because of his position as a teacher.
"Her allegation wasn't that she was physically forced," the prosecutor said. "It was more along the lines of [Alford] taking advantage of a situation. She had kind of befriended him at one of his classes previously, and he used that trust to do this."
"It really came down to her word versus his," Loren said. "There was not a whole lot else to it."
Loren said that because of Alford's younger age — he was in his late 20s when he was hired in 2016 — he was "very popular within the school with the students" and regarded more as a peer than as a teacher.
Henderson said the girl's testimony was "very unbelievable" and she "got caught in numerous lies. It was embarrassing for her."
Under cross-examination, Henderson said the girl acknowledged that Alford began to show more attention to other students than he did to her.
"She at one point felt very special because she was his student aide," he said. "She felt privileged."
As a result of the girl's allegations, Alford was terminated from his employment at Manchester High as a health and physical education teacher and assistant coach of the school's varsity football team. He now holds a job with another employer but no longer teaches, Henderson said.
"Obviously, his life was turned upside down as a result of this empty allegation," he said. "His family has been affected by it."