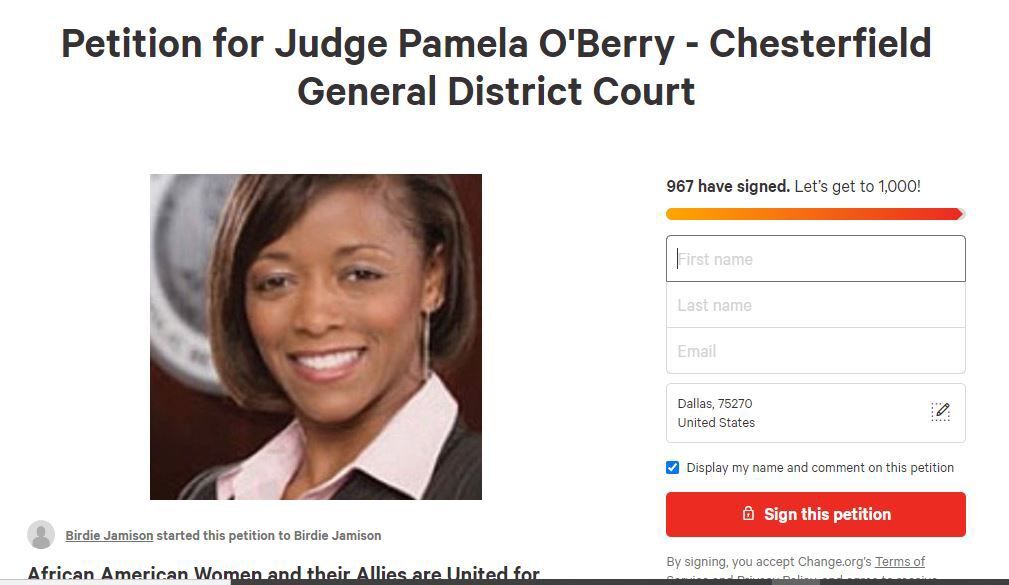 A former Richmond judge has launched a Change.org petition that seeks the reappointment of Chesterfield General District Judge Pamela O'Berry, who the General Assembly last week turned down for a third, six-year term on the bench.
Attorney Birdie Jamison, who lost reappointment in 2015 as a judge in Richmond General District Court and now works as a community activist, is trying to rally support for O'Berry after the Virginia Senate on Jan. 26 did not include her on a list of 45 judges statewide to be elected for additional terms.
Although the House included O'Berry on its list, a judge cannot be re-elected without a majority of both Senate and House members voting in their favor.
The Senate followed the recommendation of the Senate Judiciary Committee, which did not certify O'Berry for re-election and removed her name from the list of judges the panel endorsed.
Critics have complained that O'Berry has been too harsh on defendants of color, but supporters insist that she's fair and unbiased and follows the law.
"This unwarranted attack on Judge O'Berry, the only African American Woman jurist on the Chesterfield General District Court, has not gone unnoticed," Jamison wrote in her petition. "This is not the first time African American Women Judges have been targeted and treated unfairly in the Judicial retention process here in Virginia. We are extremely concerned about this situation and we need to see fair and equitable treatment for our African American Women Judges."
As of late Monday afternoon, more than 1,500 people had signed the petition; the original goal was for 1,000 signatures.
Change.org bills itself as the world's largest social change platform with more than 225 million users in 196 countries.
"I put up a petition [Saturday] for people to vocalize their support of her," Jamison said. "And within 24 hours, I had 693 people that had signed that petition and people were calling and emailing me, saying what can we do to support her."
Jamison said she has printed out the names of supporters and presented them to Del. Delores McQuinn, D-Richmond, and Sen. Louise Lucas, D-Portsmouth, for their consideration. McQuinn is one of O'Berry's allies and introduced the judge during the General Assembly judicial interview process in December. Lucas is a member of the Senate Judiciary Committee.
"I feel very passionately about this situation," Jamison said. "Because it's happened too many times and it's ridiculous. It happened to me. This process is so fatally flawed."
A broad section of Chesterfield's legal community, along with a number of current and former politicians, the Virginia Legislative Black Caucus and the Virginia State Conference NAACP have thrown their support behind O'Berry. At least 35 people lined up to speak on her behalf at a Dec. 11 joint meeting of the Senate Judiciary and House Courts of Justice committees.
But at that same gathering, O'Berry was met with strong opposition by supporters of criminal justice reform, including Black community activists and the Chesterfield Branch of the NAACP. Many accused O'Berry of doling out harsh punishments, wrongly holding criminal defendants without bail and disregarding their rights, especially in the Black and Hispanic communities.
O'Berry has declined to comment, saying that Virginia's Canons of Judicial Conduct prevent her from publicly discussing the matter.
State Sen. Joe Morrissey, D-Richmond, who has led the effort to have O'Berry removed, has said all three state senators who represent parts of Chesterfield — himself, Sen. Ghazala Hashmi, D-Chesterfield, and Sen. Amanda Chase, R-Chesterfield — stand opposed to O'Berry's reappointment.
But on Sunday, Chase contacted the Richmond Times-Dispatch to say that Morrissey has misrepresented her position on O'Berry and that she supports her reappointment to the bench.
Chase said the only time that Morrissey consulted with her about O'Berry was this year when she said Morrissey asked her if she remained opposed to the judge.
"I was like, wait a minute, this is different from last year," Chase said. "I said, you're talking about not even reappointing her? And I said this is news to me, I don't know that I am opposed to her. I said I need more information, because I'm getting letters from former Republican elected officials and some current in support of Judge O'Berry."
Last year, Chase joined Morrissey and five other members of Chesterfield's state legislative delegation in supporting the election of Chesterfield Juvenile and Domestic Relations District Judge Jayne Pemberton to fill the 12th Circuit Court seat vacated by T.J. Hauler. Two other members of the delegation, including McQuinn, supported elevating O'Berry instead. The seat has still not been filled.
Chase acknowledged she voted last Tuesday in the Senate in favor of a preliminary resolution to elect a block of judges who had been certified for reappointment to general district court seats statewide, but said she was unaware that O'Berry's name was not on the list.
"When I didn't see any Republicans on the floor dissent to any of the judges, I just figured they were in favor of it and it was OK to vote for it," Chase said. She said she would have spoken up if she had known O'Berry's name had been omitted.
Later in the session, when the final vote was taken to elect the judges, Chase was absent and didn't vote. She said she left because her mother-in-law was undergoing triple-bypass heart surgery.
Contacted Monday, Morrissey said Chase has "selective memory recall" in regard to her stance on O'Berry.
"This summer I contacted her and asked if she was in support or opposition to Judge O'Berry being reappointed," Morrissey said. "She said she was opposed to her being reappointed. On Dec. 12, after the judicial vetting, I asked her if she saw the vetting and she said no. I said are you remaining in opposition to O'Berry being reappointed; she said yes."
Then last week, Morrissey said Chase told him she was "getting pushback from some people and needed to think about it." But after telling her that it didn't appear that O'Berry was going to be certified, "Her response was, 'Oh, that's good.'"
"I'm sorry it's got to this," Morrissey added. "But when I make a representation, I don't like being called out saying it's not accurate."