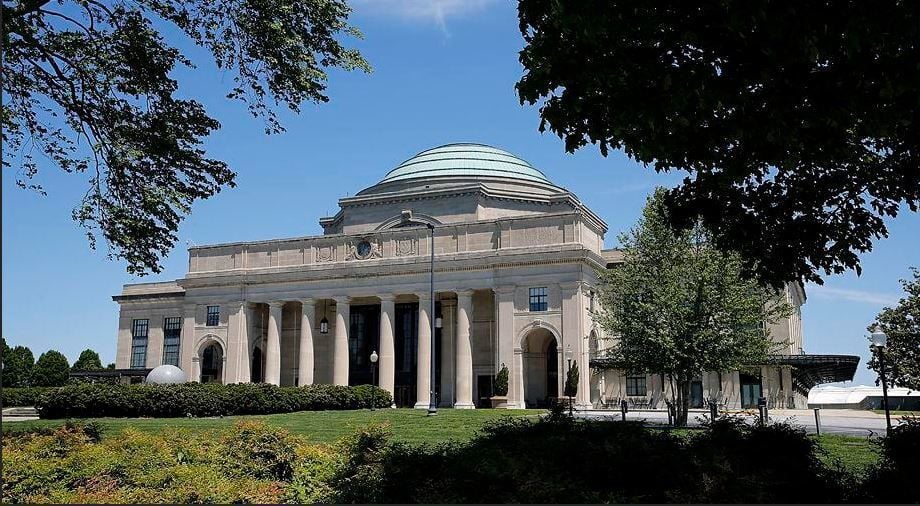 As arson fires were blazing at several Richmond businesses and institutions on the second night of the summer 2020 Black Lives Matter protests, Sherod Jenkins and three companions took advantage of the chaos and broke into the Science Museum of Virginia, causing thousands in damage and stealing laptop computers and audio equipment.
After months of investigation that took several interesting turns, Capitol Police identified four suspects and made arrests last November. Investigators learned the four men were "taking part in looting and vandalism along the Broad Street Corridor" during the unrest, and had livestreamed their activities on Facebook. Those videos, recovered from Jenkins' Facebook page, proved useful in solving the case.
On Friday, Jenkins, 19 — whom Richmond Assistant Commonwealth's Attorney Robert Bauer described as the group's ringleader — pleaded guilty to breaking into the museum on May 31, 2020, and eluding police in a separate incident about a month earlier, when he crashed his car into a fence while trying to flee a traffic stop.
In exchange for his pleas, the prosecution withdrew three accompanying charges of grand larceny, conspiracy to commit grand larceny and destruction of property in the museum break-in.
In accordance with a plea agreement, Richmond Circuit Judge David Cheek Sr. sentenced Jenkins to 15 years in prison with 14 years suspended, giving him one year to serve. Jenkins also was ordered to pay $5,400 in restitution to the Science Museum — a sum that will be paid jointly with the other three defendants.
Jenkins declined an opportunity to speak in court Friday when the judge asked if he had anything to say before being sentenced.
His companions pleaded guilty earlier this year and received suspended sentences or were ordered to perform community service. None of them will spend time behind bars if they live up to their agreements.
Bauer, who prosecuted all four defendants, said Science Museum officials were consulted in deciding the disposition of the cases and they are satisfied with the outcomes.
"We are comfortable that the situation was handled appropriately," Science Museum spokeswoman Jennifer Guild said after being contacted following Friday's hearing. "We are glad this matter is behind us."
Capitol Police got an early lead in the case after reviewing museum surveillance camera videos: One of the suspects was wearing a black hoodie with the words "Rise for Youth," which investigators learned was an organization in Richmond that assists at-risk youth in avoiding prison and becoming productive citizens.
Investigators also discovered that some of the items stolen that night seemed "oddly similar" to a theft at the museum that occurred three years earlier. In reviewing that April 2017 incident, investigators learned that Jenkins was identified as one of two people who had checked out two laptop computers during a workshop at the museum; the devices were never returned.
"It has been apparent from the beginning that at least some of these individuals from this burglary seemed to be very familiar with where to go in the museum, hitting all points of sale and the MiX [a space for teens] in a very short time frame," an investigator wrote in an affidavit for a search warrant filed in the case.
After Jenkins was identified as a possible suspect, investigators began examining his social media accounts and discovered the livestream videos of him and his companions participating in the protests.
The investigation gained momentum when police learned that Jenkins and co-defendant Makel Al-Qadaffi were featured in a March 10, 2020, cover story in Style Weekly about survivors of Richmond gun violence. Both were members of Rise for Youth, and their photos appeared in the story, with Jenkins on the front page.
Related to that, investigators took notice that both young men were described as "youth leaders" in Rise for Youth in a Facebook post by the organization, according to the affidavit.
Museum surveillance videos viewed by police show that four males approached the museum's loading dock at 3:14 a.m. It appears that three of them obtained metal pipes around a nearby dumpster, which police believe they used to smash a door window next to the loading dock to gain entry. Two of them were still holding pipes after they entered a hallway, according to the affidavit.
An alarm was activated at 3:23 a.m., but "due to the large amount of civil unrest in the area at the time," Capitol Police determined it was unsafe to immediately send officers to the museum, the affidavit said.
Numerous fires were set during this time frame. They included the United Daughters of Confederacy headquarters at 328 N. Arthur Ashe Blvd. at 12:15 a.m.; a DTLR apparel and shoe store at 1500 W. Broad St. at 2:41 a.m.; and the Rite Aid store at 520 W. Broad St. at 3:27 a.m.
One male stayed outside the museum as a lookout, and the other three are seen inside the museum's gift shop after they shattered a glass window with a pipe. One suspect then smashed the cash register and, when that failed to open the device, he picked it up and tossed it to the ground, according to the affidavit.
Less than a minute later, three suspects appeared in the museum's rotunda and rummaged through the drawers at the admissions desk. Then at 3:32 a.m., the three suspects can be seen leaving the museum near the loading dock and walking in the same direction of the fourth suspect, toward DMV Drive.
As part of his plea agreement, Jenkins agreed to waive his Fourth Amendment rights against unreasonable searches and seizures, and submit to personal searches or seizures by law enforcement without a search or arrest warrant for three years after he is released from incarceration.
Al-Qadaffi, 20, pleaded guilty Sept. 23 to felony burglary as part of a plea agreement that had prosecutors withdraw three accompanying charges of grand larceny, conspiracy to commit grand larceny and destruction of property. He was given a 10-year suspended sentence and ordered to make restitution.
Allen Hargrove Jr., 26, pleaded guilty April 16 to burglary and grand larceny charges, and a judge found the evidence sufficient for a finding of guilt. However, Hargrove's case was taken under advisement for one year.
Under terms of his plea agreement, Hargrove was ordered to perform 100 hours of community service and make restitution to the Science Museum. He also was ordered to be assessed by the Richmond Behavioral Health Authority and follow treatment recommendations. If he successfully completes the court's directives, his charges will be reduced to unlawful entry and accessory after the fact, both misdemeanors, and he will be sentenced to two 12-month jail terms, with all time suspended.
Zakeye Navon Turner, 19, pleaded guilty July 19 to burglary, and a judge found sufficient evidence for a finding of guilt. As with Hargrove, Turner's case was taken under advisement for one year. Accompanying charges of grand larceny, conspiracy to commit grand larceny and destruction of property were withdrawn.
Under terms of Turner's plea agreement, he was ordered to make restitution and enter the Richmond Department of Justice Services' day reporting center and successfully complete its program. If he abides by the court's conditions, his charge will be reduced to unlawful entry, and he will be sentenced to 12 months in jail, all suspended.