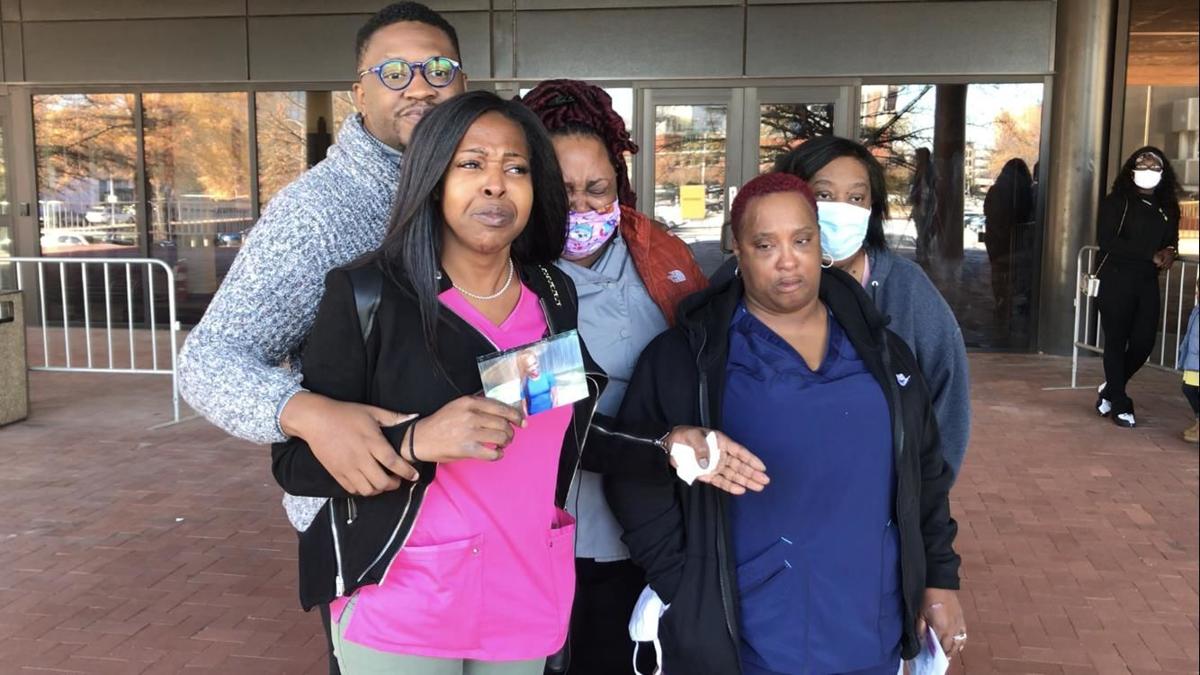 The family of Sharnez Hill and her infant daughter, who were gunned down in April outside The Belt Atlantic Apartments off Midlothian Turnpike, is still grappling with why the young mother and child were killed.
"It just doesn't make sense," said Sharnez Hill's aunt, Destiny Hill, who spoke to reporters outside of the John Marshall Courts Building on Friday after one of the shooters pleaded guilty. Four others have been charged.
"Shy-Shy was a beautiful person," she said. "Everyone who knew her, loved her. She was just amazing, so talented and gifted. She was excited about the start of her life with her precious newborn baby. It's senseless. You just can't wrap your mind around it."
Her voice fractured with emotion as she spoke of how close-knit the family is, especially "Shy-Shy" and her sisters.
"They tore something apart that we can't ever replace," Destiny Hill said as tears fell and her family held her. "It just hurts. It hurts this family."
On Friday, Kevon Bynum, 19, pleaded guilty to the first-degree murders of Sharnez Hill, 30, and 3-month-old Neziah Hill on April 27. The shooting also injured a 29-year-old woman, a 15-year-old girl and an 11-year-old girl, for which he entered guilty pleas to three counts of malicious wounding. None of the victims struck was an intended target, according to the plea agreement, which summarizes the facts of the cases.
He was also tied to a separate shooting earlier that month that left 18-year-old Vinshaun Johnson dead. For that incident, Bynum pleaded guilty to first-degree murder and a firearms offense. Two others face charges in that case.
Members of Johnson's family were in court on Friday, as well, but declined to speak to reporters.
"Richmond police officers and detectives worked tirelessly following these shootings to successfully identify and arrest the suspects, yet that is only the beginning of these cases," Richmond Police Chief Gerald M. Smith said in a statement on Friday.
Bynum faces three life sentences plus another 63 years in prison for the seven felonies. He will be sentenced in March. Eight other charges were dropped in exchange for his guilty pleas. His attorney declined to comment.
Destiny Hill said she's conflicted, because she doesn't want to see yet another life lost to gun violence. Hill said Bynum destroyed his own life and family, too, when he pulled the trigger.
"There's some sense of comfort, seeing the person who took something so valuable from us ... being held accountable for what he did. The heinous act that he did. Senseless, senseless, just senseless," Destiny Hill said. "Senseless to take away something so precious from us that we could never replace."
According to a summary of evidence that prosecutor Brooke Pettit attached to the plea agreement, the shootings don't appear to be related, except that they stemmed from ongoing disagreements Bynum had. Bynum is the only person charged in both of the incidents.
The first occurred at 4:28 a.m. April 7. Bynum, and allegedly others, lured Johnson to Montvale Avenue in North Richmond, according to plea agreement. Johnson thought he was meeting some girls, but when he arrived, Bynum ambushed him.
Thirty-two cartridge casings were recovered from the scene, the agreement said. Johnson was shot in the chest, arm and hand. He died at the scene.
Police said a juvenile in his late teens was injured in the shooting.
The casings matched three separate guns, one of which was recovered from Bynum's home, the court document said. Ten casings from the scene were linked to the gun found in Bynum's house.
Juhwaan Barnes, 19, and Justin Oliver, 18, face murder, malicious wounding and two firearms charges stemming from the fatal shooting.
Less than three weeks later, Bynum was among a group of masked gunmen who opened fire in the courtyard of The Belt Atlantic apartment complex. The agreement said the group saw an individual Bynum had a conflict with, and circled back.
Bynum, armed with a pistol, opened fire immediately and indiscriminately, the court document said.
Sharnez Hill was shot in the back of the head, and killed. Her infant, Neziah, suffered a fatal shot to her right thigh that exited through the left side of her abdomen.
A woman was shot in the side; the 15-year-old was hit in the ribs, left hand and wrist; and the 11-year-old was struck in the hand.
The gunmen fled the scene in a Dodge Charger, which was stopped later that evening with three co-conspirators still inside wearing the same clothing seen in video footage that captured the shooting.
Donald Hemmings, 23; Shyheem Martin, 24; Shamondrick Perry, 20; and Bynum's twin brother, Kavon, each are charged with two counts of first-degree murder, three counts of malicious wounding and five firearms charges.
The Hill family said they have leaned on one another through this difficult time, but also appreciates the overwhelming support of the community. Several community efforts provided support for the family and others who live at the apartment complex, where another fatal shooting occurred earlier this week.
"You see this happen over and over again on the news, but that goes by," Destiny said. "But when it happens to you, now we're witnessing and we're having to go through this."
The family said they will continue to carry on Sharnez and Neziah's memories.
"They live amongst us, they live in us," their cousin, the Rev. Donte McCutchen, said Friday, hugging Destiny Hill. "We believe spirit never dies."
(804) 649-6527
Twitter: @AliRockettRTD