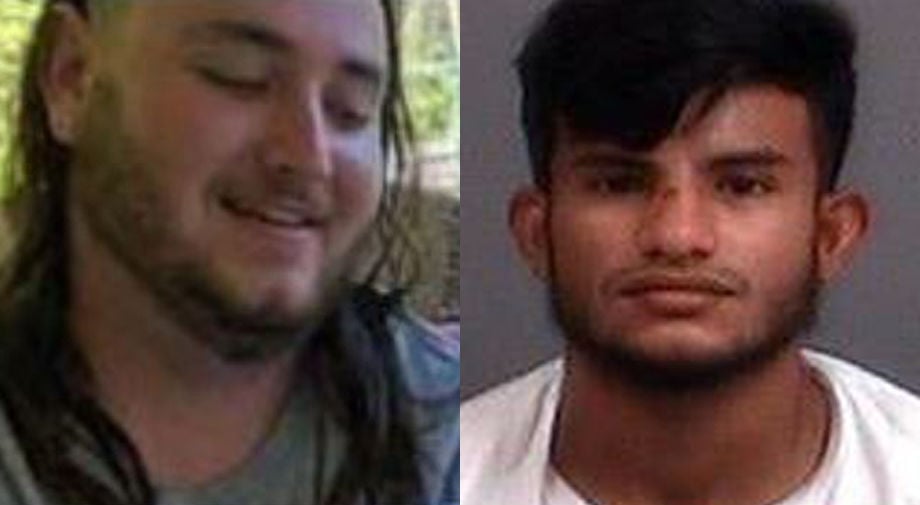 A 20-year-old Chesterfield County man was sentenced Friday to serve 20 years in prison for killing a man his same age in a drunken driving crash that the judge said was aggravated by the "senselessness and needlessness" of the defendant's actions.
Repeating the victim's mother's words to describe his own feelings about the case, Chesterfield Circuit Judge David E. Johnson said Justus Taylor's Aug. 16, 2020, death "was not an accident."
"He was killed by a reckless and selfish person, a person who made choices," Johnson said, reading the words written by Taylor's mother, Crystal, who prepared a victim impact statement for the court. "A choice was made to drive without a license, and then another choice was made to sit at [a] bar and drink alcohol at the age of 20. And the final choice was to drive a vehicle while intoxicated."
"When we make choices, we don't call the consequences accidents," the judge added, as he continued to read the mother's statement. "There is absolutely nothing that Justus could have done to prevent his death. But Mr. [Francisco] Beltran Perez could have prevented it."
Johnson said the only thing he could add to the mother's remarks was that Beltran Perez's actions were not a "mistake" — as the defendant said in expressing his sorrow for what occurred. "He didn't make a mistake; he made a conscious decision," the judge said.
For all of those reasons, Johnson said he found discretionary state sentencing guidelines calculated for Beltran Perez to be inadequate. The judge departed upward nearly 12 years, sentencing the defendant — a Salvadoran national living in the U.S. illegally — to 20 years with no time suspended on his conviction of aggravated involuntary manslaughter-DUI.
The guidelines called for an active prison term of between three years and four months at the low end, to eight years and two months on the high end.
"The court considers aggravating and mitigating factors" in determining punishment, the judge said, "and there are no mitigating factors" in this case.
Assistant Commonwealth's Attorney Gabriela Phillingane, who prosecuted the case with Ken Chitty, also used the mother's words to sum up the nature of the offense. "This is a perfect and succinct statement to the court," she told the judge.
According to a summary of evidence, Beltran Perez was driving west in the 4200 block of Meadowdale Boulevard in a 2008 Honda Civic about 2 a.m., when he tried to beat a red light at the intersection of Hopkins Road. He didn't make it and collided with a 2010 Toyota Scion TC, driven by Taylor, who was driving south on Hopkins Road.
Taylor, who graduated with honors from Monacan High School in 2018, died at the scene.
Officers spoke with a witness who said Beltran Perez ran the red light and entered the intersection at high speed. "Officers did not observe any evidence of braking or attempting to avoid the collision," according to a written statement of facts.
Beltran Perez was injured, and when officers spoke with him after he was taken to a hospital, he said he had drunk about seven beers at a bar and left about 2 a.m. Beltran Perez said he saw the light turn yellow and accelerated to get through the intersection. "At that point he realized there was another vehicle in the intersection, but it was too late to stop."
Beltran Perez consented to a sample of his blood being drawn while at the hospital, and his blood-alcohol level registered 0.145% — well above the presumptive legal intoxication level to drive of .08%.
Beltran Perez's attorney, David Powers, told the court that his client had been residing in the U.S. for about five years, had been working regularly and never had been previously arrested. "He did come to live with his family because of the situation in his home country with gangs," Powers said.
Immigration officials said Beltran Perez was granted due process in U.S. immigration courts but he failed to appear for his immigration hearing. As a result, an immigration judge issued Beltran Perez a final order for deportation in his absence in June 2018.
In asking for leniency, Powers asked the court to "recognize the fact that there was nothing mean or intentional" in Beltran Perez's actions. "It's sad that both young men were within six months of each other's age, and both of them had a great future to come," Powers said.
Through an interpreter, Beltran Perez repeatedly expressed his sorrow and remorse.
"My heart hurts," the young man said, at one point lowering his head and sobbing. "I know what [Taylor's] family feels. I felt the same way when I lost my own mother. I ask for their forgiveness with all my heart. I'm so sorry. I'm so sorry."