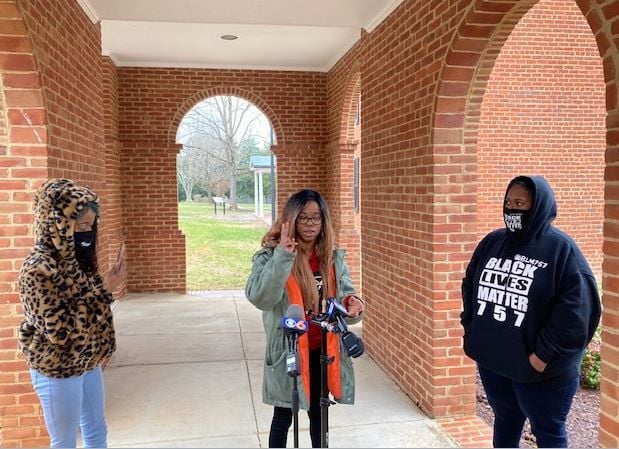 A Charlottesville man killed by state troopers after a high-speed pursuit on Interstate 64 was driving on a suspended license and had outstanding warrants for his arrest for failing to appear in Madison County General District Court on a suspended license charge from last summer.
Citing the ongoing investigation, authorities declined to comment on Xzavier D. Hill's license suspension and outstanding warrants and whether they may have played a role in the 18-year-old's actions. Hill did not have any adult criminal arrests or other charges on his record, according to a statewide search of online records maintained by the Virginia Supreme Court.
Hill, who was shot and killed Jan. 9 during an encounter with two state troopers after a chase that police said reached speeds of 120 mph, was cited Aug. 16 in Madison County for speeding 72 mph in a 60 mph zone and driving on a suspended license. After he failed to appear in court twice on the charges — first on Aug. 27 and then on Nov. 20 — Madison authorities issued "capias" warrants for his arrest, Madison Commonwealth's Attorney Clarissa Berry confirmed this week.
"He didn't come to court when he was supposed to ... for driving under suspension," Berry said.
A capias warrant, also known as a bench warrant, is essentially an order to arrest and detain a defendant for the purpose of guaranteeing that the person appears in court.
Court records show Hill also was cited for driving while suspended on July 14 in Stafford County — where he went to high school — and was convicted of the offense in his absence on Oct. 18. He was fined $100 plus $124 court costs in penalties that haven't been paid.
Hill's new court hearing in Madison General District Court for the suspension, speeding and failure to appear charges was set for Jan. 7 — two days before he was killed. With his death, Madison authorities dismissed all three counts on Jan. 14.
Hill's license was still suspended when state police said they began pursuing him in Henrico County near Short Pump in a 2003 Mercedes-Benz C230 traveling 98 mph in a 65 mph zone. When a state trooper pursued the car to pull it over, the fleeing driver accelerated to more than 120 mph into Goochland County, police said.
Reached Thursday about Hill's suspended license and warrants for his arrest, and whether they may have led to the police pursuit, LaToya Benton, Hill's mother, said by email, "I'm very aware of him driving and it's not [a] legal issue, we all had had tickets."
"At the end the day that has nothing to do with the actions of the police," she added.
Benton referred questions to the family's new attorney.
After severing their relationship with attorney Joshua Erlich last week, Benton said the family has retained the services of civil rights attorney Mark Maguire, who according to his online professional bio has worked as a civil rights litigator for 13 years in the public sector, where he has tried over 60 cases in both federal and state courts.
The biographical sketch said Maguire has extensive knowledge of police operations, standards and best practices, and uses that expertise to "seek justice on behalf of our clients and hold police officers accountable."
Maguire is a member of a legal team known as "Stop Excessive Force" that is supported by the law firm McEldrew Young Purtell Merritt. Maguire could not immediately be reached for comment.
At a news conference the family called last Saturday, Benton described what she observed in a video of the fatal shooting taken from a dashboard camera inside one of the trooper's patrol cars.
Goochland Commonwealth's Attorney D. Michael Caudill, who ultimately will decide whether the troopers will face any criminal liability in the shooting, allowed Hill's family to view it in his office but did not provide them with a copy. So far, Caudill has declined to make the video public but indicated he may do so in the future.
In her interpretation of the video, Benton said she did not see a gun in her son's hands, and that the teen placed his left hand outside his car window before he was shot. Benton said her son — who was left-handed — was shot in his left hand.
Further, Benton said she heard her son say, "OK, my door is open," before he was shot, and said the troopers never gave him a chance to get out of the car before opening fire.
State police have said in a statement that at the end of the pursuit, Hill attempted to make a U-turn on the interstate to elude police, but then slid down an embankment into the median. Two state troopers approached the vehicle, and they gave "repeated verbal commands" to Hill to get out of the car and show his hands, according to the police account.
Police said Hill displayed a firearm and subsequently was shot. A handgun was recovered from inside the Mercedes.
At Saturday's news conference, Benton said she was told that the firearm police found inside her son's car was "jammed," and it was reported stolen a day after the fatal shooting.
Benton also questioned whether her son was attempting to flee police.
"I want to start off, for the record, that you don't have a high-speed chase in three to four minutes," Benton said at the outset of Saturday's news conference outside the Goochland courthouse. "My family saw the video."