"Indeed, during the course of their illegal agreement and in furtherance of their criminal conspiracy, each defendant assaulted, verbally attacked and abused [the victim's] children to carefully construct a climate of fear that continuously compelled her labor," Assistant U.S. Attorneys Stephen Miller and Shea Gibbons said in court filings.
Moreover, prosecutors said, the three family members took steps toward the end of the conspiracy to conceal their conduct by banishing the victim, Maira Butt, from the main part of the house, limiting her access to food and basic human interactions and further separating her from her children.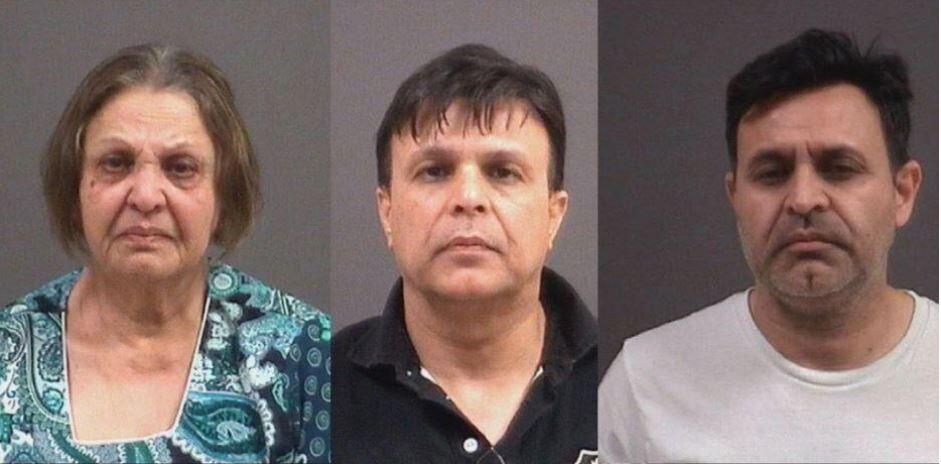 The impact of the forced labor and abuse was so agonizing that Butt twice tried to take her own life by consuming rat poison on one occasion and overdosing on sleeping pills on another. The victim lost 60 pounds and clumps of her hair during the 12-year ordeal, and was physically unrecognizable to one of her brothers when he first encountered her after he traveled to the U.S. from Pakistan to learn whether she was still alive.
Three found guilty in May
After a sentencing hearing in U.S. District Court in Richmond on Monday, Judge John A. Gibney Jr. sentenced Zahida Aman to 144 months on her earlier convictions of conspiring to engage in forced labor, forcing the victim to perform forced labor and document servitude. The latter charge involved keeping the victim's immigration documents.
The punishment was a significant downward departure from discretionary federal sentencing guidelines, which for Aman was calculated at a range of 235 to 293 months.
It's a frightening image. A train barreling through town, and moments later, striking a vehicle that had been abandoned on the railway. And it's captured on surveillance footage to be replayed, and replayed like a nightmarish loop.
Her attorneys, assistant public defenders Nia Vidal and Mary Maguire, said Aman still maintains her innocence, is not a "monster" and described the guidelines punishment as excessive. They also noted she's in poor health, three days shy of her 81st birthday, and that her husband, a retired brigadier general in the Pakistan Army, is 95 and "dying." They sought a sentence of five years probation with home detention.
Separately, Gibney sentenced Mohammed Rehan Chaudhri to 120 months in prison and Mohammad Nauman Chaudhri to 60 months. Rehan Chaudhri was convicted of conspiring to engage in forced labor and forcing the victim to perform forced labor. Nauman Chaudhri was found guilty of the conspiracy offense.
Aman and Rehan Chaudhi also were jointly ordered to pay $250,000 in restitution to cover the victim's medical expenses, unpaid back wages, damages and the value of gold jewelry that family members seized from her. Prosecutors had sought $425,000 in restitution.
Nauman Chaudhri worked as a nurse at VCU Medical Center, and brother Rehan was a VCU student who worked part time on campus. Neither had prior criminal records, and several of their colleagues at VCU submitted letters of support on their behalf.
After an eight-day trial last May, a federal jury found the three family members guilty of the offenses, which occurred from March 2002 until August 2014 while the victim was living with the defendants. Following the verdict, Jessica Aber, U.S. attorney for the Eastern District of Virginia, called the crime "the modern-day equivalent of slavery [that] has no place in our country or district."
According to a trial brief filed by the government, Aman and the victim's mother arranged her daughter's marriage in Islamabad, Pakistan, to Salman Chaudhri, the eldest son of Aman and the brother of the two co-defendants. Contrary to common practice, the victim had not seen or spoke with Salman Chaudhri before their marriage ceremony in January 2002.
After they were married, her new husband told her that if she wanted to please him, she had to make his family and, particularly his mother — Aman — happy.
Shortly after her arrival in the U.S., Aman held a family meeting where she instructed the victim to surrender possession of her personal and immigration paperwork for "safekeeping." Aman also seized several of the victim's personal effects, including jewelry that was gifted to her by her family for her wedding, and a notebook that listed the contact information for her family and friends in Pakistan, according to the trial brief.
As a result, the victim "had no legal documentation, assets of value or contact information for her family and friends within months of arriving in the United States," prosecutors said. "She was becoming completely dependent on the defendants for basic necessities and emotional support."
Within weeks of her arrival, the victim was required to perform housework such as cleaning the kitchen and bathrooms, dusting common areas, washing the dishes, doing laundry, cleaning bedrooms, helping prepare meals and organizing closets at the family's home at 2700 London Park Drive in Midlothian. She basically cleaned all day until she went to bed, becoming "the robot of the house" who did whatever they asked her to do, prosecutors said in court filings.
In a handful of Virginia courts, behavioral health dockets offer treatment, rather than jail, for offenders with mental illness.
As time passed, the victim was required to perform increasingly laborious tasks, such as stripping and staining the deck by hand; mowing the lawn with a push mower; hand-washing and line-drying area rugs; painting the inside and outside of the family's two-story house; and picking debris from car carpets with a pair of tweezers. She also was required to construct a concrete walkway in front of the home, which required her to haul large bags of concrete before mixing and pouring cement, according to the trial brief.
"As the type of work the defendants required [the victim] to perform intensified, so too did the coercive scheme they employed to compel her labor," prosecutors said in the trial brief. "The defendants used a combination of coercive means, including physical assaults, verbal abuse, isolation, starvation and threats of deportation to create a climate of fear that compelled [the victim's] labor," prosecutors said. Consequently, the victim felt like she had no choice but to work in the home.
The victim was slapped on a regular basis for not doing chores or performing chores incorrectly. On one occasion, she was tied with rope and pushed down the stairs in front of her children as punishment for taking one of the family member's phones and trying to call her husband. On another occasion, she was beaten with a wooden board, according to prosecutors.
Slept on laundry room floor
The defendants eventually moved the victim into the laundry room, where she slept on a mat on the floor. At this point, the family members gradually stopped forcing her to perform work in the house, "choosing instead to ignore her presence entirely." Subsequently, the home's garage was converted into a small annex, where the victim was eventually "exiled."
Prosecutors said the victim's marriage to Salman Chaudhri was never a "normal" union of husband and wife. Salman Chaudhri was not regularly in the family's home during the early stages of their marriage, as he completed his medical education and residence out of state.
The husband eventually left the house entirely in 2006 and moved to Pennsylvania for his medical career and then to California, where he set up a medical practice, prosecutors said in the trial brief.
Salman Chaudhri met and started dating a woman in 2011 to whom he became engaged in 2013. Chaudhri didn't take the victim with him to California, and she remained living and working in the family's Midlothian home despite their marriage, prosecutors said. Chaudhri and the victim had four children from 2003 to 2008.
Prosecutors said that perhaps the worst punishment the defendants inflicted was the wedge they drove between Butt and her children. They convinced the children their mother was a monster and dangerous, forcing them to spit on her. The defendants belittled and punished the children when they showed any kindness or affection to their mother, and they "usurped her role as a mother," prosecutors said.
In May 2016, the victim escaped from the family's home with help from a brother from Pakistan. After leaving, the victim reported the abuse she endured to Chesterfield County police Detective Laura Kay, and charges were placed against the three family members. The cases were transferred to federal court for prosecution.
"After two months of rebuilding her relationships with her family and gaining emotional courage, [the victim] contacted [her brother], who helped her leave the home," prosecutors wrote. The victim "subsequently gained full custody of her children, despite a contested custody battle with the defendants."
The victim currently lives in Connecticut with all four children.
Mark Bowes (804) 649-6450
@RTDMarkBowes on Twitter